Bollywood Movies that don't need sequels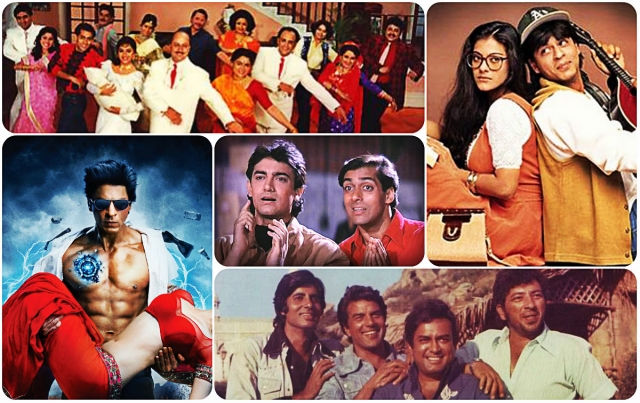 There are some movies that you can watch endlessly in parts and sequels but some that when finished you breathe a sigh of relief and pray that the story ends forever. But looks like our producers don't get that point and they keep stretching the story in sequels and more sequels!
Masti was such a fun, clean adult comedy to watch in its time and look what they did with the sequel Grand Masti. The movie may have earned crores but you know in your heart that the lame adult jokes were right down perverse. Similarly there are so many sequels releasing one after the other like the Krrish series that you tend to forget what was the original storyline!
Here's our list of movies which we thought were so aptly concluded that they don't need sequel. Filmmakers, please stay away from these movies!
Andaaz Apna Apna: Such a cult movie and so well made by Rajkumar Santoshi. Today as we know the characters are legendary to say the least and almost all of them are remembered for their epic dialogues. Rumour has it that Santoshi is working on a script for a remake but probably with a new set of actors. Hmm, remake is fine but the moment you start turning the story into what happens to Amar and Prem after 20 years you lose the fans there!
Dilwale Dulhaniya Le Jayenge: This movie is every girl's fantasy film. Let's accept it we all are looking for our Raj and to feel gratified by having a happy and melodramatic ending like Raj and Simran. But do we want to see what happened to our happy couple after marriage? If the woes of wedding vows destroyed all the love between the two? Nah, who wants to see such harsh realities!
Sholay: Okay, I will not deny that it might be interesting to see if ever Gabbar Singh's long lost son or daughter comes back to take revenge and start a whole new saga. But as the rule goes, never ever play around with a classic and that too Sholay. Bahut na insafi hai!
Ra.One: Are you kidding me? Wasn't the first tort..err…movie enough? So okay SRK tried to do a superhero flick but there ends the attempt. After Ra.One released Shahrukh did confirm plans of making a sequel but is now finding it difficult to get suitable technicians to work on VFX. Thanks to the God of Technicians, whoever he is!
Hum Aapke Hain Kaun: A perfect family movie made legendary by its melodious music, heart warming stoyline and brilliant set of actors. The movie explored all relations within families taking you on a ride of emotions from being romantic to laughing your guts to out to crying copious tears. The movie even had an adorable dog Tuffy who played such an important part in climax! And songs which made you feel you're watching someone's wedding video.
Now do you want to see so many amazing moments being spoiled? If this movie was made into a sequel then I bet it will resemble all our daily soaps, probably out beat them! I love my Prem and Nisha and even obnoxious gossipy Bindu as they were in the movie. So thank you but I say no to sequels!