Sanjay Leela Bhansali's latest flick Ram Leela seems to be too inspired by his earlier creation Hum Dil De Chuke Sanam
Sanjay Leela Bhansali's movies have always looked like these in-depth, vast paintings with every character playing a larger-than-life role. And with the same style of filmmaking he's back with Ram-Leela, a love story set in the land of Gujarat and the two lovers, Deepika Padukone and Ranveer Singh, are at war. Very Romeo- Juliet-esque.
After watching the official trailer and three song teasers I felt there was something strikingly familiar about the look and feel of the movie. While Deepika and Ranveer look perfect don't they remind you of some other beautifully paired couple? Some couple who has worked with Bhansali before and created a masterpiece? Okay, let's cut it short. You know that I am talking about Aishwarya Rai Bachchan and Salman Khan who spread their magic in Hum Dil De Chuke Sanam. Don't you agree that the two leading pairs have too much of resemblance in terms of their characters?
Okay, let's take it step-by-step. The first promo that came out was the official trailer in which if you notice that Deepika's character is dressed very much like Nandini of HDDCS. Also since both movies are set in Gujarat the look and feel automatically feels resonating. Watch the trailer here.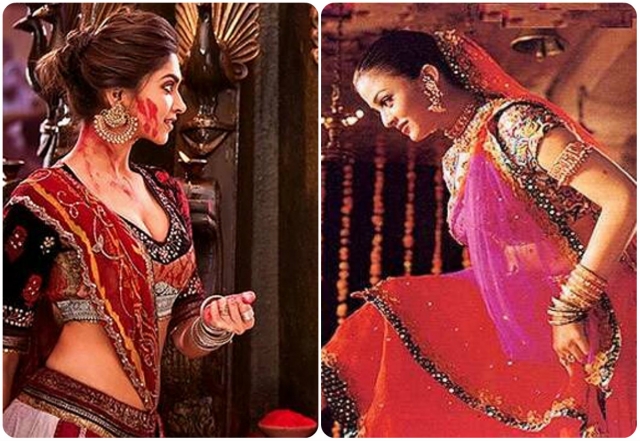 Then comes the song 'Tattad Tattad' in which Ranveer can be seen flaunting his six-pack abs and that yummilicious body. Now who else does that? Of course Salman Khan! He even did go topless in one of the scenes in HDDCS because really that's his forte. I dare you, just close your eyes and imagine Salman doing 'Tattad Tattad' and you will see the similarities! Watch the song right here!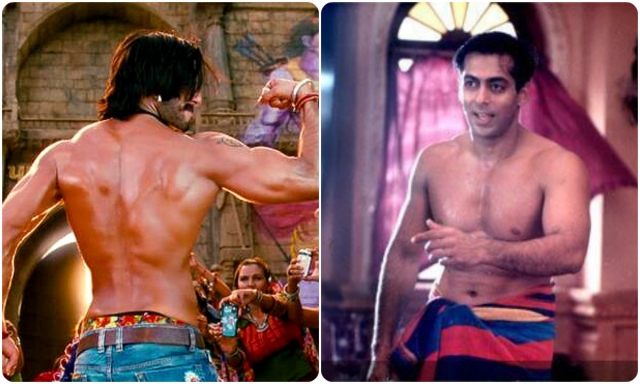 Next they released the Garba song of the year 'Nagada Sang Dhol Baaje'. Even HDDCS had a Garba song called 'Dholi Taaro' which became even more popular after the release since Salman was seen doing it in all award functions. In Nagada too Deepika will remind you of Aishwarya Rai but yes, DPad has definitely done a better job at doing Garba.
Nagada Sang Dhol Baje
Dholi Taaro
Now before I could put away all these pointers as just silly notions a new song from Ram Leela was released, 'Lahu Munh Lag Gaya'. Now please watch this song and then watch the popular song 'Aankhon ki Gustakhiyan' from HDDCS and tell me seriously if it just isn't too alike? In both the songs the hero is trying to get intimate with the heroine and while during HDDCS Ash and Salman only had to get an inch closer to create that moment, in Ram-Leela Deepika and Ranveer take it a step further and kiss. Because now kissing is just normal! But this is the only difference, rest everything be it Ranveer's flustered reaction after being kissed, the clumsiness of being close to each other. It's like Aankhon ki…reloaded!
Lahu Munh Lag Gaya
Aankhon Ki Gustakhiyan
Maybe Bhansali wanted to recapture the charm of Salman and Aishwarya's characters from HDDCS and infuse it with Deepika and Ranveer's roles in Ram-Leela or maybe he was just running out of ideas. But inspiration is only good till a point, if crossed then it starts to seem like a copy. While I totally loved Ash and Salman in HDDCS since their pairing brought a whole new dimension to the movie I'm hoping Deepika and Ranveer too manage to do the same. Wait a minute, when HDDCS was shot Salman and Aishwarya were very much a couple and so are Deepika and Ranveer now. Destiny is a cruel game!