Kick might get postponed as the makers are not getting enough cinema halls in Mumbai for a release. Reason is Riteish's Lai Bhaari running to packed houses. Will the stalemate end?
No one takes a panga with Salman Khan, no one!
This is a well known fact in Bollywood, but still, going by some recent developments, Riteish Deshmukh might just turn out to be an un-willing box-office adversary of Sallu bhai!
Shocking, isn't it?
What actually happened is that Riteish's unexpected mind-boggling success is coming in Salman's way. Lai Bhaari, the Marathi debut flick of Riteish has been doing some rocking business all over Maharashtra. Even after almost two weeks of release, it is still running to packed houses in many single-screen theatres in Mumbai. This is really where the problem starts.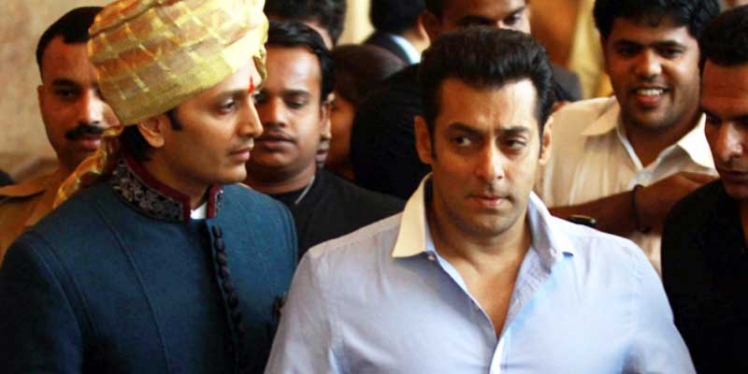 Sallu bhai's Kick is going to be released on 25th July and Mumbai is a very important territory for him as far as box-office is concerned. However, the producer of Lai Bhaari and few distributors don't want to replace it with Kick since the former is still generating superb business for them! In other words, the promise of a better future (Read more money from Salman's movie) isn't enough for them to let go of a glorious present (i.e. moolah from Riteish's flick!). Philosophically speaking, it is always good to enjoy the present moment, but then, if this present has the potential to screw up the future, then better take care! Confused? Let us explain it to you.
In simple words, Salman is a much bigger star than Riteish and given present scenario, his ability to earn some big bucks is much greater than Riteish's! So, the exhibitors will always benefit in the long run by working with Salman and not against him. This is what precisely the film's producer and debutant director, Sajid Nadiadwala has been trying to explain to them but till now, no solutions have been found!
Both Salman and Sajid must be wondering where they went wrong. You know, Sajid wrote the story for Lai Bhaari and Salman did a cameo in it on friendly terms. In short, both did a good deed and now it is backfiring on them, big time!
All of Salman's fans are eagerly awaiting his Eid special and any last minute changes will disappoint them severely. Not just his fans, even the whole business dynamics of Bollywood will get affected as the rippling effect will impact business of next-week releases.
Everyone is keeping fingers crossed and hoping this stalemate ends soon. It's festival time, let's Kick away the differences and embrace love, what say??