Twitterati are very agile and straightforward when it comes to wrong, bias or superficial tweets.
And when celebs goof up or write something controversial then no one can ever save them from getting trolled.
Recently Anushka Sharma got confused between Maulana Abul Kalam Azad and APJ Abdul Kalam and she wrote a tweet paying homage to the former.
It was reported that she tweeted wrong tweet twice with the same almost same error and later she finally gave out the right tweet. But it was too late whole twtter was buzzing on the topic.
Celebs should take extra care while writing or giving out statements in order to stay away from any backlash.
Today we rounded up which celebs made humongous as well as small mistakes in their tweets which made them doing rounds across the media.
Farhan Akhtar
He made the same grave mistake just like Anushka Sharma. He too payed his last respects to freedom fighter Maulana Azad. But he didn't face the same bombardment of tweets like Anushka. These ignorant celebs really need to go back to the school.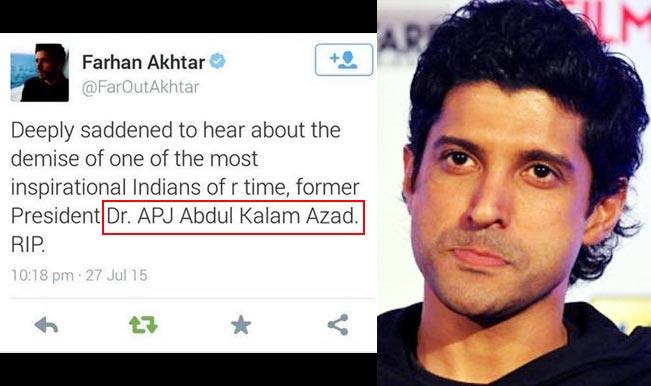 Shahid Kapoor
Shahid too got flak for writing World Champion Mary Kom's name as some portal URL. But soon he wrote another tweet with her proper name. We suggest you to have a spell checker Shahid to avoid such errors.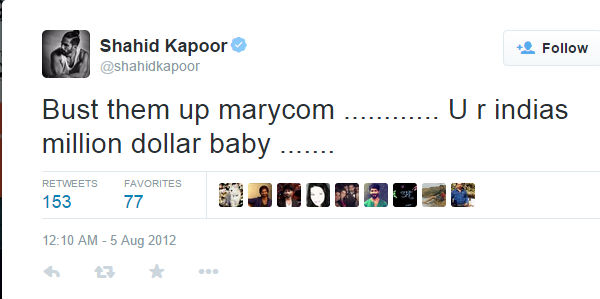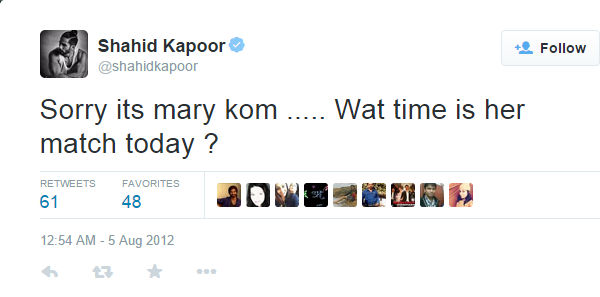 Amitabh Bachhan
Amitabh Bachhan congratulated Mary Kom for her victory in one of the matches. But he made blunder by writing Mary Kom's home town as Assam but he soon realised his mistake and corrected it by tweeting It again. The second time he mentioned properly that Mary hails from Manipur and not from Assam.


In one more tweet he wrote Vijender Singh's name differently but again he made sure he spelt it correctly next time.


Jacky Bhagnani:
Jacky Bhangnani known for his movie Faltu tweeted congratulatory message for Nobel Prize awardee Malala Yousafzai but he made grave mistake by writing "Masala" instead of Malala. The tweet soon was a great masala for gossip mongers. Soon he was bullied and later he changed the tweet for right one. May be he believes in his auto correct more than anybody!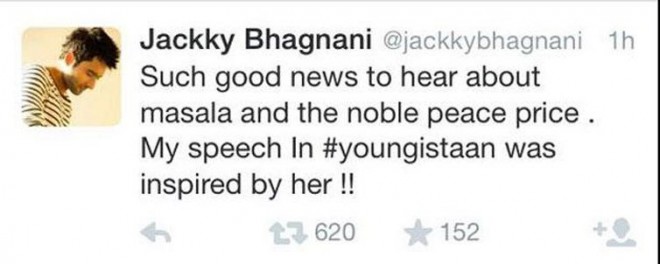 Have you too read any such hilarious tweets by celebs? If yes then do not forget to mention them below!