Which Friday release are you excited about? Will you watch Ram-Leela or Rajjo?
This Friday (November 15) will see two movies clashing at the BO. One of them is a big budget, romance drama 'Ram-Leela', while the other one is a small budget, women-centric saga 'Rajjo'. Although it's anybody's guess which film will do better than the other, but we do a quick analysis of the two movies to help you choose better. Read on!
Cast:
The alleged real life couple of Ranveer Singh and Deepika Padukone have been cast together in 'Ram-Leela' to heat things up. On the other hand, Kangna Ranaut will be seen carrying 'Rajjo' on her shoulders as the movie doesn't boast of a stellar star cast.
Music:
Ram-Leel's songs are high on grandeur and beauty, but they don't stay with you for long. It's nothing compared to Sanjay Leela Bhansali's previous magnum opus 'Devdas'. Rajjo has no notable songs and they are pretty low on visual appeal too…except for Kangna's heaving bosom.
Marketing blitz:
There's too much buzz regarding Gujrati Romeo and Juliet, Ram and Leela. Kangna's 'Rajjo' act has no takers so far. The curly-haired beauty hasn't gone on reality shows promoting her movie. This could really act as a downer.
Crackling chemistry:
It's a no brainer, actually. Kangna has no established actor to share crackling chemistry with. But Ram and Leela's intimate scenes and famed kisses are the talk of the town.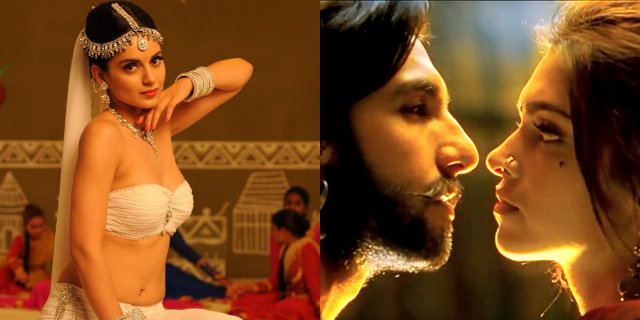 USP:
Rajjo will appeal to the single screen audiences and Ram-Leela will be enjoyed by urban audiences who like rustic love stories.