Here we talk about first look official poster of the movie, Bang Bang. It has all the elements of commercial cinema with glamour and action riding high. Just giving a satirical twist about the date of its release!
Bang Bang, what a movie title!
Obviously, for a movie that has its first official poster showing its lead actors half immersed in water with guns and blasts happening around them, it is surely an apt title!
Also, two of the Bolly town's hottest looking stars, Hrithik Roshan and Katrina Kaif made an entry as a pair in their first movie, Zindagi Na Milegi Dobara, with a BANG! So, their second outing together as a pair has to be Bang Bang! Now don't over-speculate about their third film, okay?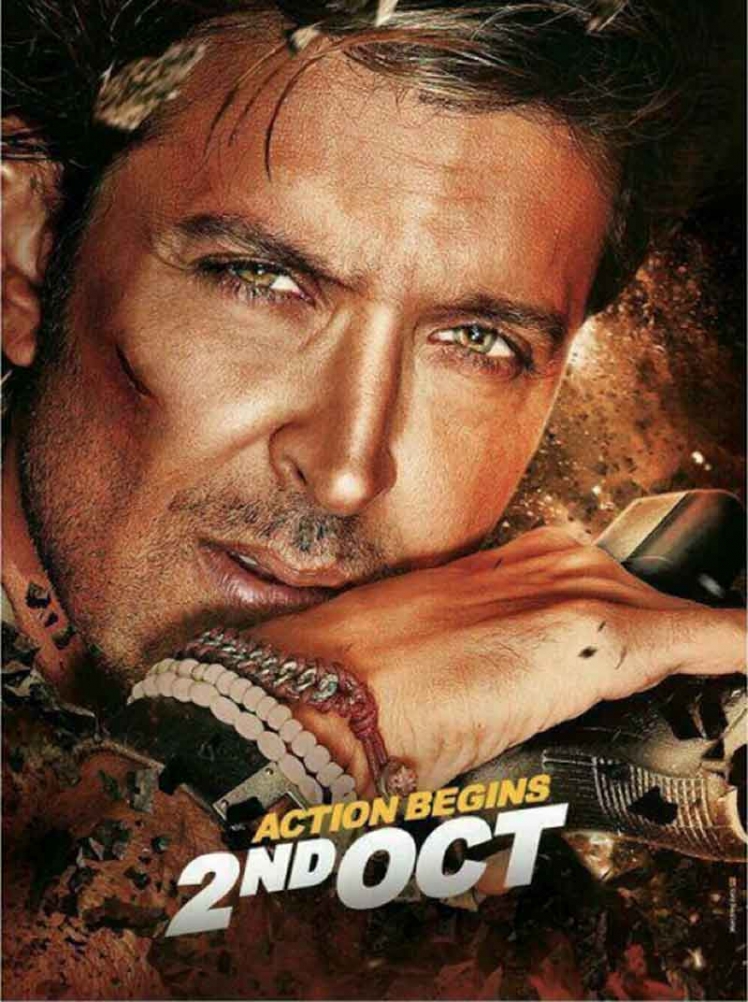 Anyways, coming back to their upcoming flick, Bang Bang is an official remake of Tom Cruise-Cameron Diaz starrer, Knight and Day! Do notice the important word there, 'official'. Yes, seldom it is that Hindi movies are the official remakes of their Hollywood counterparts and we feel it is a good beginning to take permission from the original creators of content to make a copy. Like its Hollywood counterpart, Bang Bang also looks like a high adrenaline pumping full-on commercial flick! Hrithik's superlative acting and action prowess meets Katrina's surreal hotness quotient. By the looks of it, Katrina's role need not require acting and she would be so much relieved by it. Looking glamorous and oozing out sexuality is anyways such a task; on top of it directors also want to her act, such injustice!
Another important thing to notice about the film is its release date. Poster says it is going to release on 2nd October. Now, nothing unusual about it but a totally un-related fact about the day is that it is the birth anniversary of the Father of our Nation, Mahatma Gandhi! In that way, a film filled with action, violence and skin-show releasing on the commemoration of the man who gave his life preaching non-violence!
What an interesting coincidence, right?
However, that was just an observation. We truly believe a movie starring Hrithik Roshan in a lead role will do justice to all the ethics and values he is associated with and promotes. If nothing else, hope it will give us total entertainment, a bang for every buck spent!
The movie promises some top notch action sequences, supposedly for the first time in India. Director Siddharth Anand has made all possible efforts to make it look different than all the other action thrillers. He even hired Hollywood action director, Andy Armstrong to choreograph action to give it Hollywood kind of looks. The poster is trying to say it all, but we would say, wait and watch for the movie to release to give a final verdict!
For now, enjoy the glamorous wet look of Katrina, drenched waist-deep in water, in the arms of her Greek-god, Hrithik, who is busy romancing her while shooting people!
Go Bang Bang!