First Look Of Ranveer Singh As Alauddin Khilji – Finally, the wait is over.
Ranveer Singh's look as "Alauddin Khilji" is revealed and it seems that it'll do justice to the character. Ranveer Singh look leaked at 2 am and now it's trending on twitter. Like Deepika Padukone's unibrow, Ranveer Singh's kohl eyes and scar on face is getting more attention. IF you read the "Padmavati" story, and then compare Ranveer Singh's look to it, then you'll agree that Ranveer Singh as Alauddin Khilji will make the movie worth watching.
HERE ARE THE TWO POSTERS –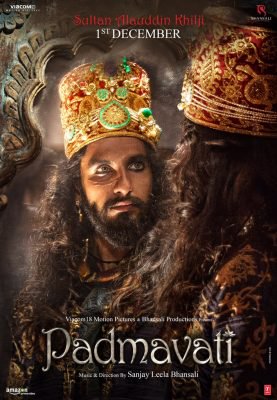 And this one…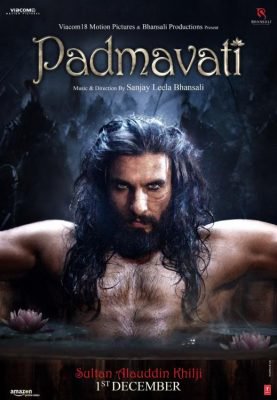 As you can see, that Ranveer Singh looks FIERCE in the posters. One thing is sure, that his deadly look will make all the non-interested people watch the movie too. To be honest, it's so hard not to notice his deadly look. The way "makeup man" has worked on creating this look, just proves that the other casts will be killing it too.
No matter what; one thing is clear and i.e. it is impossible to hate Ranveer Singh, even though he is playing an evil character.
His FANS cannot keep calm and here's how they're reacting.
Shocked! Took few seconds to even realize that he's actually @RanveerOfficial !! #Khilji #Padmavati #Khiljihasarrived @FilmPadmavati

— Priyanka Singhal (@priyanka_795) October 3, 2017
https://twitter.com/prasadselvi/status/914954993316384768
@RanveerOfficial Nailed it BABAAAAAAA ❤️❤️❤️ #Khiljihasarrived #Padmavati

— Kush Bhatia (@KushBBhatia) October 2, 2017
Ranveer Singh's dedication level is something else😵 #Khiljihasarrived

— Chiklina Mohanty🌸 (@ChiklinaM) October 2, 2017
https://twitter.com/vaghela_soham/status/914996647242825728
First Look Of Ranveer Singh As Alauddin Khilji – BABA IS BACK – Yes, that's the only thing many are saying. Plus, i cannot wait to watch the movie now. What about you?