Celebrity Tattoos – Many Bollywood actresses are obsessed with tattoos.
From Deepika Padukone, Sushmita Sen, Sonakshi Sinha, Priyanka Chopra, Kangana Ranaut, Jacqueline Fernandez, and many more actresses have got themselves inked.
Jacqueline Fernandez? Oh yes, she has a tattoo too. Not many know that Jacqueline Fernandez has a tattoo on the nape of her neck. She never publicly talked about it & even during interviews & events, the clothes she wears makes it impossible to spot the tattoo.
Recently; while I was going through her Instagram photos & videos, I noticed a tattoo on her neck & was completely surprised. I was like "When did that happen?" Here, IF you watch this video closely, then you can get the glimpse of her tattoo.
https://www.instagram.com/p/BZ0e8fJn1Dm/?hl=en
Noticed? Yup, she has got the letter "R" tattooed on her neck.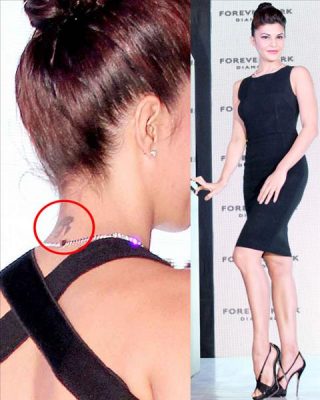 Just like you, even I was curious to know what does "R" actually stands for and why did she tattooed this letter on the nape of her neck. According to Biscoot.com, Sri Lankan beauty Jacqueline Fernandez's tattoo on the neck symbolizes something that helps avoid harm and negativity.
Isn't that surprising? One thing is clear i.e. Jacqueline doesn't want any negativity to create a chaos in her blooming Bollywood career. Look at her now, she's getting offers, advertisements, gracing magazine covers and many more.
Jacqueline Fernandez is also an Instagram star with total 15.3M Followers.
Celebrity Tattoos: What do you think about her tattoo?