Break-up Story Of Abhishek And Karishma –
Break-ups happen in Bollywood industry, right? Some are so unexpected that it literally leaves people in shock.
Similar thing happened when Karishma Kapoor and Abhishek Bachchan broke up.
There are many who know that Karishma and Abhishek were once engaged to each other, right? But what happened next that they had to call it off? Do you know about that? One thing is sure that Babita i.e. Karishma Kapoor's mother played a big role in all this.
Even though years later Karishma and Abhishek are in a better space, but there was a time when they were madly-in-love. Their break-up story is nothing less interesting or shocking as compared to Salman Khan and Aishwarya Rai's love and break-up story.
In the story of Karishma and Abhishek's break-up, one thing is clear and i.e. they sacrificed their love for their family's happiness.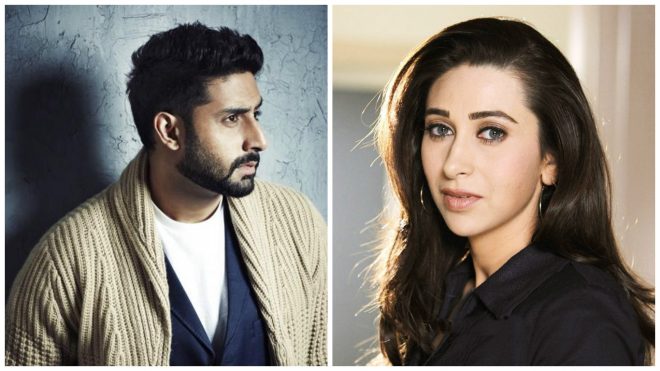 So, what really happened to this love-bird? Let's begin – It was in 1997 during Abhishek's sister Shweta Bachchan's wedding that Karishma and Abhishek got serious about each other. They were very happy in their relationship and it went on for about 5 years.
Yes, 5 long years.
It was on October 11, 2002, at Amitabh Bachchan's birthday party that their engagement was announced. Just imagine, two big families of Bollywood coming together and making it big. Everything was going absolutely great, but things turned when in February, it was announced that they are no longer together.
It was certainly shocking.
There were many rumors that kept entertaining people in the Bollywood, but the main highlighting news was Babita's involvement in their love-story.
Many newspapers and reports covered that it was Babita who played the role to break their relationship so quickly. But what exactly happened? It is been said that Babita i.e. Karishma's Kapoor mother was not happy with Abhishek Bachchan. She doubted that Abhishek Bachchan will not be able to provide her daughter. So she went on to ask Amitabh Bachchan to provide her with the guarantee that most of his wealth will be passed on to Abhishek.
No doubt, it was quite insulting for Abhishek Bachchan.
Upon hearing Babita's words, Amitabh disagreed to do that. However, things didn't go well in their family, and they both decided to call it off.
This was the break-up story of Abhishek and Karishma.