Bollywood Extramarital Affairs: Sussanne, Arjun, Mehr – Sussanne Khan is supposedly going out with Arjun Rampal. After denying the link-up, finally things are out in the open. It's first for a star-wife to be official about it!
Bollywood is notoriously famous for starry affairs!
Some come out in the open, most stay behind closed doors! Many affairs are born while promoting films which die a natural death after the film is released and flopped!
All these normal, extra-marital, one-night and various other kind of affairs are mostly associated with male actors who are married, single or with a girlfriend. It has never happened that a superstar's wife is found embroiled in a controversy of having an extra-marital affair. It is not that such things don't happen, but are always hushed up.
Times are changing though!
This is women's era and they have equal rights to do anything and everything that men have been doing for generations. In fact, it is like giving men a taste of their own medicine when it comes to sleeping around with partners outside the marriage.
Why should only men enjoy polygamy, right?
This seems to be Sussanne Khan's mantra as well who recently divorced Hrithik Roshan after being in love with him for 17 years.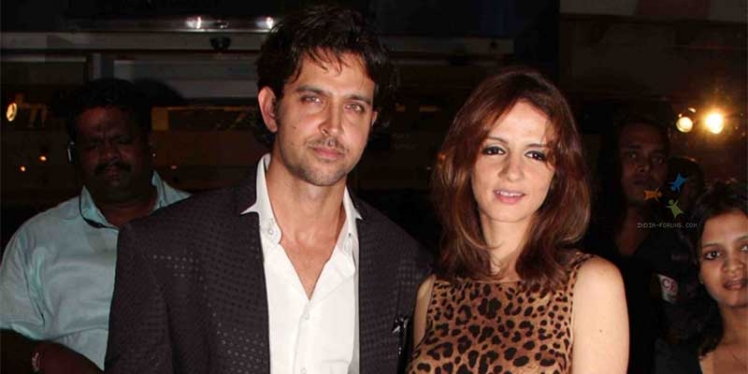 No official reason was given for their divorce except that both fell out of love, but rumour mills were working overtime to point fingers at growing intimacy between Sussanne and Arjun Rampal, husband of her best friend, Mehr Jesia Rampal. At that time both Sussanne and Mehr trashed all reports in the media calling it a figment of media's wild and dirty imagination. They even went ahead to call themselves soul-sisters and considered themselves as a family.
It seems, Mehr's intentions were actually genuine, but same can't be said about Sussanne! She must be on a different tangent going by the reports which are being circulated nowadays. It is said that Mehr finally found out the secret vacations both Arjun and Sussanne took in various countries and their growing closeness leading to differences between the two so called soul-sisters!
Did Mehr misread the bond or was Sussanne too smart to hide everything so beautifully for this long? Whatever the case may be, if it is indeed true that Sussanne is actually seeing Arjun, this will be the first ever case of a star-wife making more controversial news than her husband! Spicy huh? Very spicy!
So what next?
Is Arjun prepared to go Hrithik's way and divorce his wife and start a new life with Sussanne?
That depends on his bank-balance. The way there was news of Sussanne demanding alimony of freaking Rs. 400 crores from Hrithik, if Mehr asks for even half of that amount from Arjun, all his dreams of love and lust will lie shattered!
Come on now, Arjun is nowhere as popular and as huge a star as Hrithik Roshan!
This whole Hrithik-Sussanne-Arjun-Mehr love-friendship-betrayal saga is taking interesting twists and turn on a daily basis now.
Let's see what happens next! This should be one affair to be remembered for a long long time!