Bollywood titles have gone quirky! We take a look at some of the funkiest titles to look forward to.
The phase where every Hum Aapke Hain Kaun-esque movie title was shortened to read HAHK is past us (thankfully!) as now is the age of quirky, offbeat titles that hold your attention and make you want to watch the flick. As the second half of the year promises some great movies, we take a look at some of the funkiest titles to look forward to!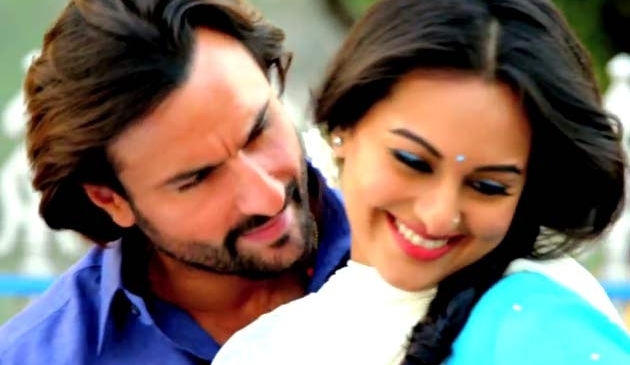 Bullet Raja:
Saif Ali Khan goes rustic in this November release that promises to be an action-packed masala. It's the first time Chote Nawab would be romancing Sonakshi Sinha, who seems to be the favourite of older actors! The trailer of the movie came out on Monday and has generated quite a bit of buzz already. AS Saif plays the rule of a UP-bases gangster who speaks bullets, his moniker in the movie is Bullet Raja. The name sure is cool, we hope the movie lives up to the expectations.
R…Rajkumar:
While it was earlier titled Rambo Rajkumar, this Shahid Kapoor fare is now being called R…Rajkumar. That's one funny title that's not giving anything away about the movie. Does the 'R' form a part of some mystery or is it some identity? Incidentally, this one stars Ms Sinha too! We can't wait for this Prabhudeva flick as the movie looks interesting from its title itself.
Besharam:
This Ranbir Kapoor-starrer is coming out on Gandhi Jayanti and it remains to be seen if the current king of Bollywood can continue his lucky spell! Heroes have been called 'Kaminey' , but never 'Besharam'. The quirky Hindi word can have a number of undertones. Let's see what director Abhinav Kashyap has in store for us!
Detective Byomkesh Bakshy:
The title sure is a mouthful and so the movie better be good! Slated for a December 2014 release, this Sushant Singh Rajpiut flick is a comedy-drama directed by DIbaker Banerjee. Let's hope the plot as interesting as the title!
Mental:
Salman Khan is mental. Erm, he will be starring in a movie titled 'Mental'. We don't know if he goes mad in the middle of the movie or the audiences would lose their sanity when they walk out of the theatres, but this catchy title sure has piqued our interests.
Jagga Jasoos
Ranbir is gearing up to play a teenager in this detective movie for which he would be undergoing many physical changes. Interestingly, Vidya Balan will be seen in a movie called 'Bobby Jasoos'. It's raining detectives in B-Town for sure.