Dating in the Bollywood industry can sometimes not be as fruitful as expected. This is especially proved as we see many Bollywood celebs getting hitched to regular personas who are much out of the glam world!
Do you adore the Badshah of Bollywood and his elegant wife, Gauri Khan as a couple?
Do you think they have stood the test of time by enjoying marital bliss despite too many hurdles?
While belonging to different religion is itself a big issue in Indian marriages, the couple has managed to have a successful marriage even as Shahrukh rose to be a superstar when Gauri did not belong to the glamour world.
Marrying someone who does not belong to the film fraternity gives the celebs a chance to lead a low-key life at least at home as they can choose to save their personal life from public glare.
Well, let us have a sneak-peek into the lives of many such B-town celebrities who have tied the knot with common folks working in different walks of life.
Madhuri Dixit and Dr. Sriram Nene
The Dhak-Dhak girl broke many hearts as she went on to marry a non-celebrity, a cardiovascular surgeon. Madhuri was at the peak of her Bollywood career when she chose to be the wife of a regular person and settle in Denver, USA with him. Madhuri, who is now a mother of two sons seems happy choosing selective roles for her films while devoting the rest of her time to her family.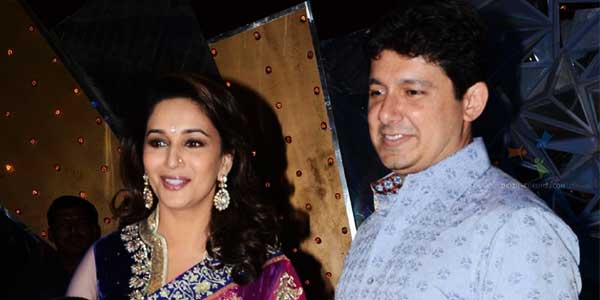 Esha Deol and Bharat Takhtani
Though Esha Deol has not risen to huge fame and success with her movies, she is a well-known celebrity being the daughter of veteran actress Hema Malini. Her wedlock with Bharat Takhtani, a Mumbai-based businessman in 2012 caught the Page 3 news headlines. It is then that we came to know that the two had fallen for each other when still in school and had contacted each other 10 years later to start dating. Both Esha and Bharat's declarations came true as the actress had openly wished years back for a handsome man to be her beau, one who is as handsome as her father Dharmendra, while Bharat said he believed that marriages are made in heaven otherwise it did not seem plausible that a girl from the film fraternity could be with a man from a traditional business background.
Mumtaz and Mayur Madhvani
Remember the dance and style icon from old Bollywood movies, Mumtaz? The actress whose enchanting dance moves and acting skills grabbed many eyeballs had married Mayur Madhvani, a business tycoon. While there were rumours that Mayur had married Mumtaz seeing her glamour and beauty, the actress much later declared that her husband was the one who had taken utmost care of her while she suffered from cancer and lost her hair, eyebrows and eyelashes. He was the one to still make her feel beautiful.
Jeetendra and Shobha Kapoor
When the yesteryear star also known as Jumping Jack Jeetendra was rumoured to like Hema Malini, he chose to marry someone out of the showbiz industry – Shobha Kapoor who then worked with the British Airways as an Air Hostess. Shobha Kapoor's involvement with the glamour world (TV and films) has only begun with her daughter, Ekta Kapoor's TV serial production career.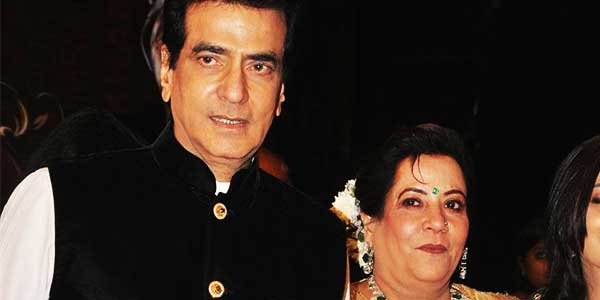 Isha Koppikar and Timmy Narang
Their story can be better phrased as friends for life as the two met in a gym, exchanged numbers and met only twice in the two years that they had known each other. Bollywood actress, Isha went on to marry the restaurateur Timmy when she realized that the latter has been her best friend and accepts her the way she is, with all her busy schedules and the restricted time limits they had to adhere to while meeting.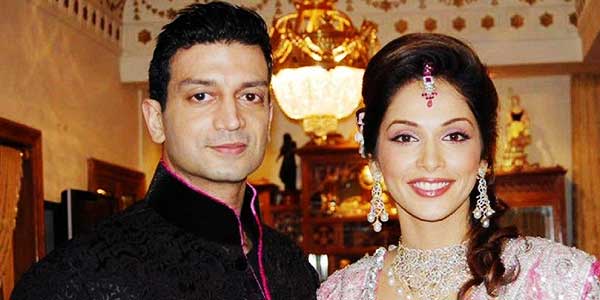 Amrita Arora and Shakeel Ladak
Famous Bollywood actress and sister of Malaika Arora Khan , Amrita Arora walked the aisle to tie the knot with Shakeel Ladak, a businessman. Though Amrita dated some celebrities such as Upen Patel and others, she chose to settle down with someone who is not connected to the film industry and belongs to a different religion than hers! While Amrita's mother is a Malayali Catholic and her father is a Punjabi, Shakeel hails from the Muslim community, which is why the couple chose to honour all three communities and religions with a Christian wedding and Nikah ceremony along with mehendi and sangeet rituals. This marriage had been a glamorous affair and became the talk of the town – the B-Town!
Shreyas and Deepti Talpade
The actor who started his acting career with Marathi soaps and stage shows across Maharashtra and rose to be a Bollywood actor with some big banner movies and versatile role-playing, Shreyas Talpade chose to keep a low profile for himself outside his professional life by marrying Deepti, a clinical psychiatrist. Deepti was also the general secretary for her college when Shreyas had come as a celebrity (as he was working in a serial then) there.
John Abraham and Priya Runchal
While it was a hush-hush love affair for the two and an even more secretive marriage, a tweet from the heartthrob of Bollywood, John Abraham addressing Priya Runchal, an investment banker in New York, as Priya Abraham said it all! The two had tied the knot two months after knowing each other. Their relationship is believed to have started on a rocky phase when John and Bipasha Basu were in a committed, steady relationship. But the couple soon caught much attention as their friendship grew from working out in the same local gym to being seen together holding arms at several public events. It seems even John learned his lesson after dating a celebrity for so long and thus settled with a regular person!
Emraan Hashmi and Parveen Shahani
The serial kisser who has traced a long way from Footpath to Ghanchakkar and now Mr.X, Emraan Hashmi is believed to be a complete family man back home. Emraan married his long-time girlfriend, Priya Shahani, a teacher in a pre-school even as he is known to lip-lock his co-actresses and has much of a playboy image in Bollywood. Theirs was another inter-faith marriage where Priya belonged to a Sindhi family but got married to Emraan in an Islamic wedding ceremony. Much contrary to his movie plots showing him pecking kisses on several actresses and having multiple affairs, Emraan believes that Priya is the love of his life with whom he can share his entire life. He is also a doting father for his four-year old son, Ayaan.
Shahrukh and Gauri Khan
Our very own King Khan has proved that marriages can survive and do well even if it is between a commoner and a superstar in films! Though when Shahrukh and Gauri got married, the Badshah of Bollywood was far from his dreams of ruling the tinsel town, but Gauri has supported Shahrukh althrough his acting career and continues to do so, though she herself is not an actress. The couple met at a common friend's party when Shahrukh was only 18 but the then shy boy wooed not only Gauri as he searched her in the entire Mumbai when she had left for the city with her friends not informing Shahrukh, owing to his possessiveness, but even convinced her parents for this inter-religion marriage of a Hindu girl and a Muslim boy. The couple has been happily married for more than 22 years with three children – Aryan, Suhana and AbRam, thus being exemplary in their love, trust and commitment towards each other as well as the tolerance for religions different than one's own. The family is also said to celebrate all festivals merrily.
Do you have a secret crush on some of the Bollywood stars? Well, the hope to get hooked to them for life someday can never die when such inspirations are there, motivating us to believe in love.
And what more? Many others can get added to this list with each passing year!