Selena Gomez's recent controversy on clicking pictures that showed her ankle and laughing with friends is yet to teach us the lesson …
If you thought that movies attacking the hypocrisy in religious systems and khap panchayats commenting on rapes only sparked controversy, think of the time when Bollywood actress Katrina Kaif had incited outrage among Muslim communities by wearing a skirt in Moinuddin Hasan Chisti Dargah during her shoot for 'Namastey London'.
Her short skirt exposing her legs were termed as 'objectionable' even though she was on a shoot and apologies had to be made by the film director, Vipul Shah.
Well, a similar controversy has mushroomed with Hollywood pop sensation, Selena Gomez posing her ankle for a snap while visiting Abu Dhabi's Sheikh Zayed Grand Mosque.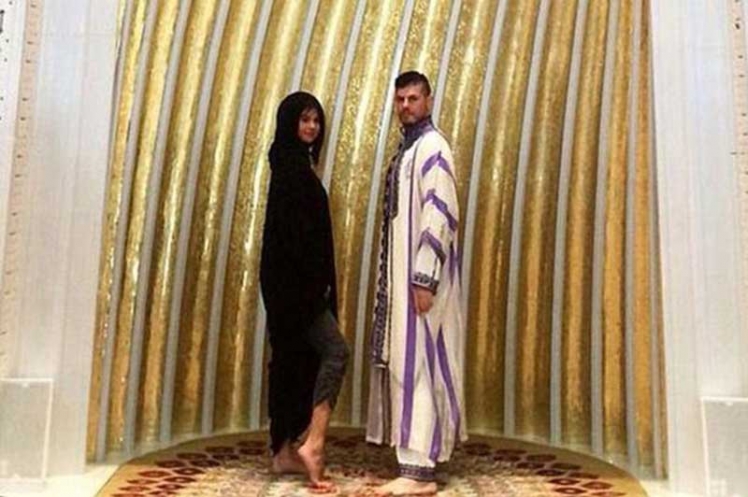 The mosque's official website marks a strict dress code that prohibits any revelation or exposure of legs.
While the rule enforces men and women to wear "long, loose fitting, ankle-length trousers and ankle-length skirts or skies" respectively, women are asked to "wear a headscarf" too. The mosque also reportedly forbids "laughing or smiling" and any "immodest or intimate behaviour" and since Selena was spotted laughing her heart out with Hollywood celeb friends, Kendall Jenner, Gigi Hadid, Cody Simpson and Shay Mitchell for a snap and has posted the pictures on Instagram, she has made a furore among Instagram users.
Apparently her ankles and part of her leg was shown in the pictures which incited the mosque leaders to get outraged over her 'disrespectful' behaviour. Though the 22-year old has now deleted the photos from her Instagram profile, she has created a rage with her snaps and provoked the Islam leaders who already have issues with pictures showing exposed leg, provocative poses and snaps of funny faces and hand gestures.
Many have taken to social media sites like Twitter and Instagram to comment on the incident. Some have blasted Selena on her 'objectionable' attitude in a holy place and described their sentiments, saying:
"If their intent was to learn about Islam, they wouldn't be posing like they were standing outside an amusement park."
"Disrespectful! It's a religion place not a place to have fun in, so disappointed."
Every coin has an opposite side to it, so do the comments on Selena's pictures. Some have also defended Gomez saying,
"They're not disrespectful. Hundreds of thousands of people visit Sheikh Zayed's mosque in Abu Dhabi. "It's a place of worship, yes I know, but God never forbade the entry of other religions into any mosque. So please respect the fact that they actually want to get to know Islam and its beauty."
So now #SelenaGomez is being attacked by Muslims for showing her ankle and smiling in a mosque. I find this… http://t.co/VDUcH8KF0R

— The Wicked Bitch (@amy_irene_white) January 3, 2015
Well, this was neither the first time that Selena was lambasted for 'disrespecting' cultural religiosity nor was it the first time for a controversy of a celeb in a mosque. In 2013, some members of the Indian community were scandalized seeing her wearing a bindi on her forehead for public events and functions where she made appearances and even performed on stage wearing the bindi. It was considered wrong that she treated the bindi as a mere fashion accessory that otherwise is considered sacred for women in India.
The same year when Rihanna visited the same mosque in Abu Dhabi, she too spurred controversy with her pictures in a black jumpsuit and a hijab that were supposedly, "not in keeping with the sanctity of the holy site." The barbadian singer was asked to leave the mosque premises by the staff who deemed her behaviour to be an "inappropriate" one, considering the fact that she was in a sacred place.
People have resorted to tweets to even express religious bias and hatred towards other religions, while some have claimed that it is only a matter of showing an ankle and nothing so grave that should be a part of public discussion forum.
Well, I think whether it is a mosque, a church or a temple that we are talking about, religion, community ideals and belief system have been sensitised much more than they actually deserve to be and there are graver issues in all countries to ponder about.