US and Japan – The US and China are having trade tensions between them two and amidst the crisis, President Donald Trump imposed 10 percent tariffs on $200 billion trade imports from China.
Earlier, a 25% tariff was imposed on $50 billion imports.
China, without budging from their stand, imposed retaliatory tariffs and the other countries that are on commercial tie with them are bearing the brunt. The world economy has also been left jittery as the fallout of the war and the big-wig American multinational companies too are quaking like a leaf their business might hit the rock bottom.
The major company that has been voicing concern for long was Apple whose operations are carried out in both US and China. It is fearing a severe commercial nosedive in the time to come.
In such a situation, the sworn rival of China, Japan has joined hands with US  which eased the fear of President Donald Trump by signing a treaty. Alongside the UN general assembly elections, President Donald Trump and Shinzo Abe would be in talks about goods which will be aimed at building a fear trade. Both Trump and Abe refrained from taking steps against the spirit of their understanding in the due course of the negotiations.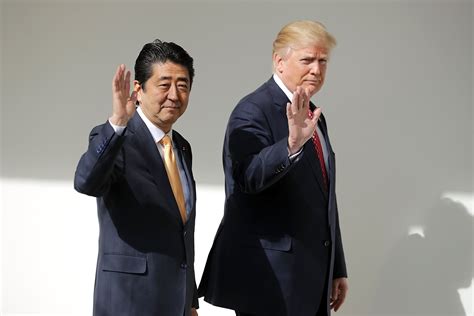 In a Press Conference that came at the foot of the treaty, Abe said, that Japan is really of the belief that US will not take any actions under the so-called section 232, which is a legal clause which enables Washington to restrict imports citing concerns over national security.
Abe said "We must not set the hands of the clock backward,"  and he further added he wants the two countries to invigorate mutual trade and investment. The bond between Abe and Trump was formed even before Trump, the business tycoon who swept in power with unprecedented majority.
Taking a leaf from history, US had a trade deficit with Japan too in the 1980s and back them Donald Trump was a business celebrity and Japan's business graph went rapidly escalating. At that time Trump grumbled about the US and Japan trade deficit but in a recent interview to the Wall Street Journal, he has revealed that he wants to maintain a good trade pact with Japan and that the Japan government is a good negotiator.
Trump also labelled Japan as being really strong and held his hopes high that it will do good in future.
The US and Japan both are strongest economies of the World. While US is the first largest economy, Japan secured the third position. While both the countries make up at least 30% of the whole GDP of the world, their trade ties are interconnected.