Kapil Sharma Fight With Sunil Grover – No doubt, Kapil Sharma and Sunil Grover's recent Twitter spat is all over the internet.
According to the reports and Sunil Grover's tweet, one thing seems to be clear-cut that Sunil is never ever going to return on The Kapil Sharma Show.
Here's the tweet. (Just in case you missed it)
From a friend, with love @KapilSharmaK9 pic.twitter.com/2c7uQ5jqH5

— Sunil Grover (@WhoSunilGrover) March 21, 2017
Yes, I know that this news has broken millions of heart, but that's what it is.
It is pretty obvious that once Sunil Grover leaves the show completely, the Fun & excitement level will drop down automatically. It isn't a new thing and it's also quite a predictable situation because that's what happened when earlier Sunil Grover had quit the show.
This time around it's not only about Sunil, but according to the reports, Chandan Prabhakar and Ali Asgar too have decided to boycott the show.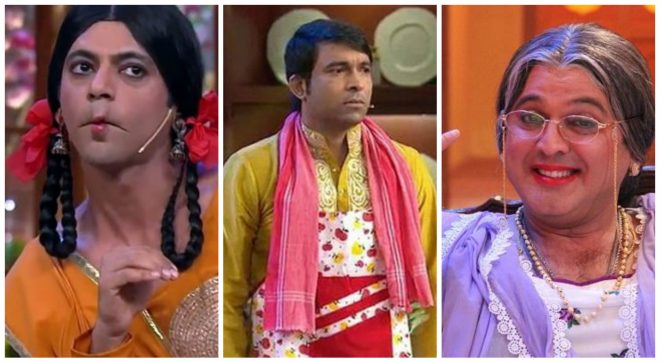 Now, this is another shock, right? Seriously, can you even imagine the show without these amazing talents? It'll be so damn boring.
The main thing that will happen to the Kapil Sharma Show is that, the TRP ratings will come down and down. Yes, and this is nothing less than a nightmare. Earlier, Kapil Sharma was drowning in the same situation and this time too, it seems that Kapil has to go through it all over again.
The cast members of the Kapil Sharma show are an important & major part of the show, so it will hard to watch 'em leaving the show.
We all know that Sunil Grover's acting is truly exceptional, and his characters Dr.Gulati and Rinku Bhabhi are loved and undeniably irreplaceable. Sunil Grover's character has impressed people so much that many think that the show can never survive without his presence.
Flashback to those scenes that he created with Akshay Kumar, SRK, and Aishwarya Rai…Who can pull that off so amazingly?
Plus, Ali and Chandan's characters are so damn amazing too.
Talking about Ali and Chandan, according to the reports, they have boycotted the show because of Kapil's behavior with Sunil on the flight. So, does this mean that Sunil's statement about Kapil "Stop acting like God" really holds the fact that Kapil treats his members like "nothing"?  If that's the case then everything is going to drown.
No doubt, Sunil, Ali and Chandan's fans are very disappointed with all the things that happened. And it will be exciting to see whether they will return or not.
Other than that, it is been said that now Raju Shrivastav and Ahsaan Qureshi will share the platform with Kapil Sharma.
Yes, you read it right.
According to the INDIA, both the new leads have agreed to come on the show.
One thing is for sure that things have totally messed up and are going the ugly way. So, let's wait and watch what happens next.
Kapil Sharma Fight With Sunil Grover – What do you have to say about all this?