Here is quick look at why you should go to Smoke House Deli for a brunch soon…
Last weekend I was with a bunch of friends looking for some new eat out places in Mumbai. We understood that the popular Deli from the house of Impresario has started its new operations in Bandra, Mumbai. I must say we had a really good time and ended up spending two hours trying some really interesting stuff.
If you are someone who loves to go for brunches you should soon visit Smoke House Deli….
…because they have interesting cocktails on the menu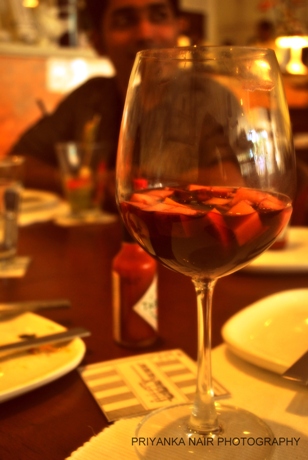 If you love trying out different kinds of cocktails then you should definitely go to Smoke House Deli. Being a wine lover I really think the Sangria they serve is refreshing and perfect to have with your brunch.
…because their vegetarian appetizers are to die for
Who said a Deli doesn't serve good vegetarian food? Of all the Deli's I have been Smoke House takes away full marks from me. Especially, the appetizers like Paprika puffs and Pimento Crostini are a must try.
….because they serve the best Tiramisu in the town
Typically a Tiramisu is served in a margarita glass or is just plated up simple. The one at Smoke House is presented with a twist and is by far the best one I have had.
….because they have an interesting story on the walls
While you are waiting for your food you could look at the walls of this all-day restaurant which is strewn with hand drawings. Each of them conveys A different message and has some really cool stories behind it.
The next time you are in Delhi, Bangalore or Mumbai and if brunch is on your mind don't think twice, just plan to visit Smoke House Deli. Have a great weekend ahead!