Pani puri or golgappe, its nick name 😉 I know by now all your mouths must be watering by just seeing the word.
We all love these little cute watery khattameetha snack. This could be just an emotion for many out their. They are some who really cant imagine an evening without them. Isn't! Well, as this is the most cheapest and tasty snack in India that only cost around Rs. 15 to Rs. 50 and nothing more, is loved by almost all of us.
But wait! That could be not all.
Here I have something that will for sure make to pinch yourself just to believe that it is actually in existence.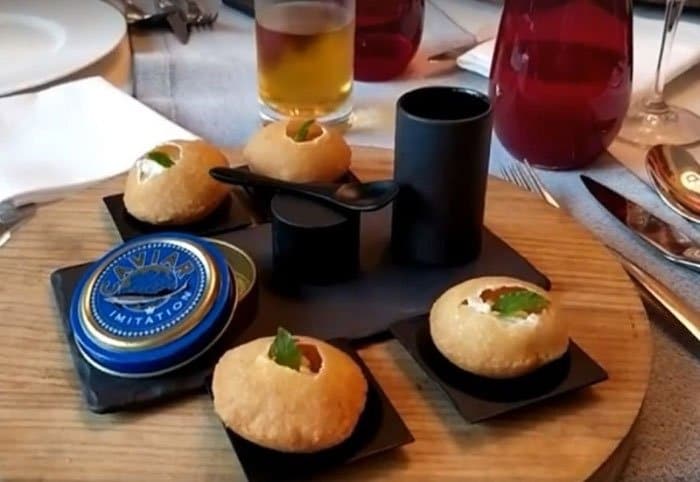 A 5 star restaurant in Delhi actually offers just four golgappes for a whooping sum of  Rs.750! What! Those hot n sour little food cost so much! But why!
Why are they costing so much, when they are made simply with some aata and some sooji. I know you must be quite very much surprised. And so I got you some real facts about these golgappes, that will leave your pockets hurt.
Check this out.
A 5 star hotel in Delhi is said to offer 4 golgappes at Rs. 750. And this may make you think that it might be a rich mans affair in a star hotel. But that's actually not all. It is said that these four golgappes are served in really classy plate with some pani and caviar box. Don't take this caviar to be fish, it is said to an imitation that is made put from molecular technique. Even this may leave you stunned.
So, that means these really crispy golgappes that are served already served with some daahi, some khattameetha, Pani puri ka pani and of course the really surprising box caviar box cost you an whooping amount of  Rs. 750.
I really wonder if these Pani puri should be consumed with that caviar box. God must be knowing. That would definitely leave the pockets hurt. And this now has got its place in my life time achievements list 😉 And what about you!