A rich blend of history, culture and folklore, the desert town of Rajasthan is a lot more than it appears to be.
While Rajasthan has always been my favourite destination in India, like for most of the tourists who visit our country, I was mostly intrigued by the rustic yet royal countenance of Jaisalmer. A different air – that filled with history and folklore greets you when you enter the city. The cultural undercurrent of the place is so strong that you can almost smell it. Especially, if you happen to be a vicim of urban city life, walking around in chic clothes and hogging on to fancy food, a trip to the city will prove to be a humbling experience. And in a jiffy, you will be reminded of your roots and where you come from.
Once a desolate and sleepy desert town of Rajasthan, Jaisalmer has transformed into a popular tourist destination, specially during autumn, when the city is bathed in colours and strong, inviting aromas of the region's specialities guide you through its lanes. And during winters, when people travel to the cold desert city for a dose of culture, history and sand dunes.
As a kid, I used be a great fan of Alladin and Jasmine and when I enetered the city for the first time, I was taken back to my childhood. The only difference was that the desert landscape where both of them used to fly around on their magical carpet, seemed real and tangible.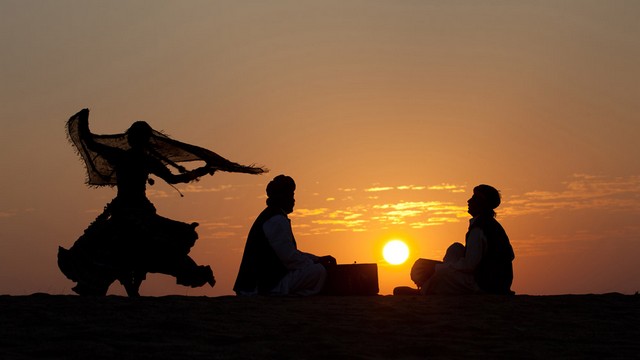 Jaisalmer appears to be straight out of the pages of the Arabian Nights – standing in the heart of the Thar Desert with its limitless expanse of sand, and you will see medieval homes and fortifications built of yellow sandstone sprawled out all around you. And you will wonder if Alladin was for real.
Out of all the ancient structures in the city, the most imposing is the Jaisalmer Fort, built in 1156 AD by the Bhatti Rajput ruler Rao Jaisal, after whom the city is named. One of the largest in the world and the second largest in the state after Chittor, it is locally known as the Sonar Quila or the Golden Fort because of its massive tawny façade, which fades into honey-gold as the sun sets and gradually merges with the golden wilderness surrounding it.
Even today, about one fourth of the city's population lives inside the fort which is also home to the Raj Mahal (a royal palace), Jain and Hindu temples, and merchant havelis — all beautiful examples of the marvellous Rajput and Mughal architecture.
Adding colour and flavour to this rustic town are its people, who have best preserved Rajasthan's tradition and heritage through folk dance, music and delightful ethnic cuisine.
Here's our 10 must-see places in Jaisalmer:
1. Take a camel or a jeep safari to explore the limitless desert.
2. Visit the Desert Cultural Centre to learn about Jaisalmer's heritage and customs.
3. Gadsisar Lake for some peace and quiet.
4. Jain temples dating back to the 12th century for their Dilwara-style architecture.
5. Tazia Tower for design, besides Jaisalmer Fort and havlelis of Nathmal Ji, Patwon Ji and Salim Ji.
6. Amar Sagar, a scenic lake adjacent to the 17th century Amar Singh Palace.
7. Bada Bagh which has a garden, a tank, a dam, and cenotaphs in the vicinity.
8. The Desert National Park.
9. Wood Fossil Park where stood a forest 180 million years ago; Khuri or Sam sand dunes.
10. Lodurva for peacock dance amidst Jain temple ruins.
Ready Reckoner
Getting to Jaisalmer: Take a direct train from Delhi.
Stay: Hotel Pleasant Haveli, Chainpura Street, Gandhi Chowk; Hotel Garh Jaisal, Fort Kotari Para; Hotel Vitoria, Kund Pada; Suryagarh, Kahala Phata Sam Road, and Hotel Lalgarh Fort and Palace, Patwa Haveli Road.
Eat: Rajasthani cuisine (ker sangri, murg-e-subz, bhanon aloo and more) at Trio and Chokhi Dhani.
Travelling around: Hire a cab or takeauto-rickshaws.