Delhi, well at least some parts of it, comes alive during the puja. Here is a food lovers guide to the puja.
Do you think Durga Puja is just about puja?
Oh, you are so wrong! How?
Ask any Bengali friend of yours if you have one. And if you don't, just make one.
Durga Puja is the time when you buy new clothes, eat lots of good food and visit beautiful pandals.
Delhi, well at least some parts of it, comes alive during the puja.
Durga Puja is the time when you get the best fish in the town.
The Calcutta delicacies are overflowing in the pandal areas. With so many options in sight, we suggest you try Ilish Mach, Pabda Macher Jhal and Fish Orly besides usual favourites fish fry and fish chaaps.
You can also try variety of rolls – fish rolls, chicken rolls, mutton rolls, egg rolls and even vegetable rolls. You can also eat kabiraji cutlets, which are essentially made of fish, mutton or chicken fried with egg. Also watch out for the prawns (chingri) and other seafood preparation.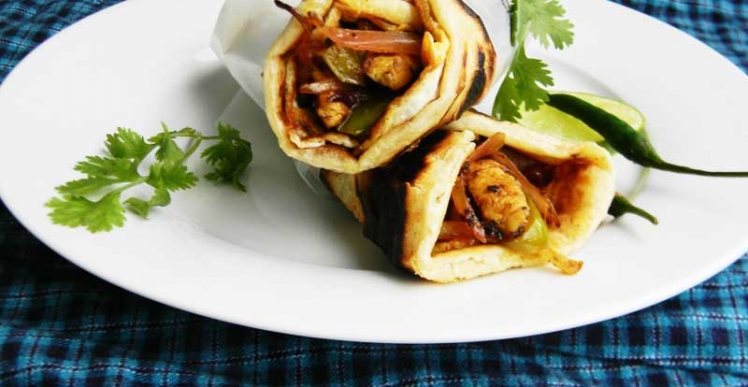 Bijoli Grill is a famous food chain which serves you lip-smacking items under one banner.
Puja food is always vegetarian served inside the pandals as puja prasad. It includes khichuri, labdah (mixed vegetable), beguni (brinjal pakoras), tomato chutney and payesh and wins hands down when it comes to delicious food during puja.
Besides, you can binge on street foods like puchkas, jhaal muri, luchi, aaloo tikki and all possible varieties of chaat. Another popular thing to have is the ghee dripping, sinfully delicious Mughlai Parantha.
And you haven't completed your navratra nirvana if you do not complete this with Bengali sweets. You cannot miss the malpoa, the payesh, the mishti doi and of course the sandesh.
Nowadays, there are options of various puja thaalies where you can find these delicacies cheap and delicious in one plate.
My Bengali friend once told me that on the last day, when it's time to bid the goddess farewell on Dashami – the day when she returns to her husband Lord Shiva – married women feed her sandesh. This is also the time when you whisper a secret wish into Maa Durga's ear, and she will make sure it comes true!
So, move around, take your friends and family along. Enjoy!