A journey to Jagannath Puri Orissa is incomplete without collecting some memories from Pipili, the land of pure craftsmanship in Orrisa. Le us take home some collectibles.
As you set out for your journey to Puri, the divine abode of Lord Jagannath; don't miss the plethora of interesting features on the way that the state of Orissa offers to the tourists.
Approximately 40 km from Puri, as you travel through the path treating your eyes with natural vistas; suddenly you get attracted to the splash of colours in vivid ways displayed all over.
Make a halt for while!
You are welcomed to the ultimate place of appliqué craftsmanship in the world, called Pipili, better known as Pipli. This small town got its fame for the region's unique appliqué work that dates back to the 10th century. Historical facts reveal that this vibrant patchwork of fabric on fabric, especially as the canopies, umbrellas and banners, was connected with the rituals associated with the Jagannath Temple. Backed by royal patronage the appliqué work reached far and wide.
Numerous shops bee line on the both sides of the road selling multi-hued intricately designed souvenirs; from cloth danglers, buntings, bags to many such other artefacts; await you for a grand shopping experience. You are certainly spoilt for choices here. You will get appliqué worked purses, letter racks, wall hangings, bedspreads, cushion covers, pillow covers, lampshades and tablecloths.
The Art Form
The exquisite applique works primarily revolve around motifs such as flowers, birds and animals like peacock and elephant. If you are looking for richer look, ask for the ones with mystical and mythological characters like that of Mahabharat or Ramayan characters or even the abstract geometric outlines. However pick up one done on suede or velvet fabric base over the cloth one, as they give a chic look. They are further beautified with detailed embroidery work, sequins and mirrors. The most popular or traditional colours are red, yellow, white and black. But of late a range of green, blue and other vibrant hues are also making their way.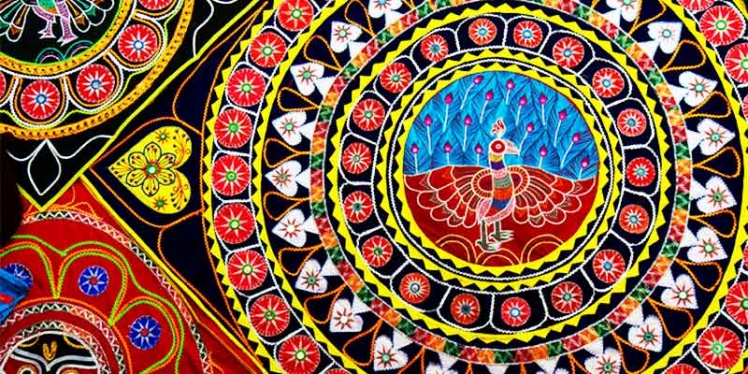 Home Decor In Applique
Want to pep up your garden, then a must buy is an appliqué worked garden umbrella. For an instant ethnic makeover of your home these beautiful handicrafts come handy. Spread a bed-cover done with appliqué work or simply put pillows or cushions wrapped in this stunning craftsmanship. Pep up your living room by installing an appliqué lampshade, as the light muffles the ambience passing through this variegated shade; enjoy the warmth milieu sipping cup of coffee. Looking for a piece of art which can jazz up even the dull walls of your home, then what is called a Chandua, a decorative wall hanging piece studded with mirror, sequins, beads on colourful base can be your best pick. The products can start from just Rs100/- and goes up to thousands depending on the size and detailing.
Besides the original practice of handcrafted ones, today one can get the machine-crafted works too. However, the charm of the earlier has its own statement. You might have to shell out a little more, but for the authentic memorabilia go for the handcrafted one only.
Shopping here is nothing but a colour-filled ethnic fiesta that can delight your journey to this land!
Head to a colourful pilgrimage for the memories of a lifetime!