With another early exit from a Grand Slam event, the tongues have started wagging and the rumor mills are buzzing that the time is up for Roger Federer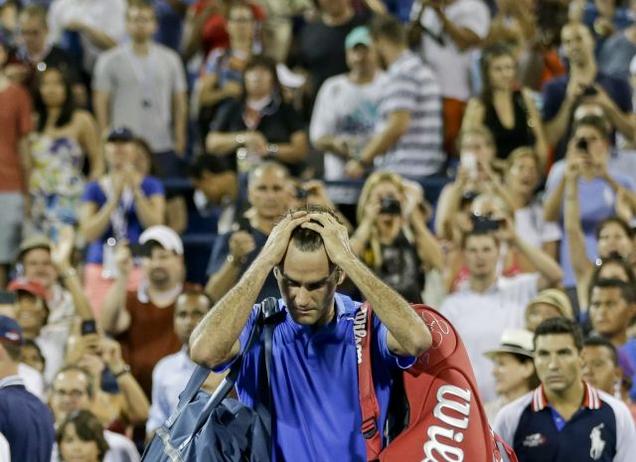 With another early exit from a Grand Slam event, the tongues have started wagging and the rumor mills are buzzing that the time is up for Roger Federer. Everybody seems to have a question in mind about whether the 32 year old Swiss Maestro will walk away from the game. If we go by what Federer has been saying in recent press conferences, he's far from being over.
The Legend
Federer is undoubtedly one of the greatest, if not 'the' greatest, tennis players to have played the game. He has won almost everything that is there to achieve in Tennis. He has won all the major tournaments that are held in a calendar year. With 77 titles, Federer stands third in the all time list of title winners in the open era. The only thing that has been elusive to the Swiss master has been an Olympic gold in singles competition. He came very close in the 2012 London Olympics but fell short at the last hurdle against Murray and had to settle for a silver. He, however, had won a Gold medal in the men's doubles event in the 2008 Athens Olympics.
Slump in form
Since 2010, Roger Federer has won only two grand slam events. He won the Australian Open in 2010 and Wimbledon in 2012. After successfully reaching in, at least, the quarterfinal stages of all Grand slam events since Wimbledon 2004, Federer has been struggling this year with a second round exit at his favorite slam Wimbledon and recently the fourth round exit at the US Open. This has resulted in many saying, including the former legends of the game that Federer may not be able to win any more Grand Slam events and thus, may retire soon. This is the second time since 2003, that Federer has not won at least one Grand Slam tournament in a calendar year. The other time was in 2011.
Retirement Voices getting louder
The average age for a tennis player to retire is around 32-33 years. Federer is already 32. The motive for a tennis player to continue playing is to keep winning tournaments and Grand Slams, Federer has been struggling to do so for some time now. He has slipped in the rankings to number seventh, which is his lowest ranking for over a decade.
Will He-Wont He
We, in India, have been chasing Sachin Tendulkar for some time now to know if he would retire soon but the master blaster has denied that he would retire in the immediate future. Same thing is happening in Federer's case, we may dwell on the fact that the best is past him and he is on a downward spiral so he should retire, but at the end of the day it's up to the player to decide whether he thinks the hunger to win is still there or not. Unlike cricket, tennis is an individual sport. In cricket, a player can be dropped for poor performance and that may result in a player (who is over 35 years of age) to call it quits from the game. Tennis is completely different, as the players decide their playing time unless it's a competition like the Davis Cup or Olympics. So the ball is in Federer's court to decide whether he still has the hunger to win big tournaments and carry ahead his legacy. He has already won a record number of 17 Grand Slams and is clearly one of the Greats of the game.
So is it time for Roger Federer to pack his back and retire or is there a comeback still left in the Swiss Maestro. Only time will tell as we can only wait and watch.