Meet Trishneet Arora, a 20-year-old school dropout who has become the face for solving cybercrimes and has gained recognition both at home, and internationally.
In an age where most transactions and shopping take place online and social media networking is the buzzword, we are potentially exposed to the threats of the cyber world, so much so that sometimes the police, defence and even the cyber cell linked with the national and state security agencies are not able to solve such cybercrime cases.
In such scenarios, it is the ethical hackers who come to the rescue of the society and the nation.
These individuals work behind the scenes but contribute immensely to fight the battle against cybercrime. One such successful ethical hacker who has acquired an international recognition as the young Indian author, cybercrime consultant, and investigator with the Punjab and Gujarat police departments and even known to have trained the latter on cybercrime security is the founder and Chief Technical Officer of TAC Security Solutions, 20-year-old Trishneet Arora.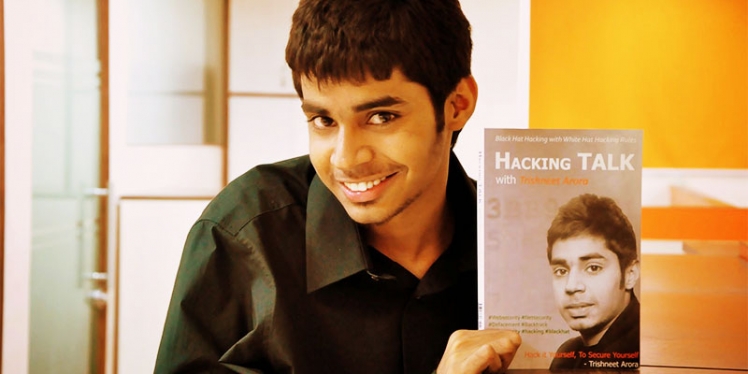 A school dropout, Trishneet is listed among the top ten ethical hackers on the Microsoft Social Forum, let alone the fact that he has become popular with conducting workshops and seminars on Cyber Security, increasing Cyber Crimes and Ethical Hacking to students, police officers and even IT Professionals.
The young techie has even had the privilege of sharing the stage with former Finance Minister Mr. Yashwant Sinha and has been invited as speaker at many conferences, events and seminars.
At an age where most students are not sure of what should be their career path and further field of studies, Trishneet has made his mark in the cyber industry with TAC Security Solutions offering IT security solutions, training guidance and consulting opportunities to MNCs and other organizations, some eminent names being Reliance Industries, Ralson (India) Ltd., ICICI Bank, Central Bureau of Investigation(CBI) along with police forces.
His second book on Hacking Talk with Trishneet Arora covers topics ranging from Black hat hacking techniques, Network and Website Penetration testing techniques, Web Defacement to BackTrack operating system. His entrepreneurial venture as well as his books deal with all the techniques that we generally watch in movies to solve cybercrimes. His books can make an attempt at teaching IT students to become ethical hackers, guiding the police to trace numbers and details of criminals and solve cybercrime cases, access confidential/private data and intimating the defence systems of when their websites get hacked by hackers from the neighbouring countries and how to solve such issues. Trishneet's first book was called The Hacking Era. The second one was launched in August this year by Deputy Chief Minister of Punjab, S. Sukhbir Singh Badal.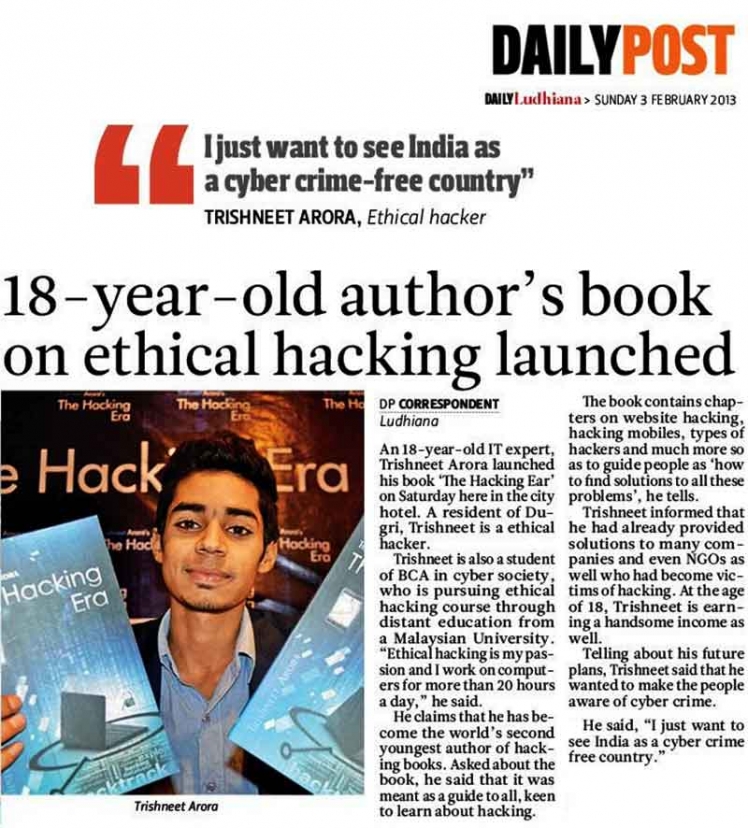 The young champion though has built a powerful portfolio for himself today, never had the means to be rich, successful and/or famous, considering his childhood life. Most of his school studies happened in the back benches and he had failed in Class VIII only to complete his Xth and XIIth through open learning.    His father belonging to the service industry and his mother being a homemaker did not give the son much opportunity to understand the nitty-gritties of business. Yet, he has successfully set up his own business in 2012 and is motivating people to have better IT security. His days of experimentation with his personal computer led him to understand computer hardware better, which he also blogged about.
While earlier, Trishneet found it difficult to get his start-up company registered with the Registrar of Companies, once he started off with his brand for IT solutions, he managed to get clients who asked for web security procedures. His aim at achieving optimum client satisfaction has helped him get some good client base. He believes that more and more start-up companies and subject-matter-experts should go for IT security solutions to protect their data and network systems against cyber-attacks. While the IT ace is doing good providing customized IT solutions for his clients, his future plans are to launch two more offices in Mumbai and Gujarat while also opening a training centre on ethical hacking in Dubai or the UK.
Trishneet is sure to make India a country free of cybercrimes. I am certain he motivates many of us to follow our dreams and passion and lead our way to success.