Dear Mr. Troy Costa, we have no doubt about your skills and creativity as an ace designer. But, what have you been doing with Remo's wardrobe for Jhalak Dikhhla Ja?
Dear Mr. Troy Costa, we have no doubt about your skills and creativity as an ace designer. Very often we see celebs flaunting your creations. They all look good. Infact, we never thought that an unassuming personality like that of our dear actor Nawazuddin would stand out in crowd, until we saw him walking the ramp in your tuxedo at the recent Lakme Fashion Week. We were really impressed with your acumen as a designer who could completely change the persona of a modest looking, short guy, without a chiselled body, and turn him into a showstopper. But, what have you been doing with one of our favourite choreographers, Remo D'souza on a popular TV show – Jhalak Dikhhla Ja? We are a little confused here, thinking about what went wrong with Remo's wardrobe. When we see him dressed up in glaringly funny and strange ensembles, beside a chicly dressed up Madhuri and Karan Johar in moderately decent attire, our hearts just weep aloud. And Remo, we would really appreciate if you give some thought to what you wear on the show. If you didn't have the time to see yourself in the mirror, please look here. We love you a lot and plead you to not make such bloopers again.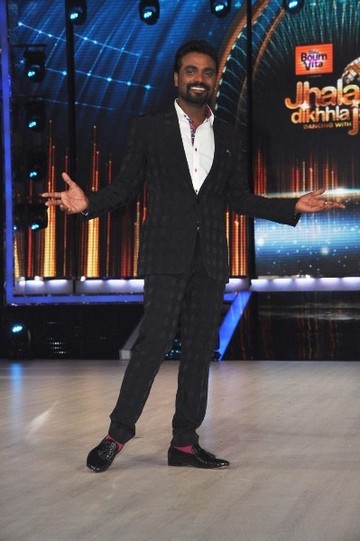 Why so many checks? Alright, we know that checks are in but you really don't have to use them for camouflage. And what's with those pink socks? Please explain!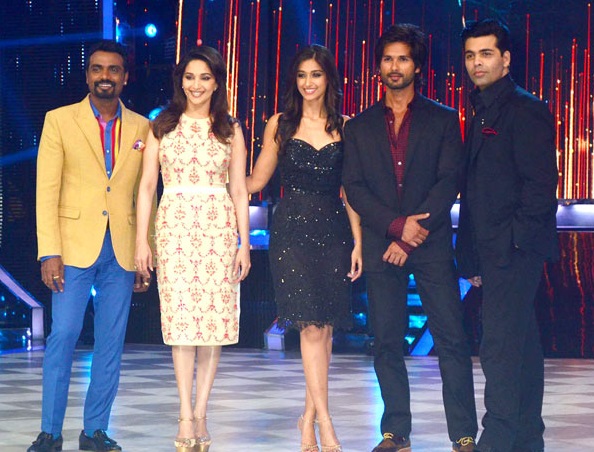 Is that colour palette – that yellow coat and blue pants – inspired from digene tablets? And what do we say about that blindingly bright yellow, red and blue striped-shirt peeping out of the coat… it wasn't a circus show. And we can still see those matching blue socks. Looks like he's got a wardrobe full of candy colour socks. May work for a kindergarten kid, but we are talking about a male celeb on a popular TV show.
The colours got re-shuffled, we guess. That strange looking colour from the coat got somewhere confused in the pants and that god forbidden, shiny, some shade of maroon from the pants went to the coat. Don't worry; we are as confused as you. And if this wasn't enough, the stole, which looked more like a gamchha, left us completely perplexed. Why was it there?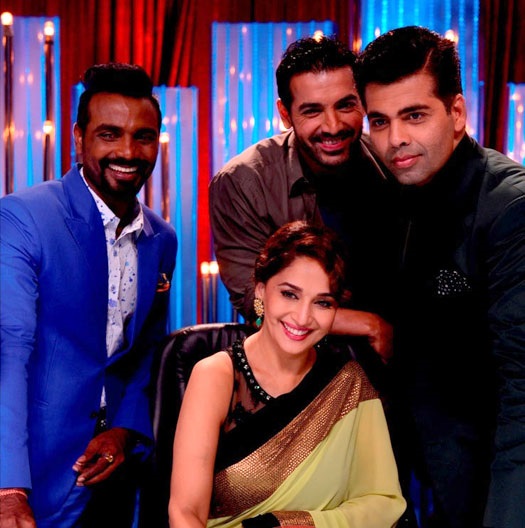 Oh! That electric blue! We love the colour, but not on Remo. Was that a desperate attempt to be trendy? Well… you do have the freedom, at times, to give in to your eccentricities, but still, you could have kept just one element in the ensemble in electric blue. With an over-do of this doesn't-suit-everyone colour, Remo is looking like a disco light, blinking from the corner of a garish discotheque.