We decode the style of one of the most successful and loved actresses of Bollywood through her years in the industry.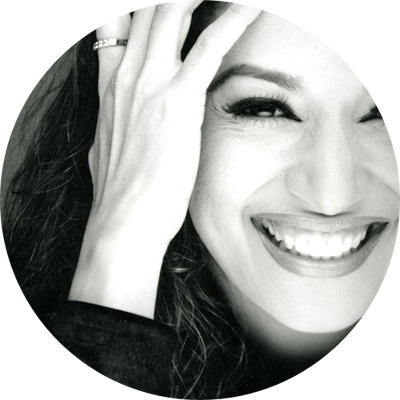 I have grown up on Madhuri Dixit films, like many of you. I have tried to copy her dance moves during the annual competitions that our housing society would organise and also at the slightest behest of my relatives and parents' friends. A lot of you would relate to this, too. But when I think in retrospect, there is a blaring oddity that I associate with Madhuri of the 90s – her garish style sense. Though she was the reigning queen of Bollywood in her decade, she was never quite the style diva we could look up to. Remember those horrendous dresses that an Indian version of Lady Gaga alone would take inspiration from? Those tacky accessories and that typical behenji-type makeup?
Infact, the first time ever I was awestruck with a fashion-goddess-like avatar of the actress was when she appeared on the cover of Vogue, India in 2011. Things have fallen well into place for this actress whose overpowering charm, beauty and talent never led her fashion faux pas come under strict scrutiny, henceforth. Now, when I look at her on Jhalak Dikhhla Ja, I am smitten by her immaculate makeup and those jaw-droppingly hot ensembles. Thanks to whomever! Here's a look at how the style of this Bollywood diva has evolved over the years.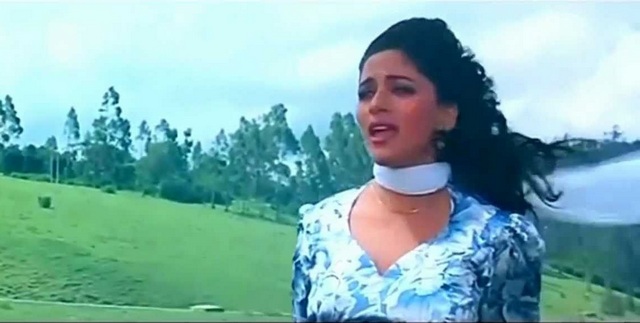 The initial films in Madhuri's career came and went without a bang at the box office until Tezaab. Apart from a sizzling performance in Ek do teen, we also saw her donning some god forbidden clothes. Agreed that how much ever we hate the puffed sleeves now, they were in vogue back then, but seriously, someone could have atleast given a genuine thought to the colour and print. And what's with that luminous fabric? I really pity the cameraman's eyes.
One of her biggest blockbusters was Dil, when she was paired opposite Aamir Khan. The jodi became an instant hit with the audience and so did the songs. But, what is she doing with that dreadful combination of zhatak yellow and purple in Mujhe neend na aaye? I am wondering if Govinda saw this and got inspired. Was that hairstyle in Hum pyaar karne wale copied from Marge Simpson's from The Simpsons? Or, the vice-versa?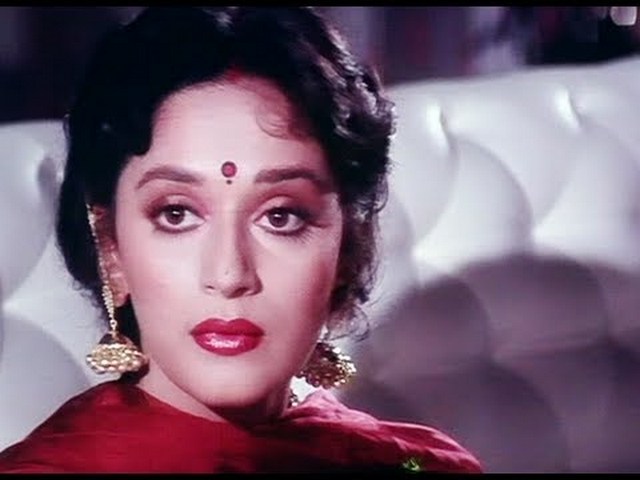 What on earth was the makeup artist thinking? And didn't Madhuri look at herself in the mirror before the take? This 20s-something damsel in Jamai Raja is looking like she has left behind a trail of tiny tots at home. Was the lipstick bought from the local train? 10 rupya mein 4?
Her on and off screen chemistry with Sanjay Dutt became the talk of the town and the pair was starred in a lot of popular films. What we have here is a still from the song Tamma tamma loge from the movie Thanedaar. I am at a loss of words when I am looking at her hairstyle. Didn't Sanjay get scared?
While everyone was crooning the songs of Saajan, I doubt anyone gave a serious thought to what Madhuri was wearing. Forget the melody and meaningful lyrics, how could anyone get over those cheap, plastic flowers in the head, that garishly embroidered strange pink dress, that Alif Laila-inspired headgear and colourful lehenga choli which shouts at your eyes? Sanjay and Salman could have gone blind.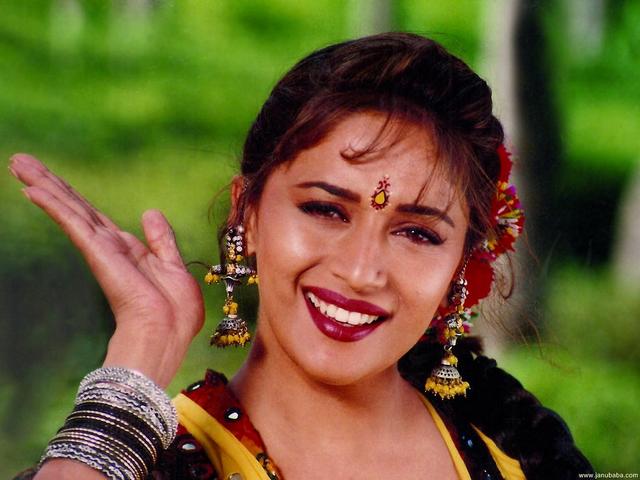 When I look at Madhuri in Koyla, I can't believe that her ensembles were designed by Manish Malhotra. The same designer who completely transformed the on and off screen persona of Karisma Kapoor. Remember her in Andaz Apna Apna? But, what we have here is a very tackily dressed and styled Madhuri. She could have gone easy on the makeup and accessories atleast. That bindi looks more of a rangoli.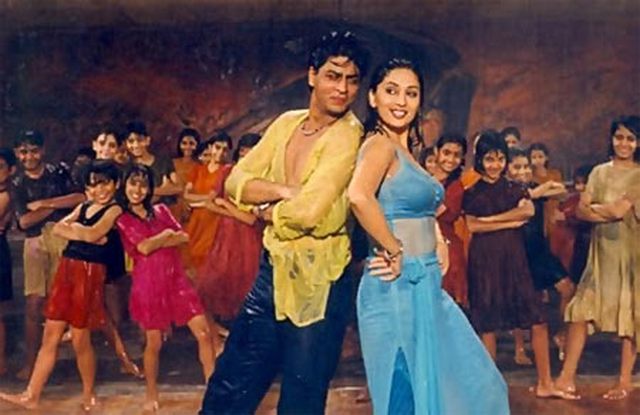 Whether we call her a victim of the outrageous 90s fashion, or simply a leading celeb who had completely gone wrong in her head while differentiating between the good and the ugly, I really wish if Manish Malhotra had come in his true form earlier. Nonetheless, in Dil Toh Pagal Hai, we saw an understated version of Madhuri who looked nothing less than angelic in pure solid chiffons and sheers. Thumbs up to the makeup artist, too.
The actress breezed through the character of Chandramukhi in Devdas. Amidst overacting and overwhelming sets, Madhuri was the only respite in the film. Though she was heavily decked up, she looked every bit of a royal muse.
Her comeback in Aaja Nach Le wasn't touted as the ideal comeback of sorts, but Madhuri surprised us with her reinvented look: that of a woman next-door who wears normal clothes and makeup – something we could identify with.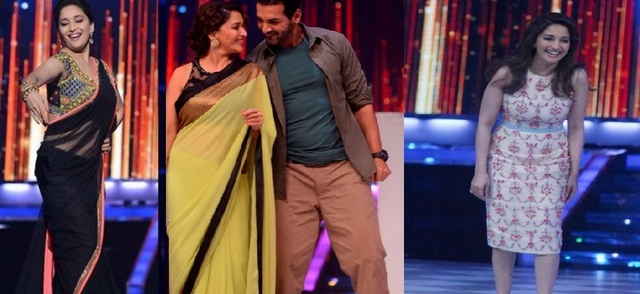 Now, we see her donning drool-worthy designerwear on Jhalak Dikhhla Ja and love her makeup, too. From modern to fusion to traditional, the actress has surely nailed every look to perfection. What a transformation!