"Anarkali Suit"
Anarkali suits is the chosen outfits for the occasions. Well, even we believe Anarkali suits truly enhance the prettiness in every girl. Not only festive seasons but during weddings as well; Anarkali suits completes the fashion.
No doubt, in the midst of choosing any particular Anarkali suit; another thought that runs behind is the budget of the outfit.
So, having understood your troubles; we have listed some of the beautiful Anarkali suits which are worth purchasing and you might even love to wear. And, the budget is also not too high which is in-between the price range of 1000-4000!
Scroll down and check out the eye-pleasing Anarkali suits:-
Silk Blue & Brown Suit
The printed Anarkali suit is truly elegant and the colours are also attractively completing the suit. It is definitely a beautiful Anarkali suit and a girl who loves wearing sleeveless can easily pull this off. As you can the neckline; Mandarin collar is also perfectly stitched.
Price: – Rs. 3,772. Click here to buy.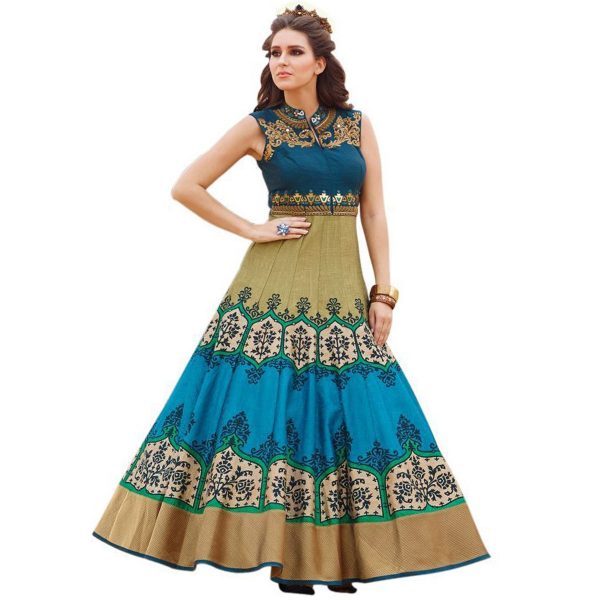 Net Green
Well, simple yet a beautiful one. Isn't it? Nowadays, the netted outfit is a fashion and this Anarkali suit with a netted pattern is too beautiful. And also, the colours are complementing each other wonderfully.
Price: – Rs. 1,629.  Click here to buy.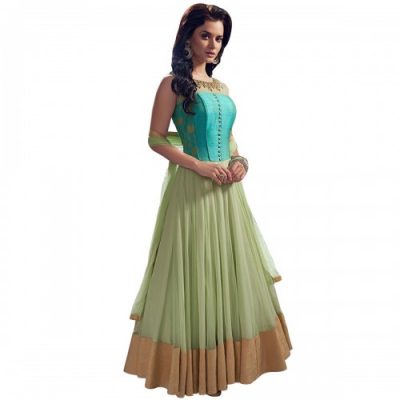 Off White
Wow! This beautiful looking off white Anarkali suit is a perfect wear. Mainly to wear in weddings; this one is a good choice. And, as you see the dupatta carries mixture of colours is also eye-catchy plus the minimal jewellery is also suitable.
Price: – Rs. 2,486.  Click here to buy.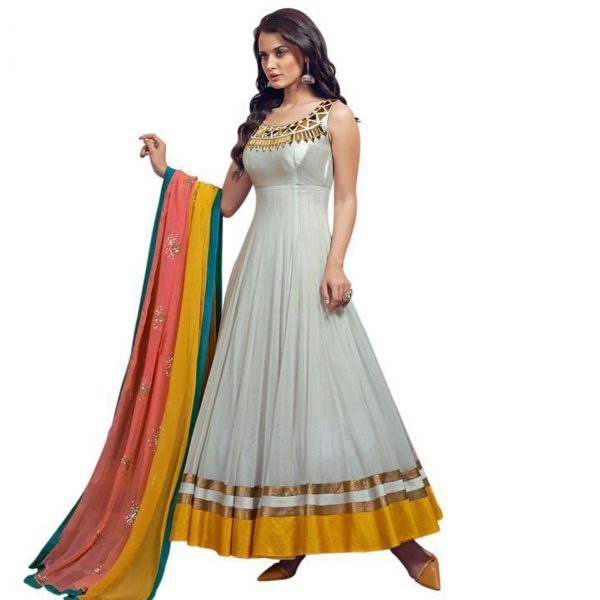 Blue & Cream
I'm pretty sure; many eyes are going to stop on this one. This one with a colour combination of blue and cream is perfect to wear and also the fine design completes it all. Well, it might look a little heavy but this one is not that expensive at all.
Price: – Rs. 1,200.  Click here to buy.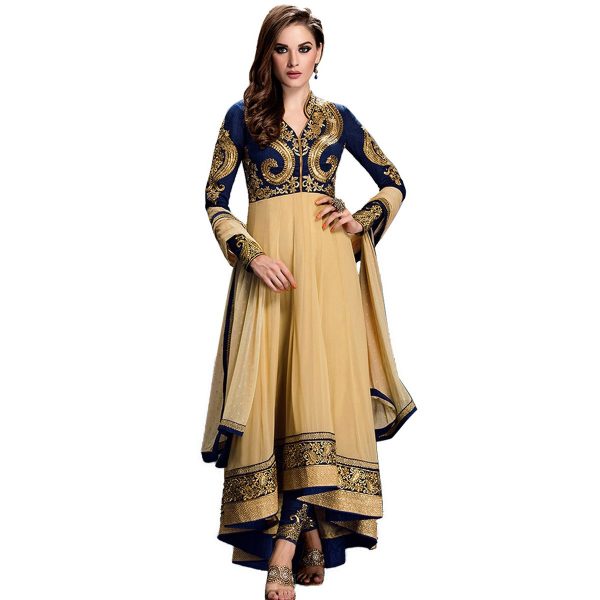 Golden Long Anarkali
If you're done with pink, blue and white; I guess this one is pretty looking Golden embroider work Anarkali suit will definitely be a good choice. The pattern on the suit makes it truly graceful.
Price: – Rs. 1,299.  Click here to buy.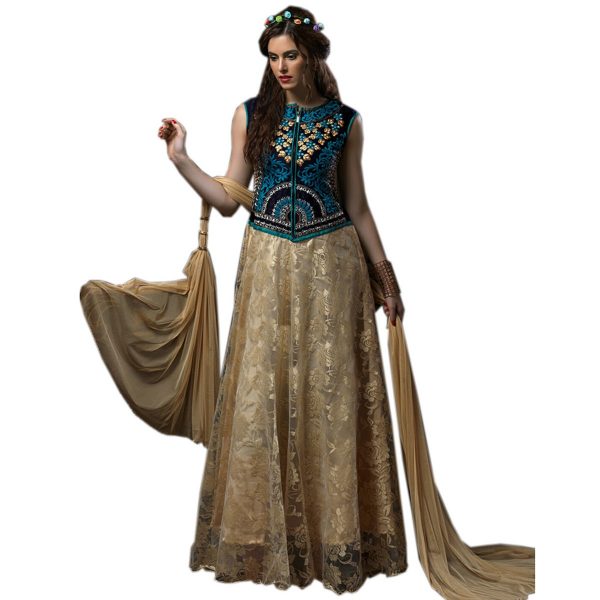 Black is best
Ladies, if you're looking for a black Anarkali suit then I'm pretty sure this one can be a choice. I loved the embroidering work on the red coloured bottom-line. And also, the belt idea on the suit is creative and stunning.
Price: – Rs. 2,149  Click here to buy.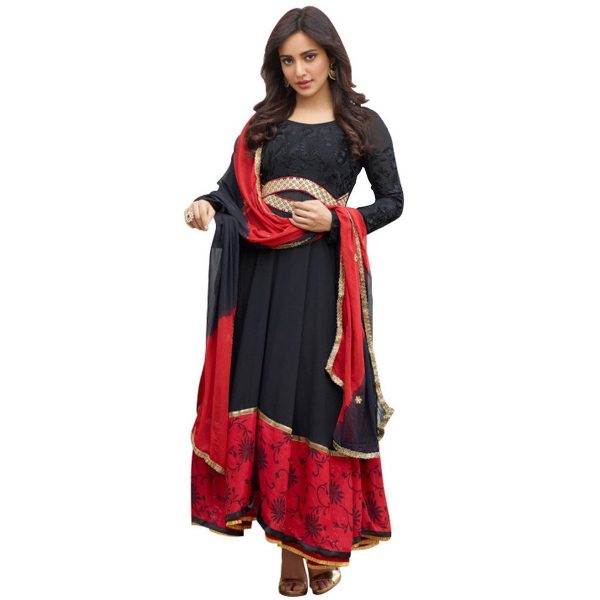 Green Semi Stitched
The embroidery work is totally eye-catchy and the first thing that grabs eye-balls. Isn't it? The sleeveless Anarkali suit is absolutely beautiful.
Price: – Rs. 1,499.  Click here to buy.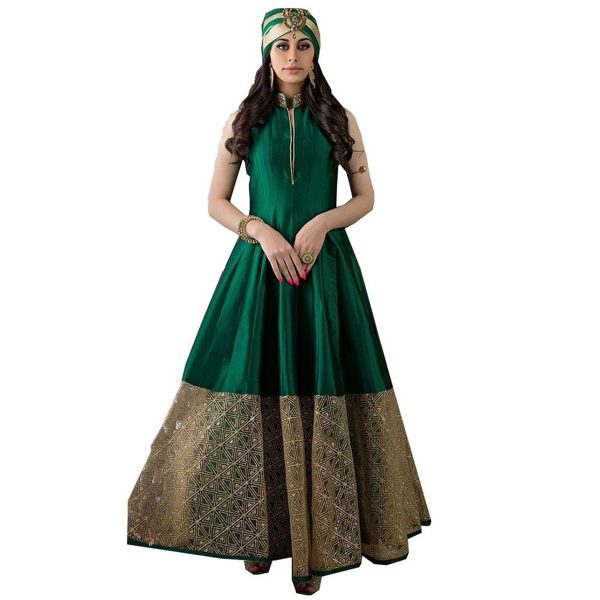 White & Semi Pink
The thread work long Anarkali suit is something new in a fashion row. And, you can totally wear it in weddings etc. The embroider pattern is also completely the outfit perfectly.
Price: – Rs. 1,349.  Click here to buy.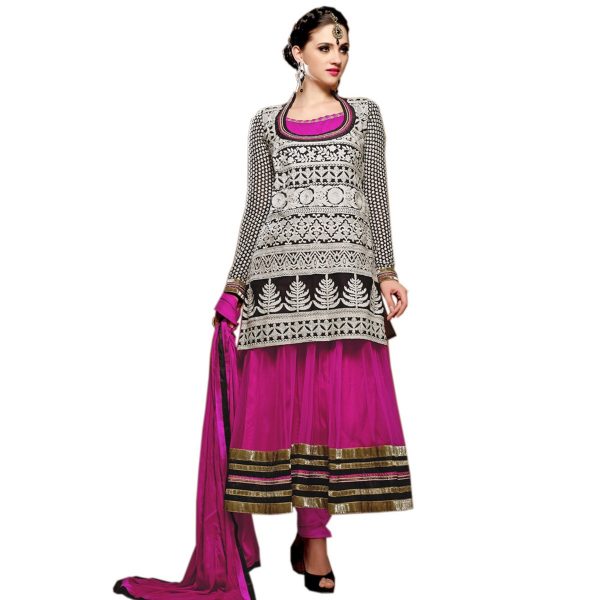 Golden & Turquoise
This quarter sleeves Anarkali suit has pretty embroider work on it. And, the golden fine work is also amazing.
Price: – Rs. 1,875.  Click here to buy.
Floral
Floral design is everywhere today and that's what makes it so demanding. Well, check out this floral Anarkali suit which is simple yet gorgeous.
Price: – Rs. 1,400.  Click here to buy.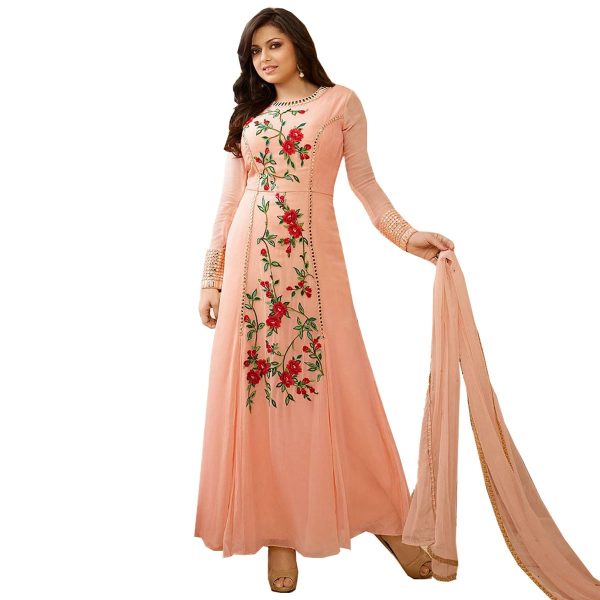 What are you waiting for ? Buy your fav ones ! Want to explore more then click here.