The former Miss World Aishwarya Rai Bachchan walked the ramp at the fashion event of Amazon India couture Week 2015 for celebrated designer 'Manish Malhotra', the gap doesn't create any difference to her performance on the ramp.
After the gap of five years, she looks more confident to rock the industry again with their glorified skin and confident attitude.
She was dressed in a burgundy gown and a golden shrug, she was the diva and she will always be into fashion industry with beauty to be personified. The dress was designed by Manish Malhotra. With the minimal look with just the eyes highlighted, Aishwarya added every bit of bewitching and magical moments as Manish Malhotra's show-stopper for his collection 'The Empress Story'.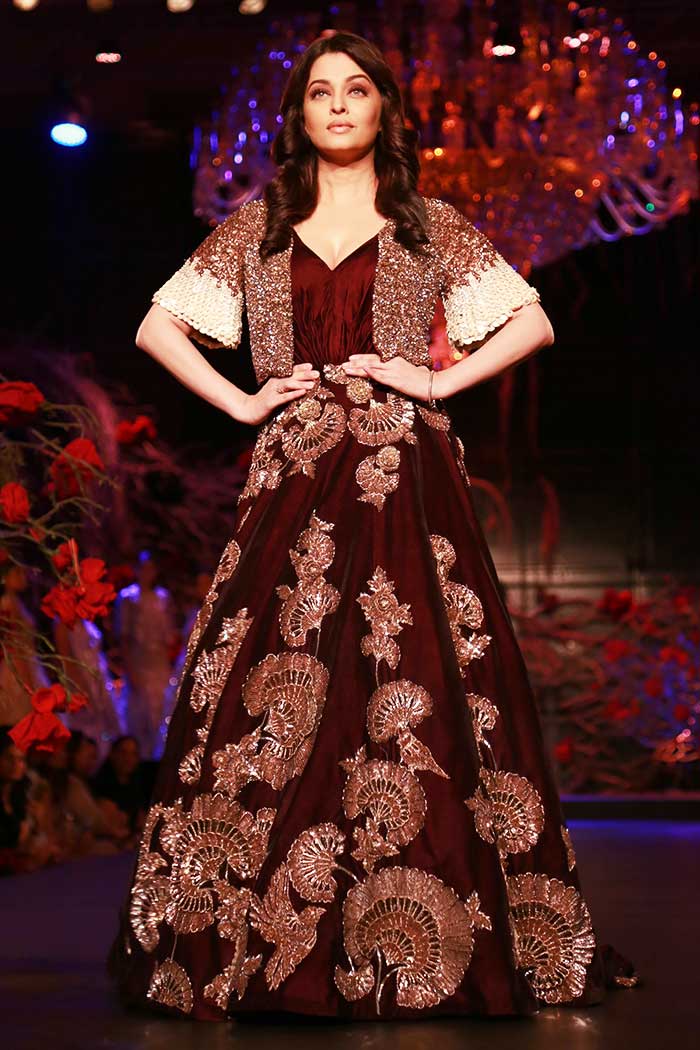 Even she was unwell on the ramp yet she kicked the event with her beauty and personifies the beauty of outfit. She was keeping unwell for some time. She walked the ramp despite having viral fever. But could anyone even guess that she was not well during her performance that attitude, hard work and punctuality towards her worked doesn't made to show on her face. The confidence with which she owned the stage took even the tiniest of weakness off her glamorous face.
She also added her statement to the Amazon event that, she was unwell but shouldn't say no to Manish and who's been a great friend and also completes 25 years in the fashion industry.
After five years of gap, she came with a bang having ultimate style quotient. She is also making her comeback to movies with 'Jazbaa' in which we are able to hear that director wants her to sing in the movie . When she got about the news to sing in the movie, for few minute she was conscious but she with a fearless attitude said will sing for the movie.
This year she made a comeback  at Cannes as well  and now at the Couture Week. She has been gorgeous and fashionable. We are indeed looking forward to see her on the ramp more.
We hope to see more of her style at Bollywood events too. Ash your beauty and also you rock.