Indian chess players – Chess is a game of mind, practice, patience, and money.
Unlike other games, Chess is not promoted to the level, where we get to know about the Indian chess players who are putting sheer hard work and dedication to it. An indoor game played between two players, which is all about moves from box to box ending up to checkmate.
If we talk about Chess, it is believed to be originated in India, so, there is no point for Indians to be not on the list. For these players, Chess is not just a profession but also passion and devotion, they put their life into it. To the readers, I would like you to pause, revive and recapture the names of Indian Chess players you are informed about.
How many Indian chess players could you count?
Here are players who are making it to the "Grandmasters" title. Grandmaster is a title owned by players who achieve three Grandmaster norms in events covering a minimum of 27 games, to qualify for the title of Grandmaster. The title is awarded by FIDE ( Fédération Internationale des Échecs ) is a governing body of International Chess Competition. It organizes various Chess Championships and also releases the international ranking of the players.
Indian chess players
Name that has given a new color to the game of Chess in India. He sometimes is also known as "Tiger of Madras". In the span of 48 years he achieved titles that remain dream to millions who play chess in the country. He received Padma Shri at the age of 18, first sports person to receive Padma Vibhushan and first recipient of Rajiv Gandhi Khel Ratan Award. He is India's first Chess Grandmaster, undisputed world champion from 2007-2013 and current world rapid chess champion. He is the youngest Indian to have the title of International Masters. His peak rank is 1 and the current ranking is 11 in the world. FIDE. FIDI rate him as 2771 as per September2018 ranking. He was a FIDE world champion from 2000-2002.
P.Harikrishna 
Pentala Harikrishna , 32-year old, from Antur, Andhra Pradesh is the next rated from India whose peak rank is 10. He was then the youngest Grandmaster of India at the age of 15. According to FIDI world ranking, his rating is 2743. From 2000-2012, he represented the team seven times, and brought Bronze in the World Team Chess Championships in 2010. He won team gold once, team silver twice and individual bronze once at the Asian Team Championship. He is the second highly rated Chess Champion in the Country.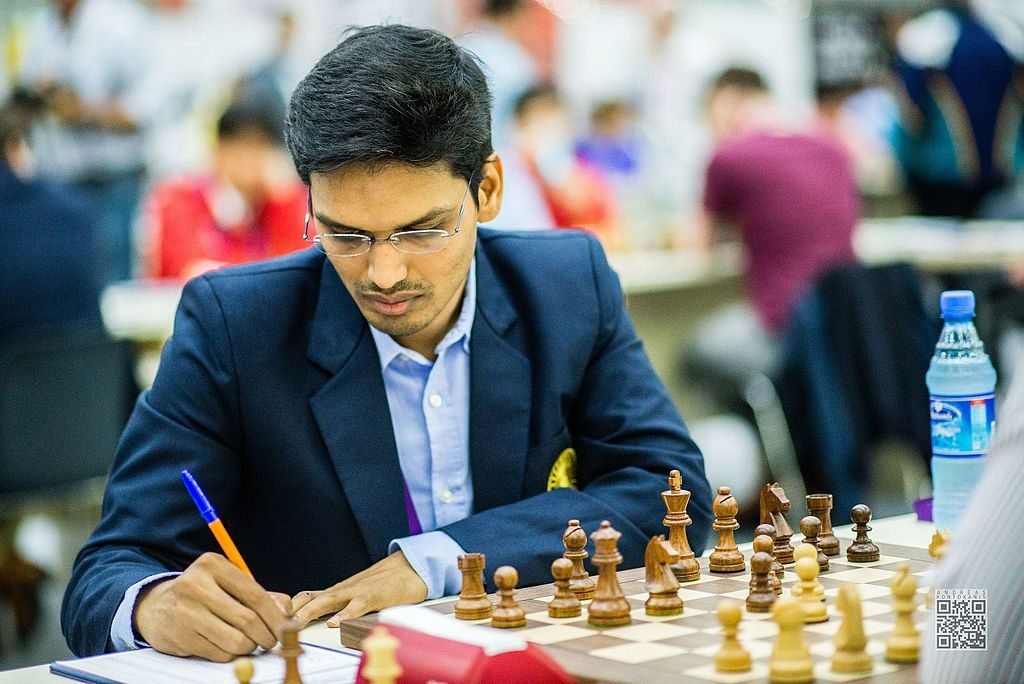 Vidit Gujrathi 
Vidit Santosh Gujrathi, 23-year old, hails from Nasik, Maharashtra. He attained the title of Grandmasters at the age of 18. In 2006, he became the FIDI master when he become the runner up in the Asian Youth Championship U12 . In 2008, he was the winner of World Youth Championship inopen U14, becoming first Indian to do so. He started Chess in a very early age. His peak rating is 2723 and the current FIDI rating is 2711. He is the third highly rated Chess player in India.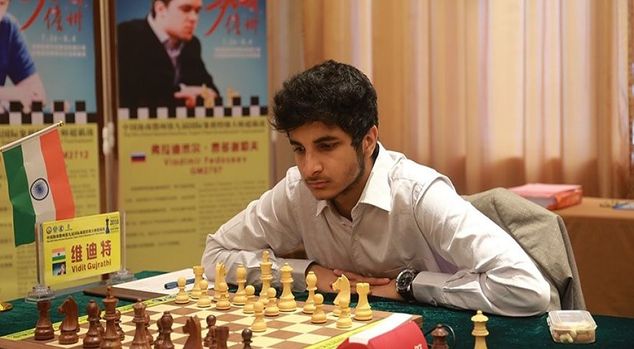 S.P.Sethuraman 
Sethuraman Panayappan Sethuraman, 25, from Madras, is an Indian Chess Grandmaster. A winner of  2004 Asian Championship Under-12 and world Under-16 Championship in 2009. He brought Bronze medal to the team in 41st Chess Olympiad, Tromso and the winner of Indian National Premier Championship, and that marked his qualification for the for the Chess World Cup 2015. In 2016, he won the Asian Chess Championship in Tashkent. His peak ranking is 2658. Present FIDI rating is 2673.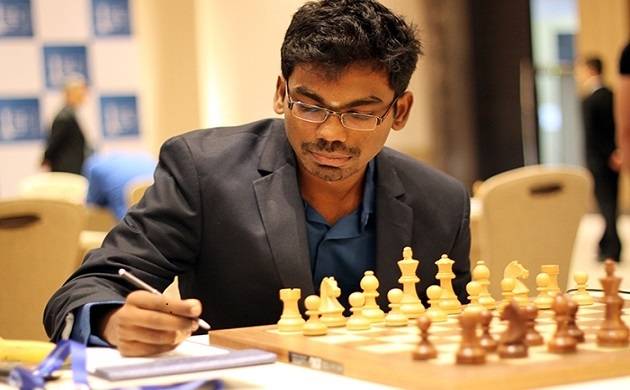 Krishnana Sasikiran 
Krishna Sasikiran, 37, from Chennai, India, is an Indian Chess Grandmaster. He is the winner of Indian Chess Championship first time in 1999, then in 2002,2003 and 2013. He is also  a winner of Junior Asian Chess Championship, became Grandmaster in 2000 after Commonwealth Championship. He is the winner of Hastings International chess tournament. He is the winner of 4th Asian Individual Championship. He is an Arjuna Awardee in the year 2002. In January 2007, FIDE ranked him 21 with an ELO rating 2700, second India player to reach the ELO rating.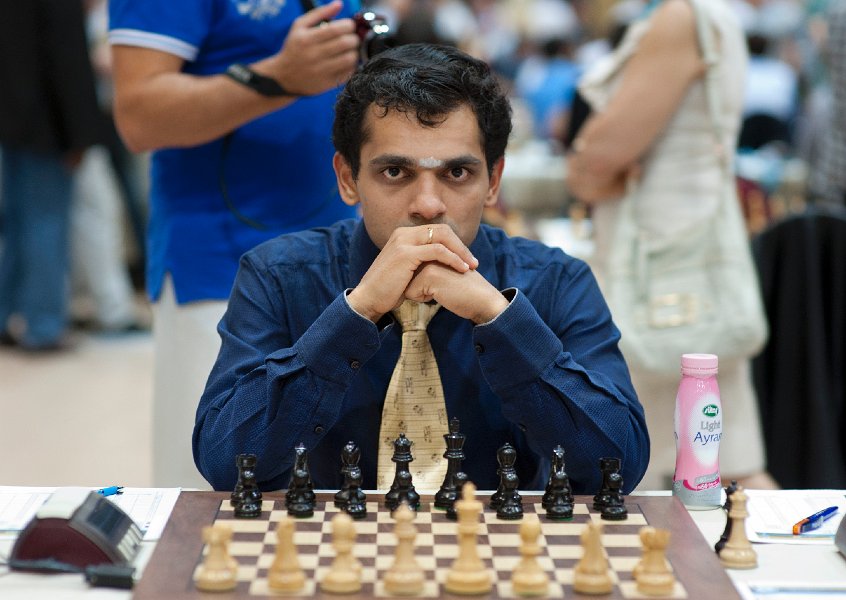 Bhaskaran Adhiban 
Bhaskaran Adhiban, 26 now,  Mayiladuthurai, Tamil Nadu, India. He is an Indian Grandmaster which he aquired in 2010. He has the title of world Under-16 Champion in 2008 and also Indian Champion in 2009. His peak rating is 2689. Current FIDI rating is 2668.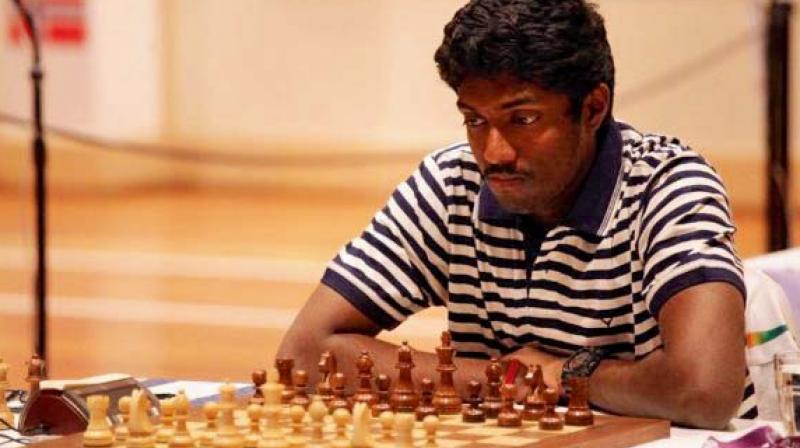 Surya Shekhar Ganguly 
Surya Shekhar Ganguly, 35, from Kolkata, India. He recieved Arjuna Award in 2005. He is awarded with the "Shera Bangali" for being the best sportsperson in 2009 and "Khel Samman" in 2013 by the Government of West Bengal and also "Bangabhushan", the second highest civilian award of the state. He held the title of Internatioanal Mater at 16 and Grandmaster at 19. His peak rating is 7626. Current FIDI rating is 2622.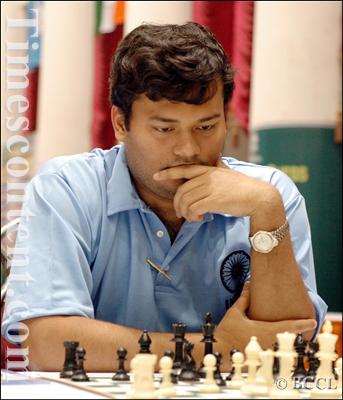 These are Indian chess players who are grandmasters –
Despite so many proud representations, Chess players are denied of the fame they deserve. Not just in India but the case is almost the same in other parts of the world. For example, Chess tournaments are organized by a separate body. Chess is still not played in Olympics or Asian games, where other sports are highly encouraged.  Chess needs support from the government as well as non government bodies, as this game demands funding. Therefore it is difficult for a common man to excel in this sport, in spite of having so much of skills and talent.
Without sponsorship, it is difficult for people to form a career on this. Chess needs to be introduced at elementary level when all other sports are introduced.  Not just on the large level but also on an individual level, one needs to move towards this sport.