Virat Kohli's replacement as the vice-captain of team India will be announced soon. Three contenders have emerged for the spot in concern – Ajinkya Rahane, Ishant Sharma and Ravichandran Ashwin.
Mahendra Singh Dhoni's surprise retirement from Test Cricket did shock many people spread across cricket-playing nations.
It was also clear that his deputy Virat Kohli would permanently replace him as the skipper of the Indian Test squad playing in Australia at the moment.
What, however, was not clear was who would replace Kohli as the team's vice-captain. Three names have come up – Ravichandran Ashwin, Ajinkya Rahane and…Ishant Sharma.
Yes, the third name has left many people dumbfounded.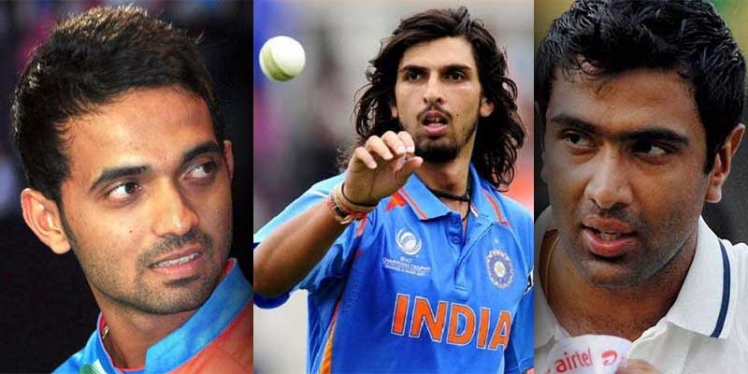 The lanky "pace" bowler has never been a consistent member of the Indian team, thanks either to poor performance or injuries. Over time, his bowling speed has diminished, too, which has been one of the main contributors for his wicket taking inability.
With 59 Test matches to show on his résumé, Ishant is the most experienced player in the current Indian squad.
So, is that the only criterion for his vice-captain candidacy?
The Board of Control for Cricket in India (BCCI) will soon be making the official announcement in regards with this vacant position. Sharma being promoted to India's Vice-Captain will take the cricketing world by surprise.
Vice-captains of other international teams have one accolade or two to justify their selection. Ishant, on the other hand, has dug India's grave on numerous times, as they have slumped from the winning position only to lose the matches.
Sharma has been labelled as "Indian cricket's villain" on numerous occasions. India has always yearned for a full-time fast bowler. It was a similar situation in the late 2000 when Sharma made his debut against Bangladesh on May 25, 2007.
In a rare scenario, the Sunrisers Hyderabad bowler is also famous for bowling one of the best spells bowled by an Indian. While playing at Perth, he used his height (and pace at that time) to his full advantage. Ishant bowled a superb spell to then Australian captain Ricky Ponting, in the process getting his wicket and eventual victory for India.
Since then, the Indian pace man has been in and out of the team consistently. At present, his bowling average in Test is 37, which definitely does not speak high of his skills.
The hullabaloo surrounding India's next Test vice-captain will soon come to a conclusion.
Although Ravichandran Ashwin does appear as a strong contender, with Rahane being less experienced in comparison, things might work in Ishant's favour.
There is no question that the Ishant Sharma, which cricket saw in 2008 in Australia, has disappeared into oblivion. Nevertheless, if he is appointed as the new vice-captain of team India, it will be interesting to see how he contributes towards the team's progress.