Meenakshi is another name the one of the mythological legend Shurpanakha. The ten headed demon's sister of Ravana is popular for her cruel character and her indulgence to distract Rama and Lakshma from rescuing  Sita. Ramayana describes her as  Rakshashi with nails similar to the winnowing fans. Daughter of Rakshashi Kaikeshi, her presence in the mythological stories as demoness Surpanakha is famous.
Surparnakha, the name was introduced in a mythological story, Ramayana an entirely disliked character. A demon with all the ill characters' dark skin, crooked behavior, and bad brassy vocal are a few of the features of many. After her birth, she was given the name of Meenakshi but she became renowned as Surpanakha.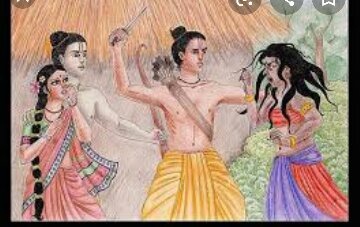 Sorrowful life of Meenakshi or Demoness Surpanakha
Her birth is less known to the world, the sister of the powerful demon who had a tragic life. Both the name give to Meenakshi or Surpanakha meant sharpness compared to the winnowing nails. Due to the devil-like nails sharp and long, her name Meenakshi was lesser-known. Slowly she became popular as the Surpanakha, sharp nails.
Meenakshi was not so popular as the sister of Ravana until her role was observed in Ramayana. Cutting off her nose and returning to her demon brother in grief was itself a heart-touching story. The cruel lady was attracted to Rama and wanted to marry him. But Rama described his commitment to his lady Sita. He did not want to think about any second woman which he revealed through his kindness.
Being deprived of Rama she approached Lakshmana. Humilation and ignorance of the Lakshmana led her to return to the form of demoness or Rakshashi. While the younger brother of Rama had cut the nose of Meenakshi when she tried to attack Sita.
Surpanakha was an evil character but her presence and being humiliated by the brothers despite being strong as the demons made her popular. Meenakshi was her birth name but due to her cruel and crooked nature to the long-nailed appearances similar to demons. She became popular as Surpanakha that defines the cruelty of the demons greater than Meenakshi.
On other hand, Meenakshi is another name of Goddess Parvati. It did not match with the roles of the demons. It is also another reason that birth name was slowly lost and rose with another.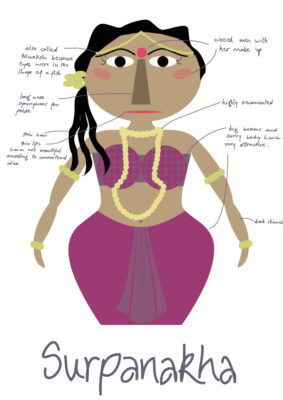 Epic role in Indian Mythology
Demoness Surpanakha was an epic role in Indian Mythology. Being the sister of the demon she was less recognized. Unless her nose was thwarted. None of her appearances were matching to the birth name Meenakshi. Nor she had beautiful sharp eyes nor kind heart, but it matched with Surpanakha.
In her song of death, she mentions her sorrow when dishonored for expressing her feelings. Above all, she also believed that despite ugly looks due to the absence of a nose she was happy. It is because she was able to play all the roles as a demoness.
In Indian Mythology her presence is less as Meenakshi while more known for the role of the demons sister who  felt for the Hindu Lord Rama.