There is a mention of the event in the Padma Purana, one of the ancient Puranas of Hindu mythology. Kamsa was the maternal uncle of Lord Krishna who swore to kill Lord Krishna because according to a prophecy, Lord Krishna would kill him otherwise. Kamsa was a very cruel person and germinated fear in human hearts by his nefarious ways. In fact the tilla where Krishna killed Kamsa is called the Kamsa Tilla. Krishna pulled Kamsa off his throne as he pulled him by the hair.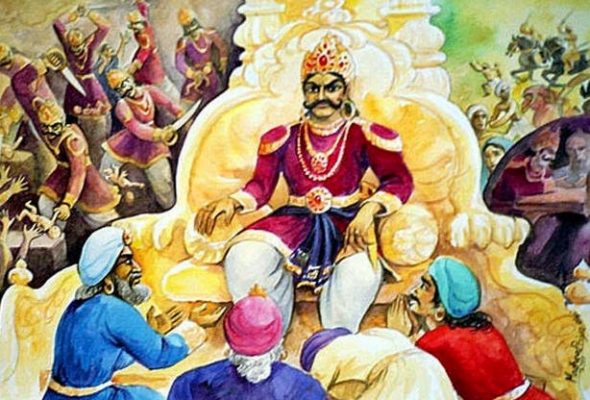 How was evil Kamsa killed by Lord Krishna?
Being the evil that he was, Kamsa made several attempts to kill Lord Krishna but he escaped them. Desperate, Kamsa sought suggestion from 'Akrura' who asked him to invite Lord Krishna and his brother Balaram to to Mathura. A mock ceremony was organized to masquerade their trust. The ceremony was called Dhanush-Yagya. Kamsa had chalked out a full-proof plan to kill both of the invitees. However, Akrura was an ardent devotee of Lord Krishna and revealed about Kamsa evil intentions to him. But, in the same time, his hands were tied too because he was bound to carry out the instructions of his master Kamsa.
Frightened and baffled, Akrura visited Vraja where Lord Krishna and Balaram used to live. Sri Krishna and Balaram were delighted to meet Akrura and after the formal exchange of pleasantries, Krishna took Akrura to his home. Akrura conveyed the message Kamsa sent for Sri Krishna and Balaram and invited them cordially to Mathura. Akrura also said that Lord Krishna was the incarnation of Lord Vishnu and Kamsa will be killed by him. Lord Krishna's foster parents, Nanda and Vasudhara sent Krishna off to Mathura reluctantly after Sri Krishna convincing them. People of Vraja became really sad to think about what is waiting there for their beloved Krishna.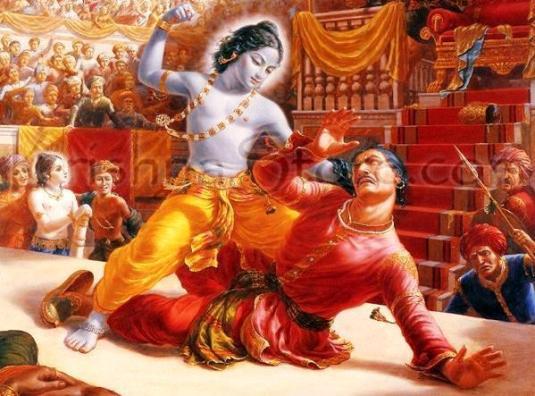 It was already evening when Sri Krishna and Balarama reached Mathura accompanied by Kamsa. On their way, Sri Krishna saw a dyer with colorful clothes and demanded some of them from him. On his refusal, Sri Krishna slapped him so hard that he vomited blood and died right there. Sri Krishna then collected some of the clothes and proceeded to the place of Kamsa. He then met with a crooked woman with some sandalwood paste and demanded some of it. The woman handed over some of the paste to Sri Krishna without hesitation. Sri Krishna blessed her and she instantly got rid of her physical-deformity. Finally, Sri Krishna reached the place where Dhanush-Yagya was supposed to be performed and upon reaching he broke a bow into two pieces. It was a divine bow and Kamsa was rather surprised to see it broken. Infuriated, Kamsa ordered Chanura to kill Krishna in a wrestling-bout. Kamsa fortified that place by deploying wild elephants and mighty-warriors at all entrance points. Sri Krishna and Balarama spent the whole night in captive. In the morning, when the proceeded towards the palace, they met a mighty elephant called Kuvalyapeeda which he killed very easily. This event terrified the powerful warriors who were all set at the gymnasium to kill Sri Krishna. Their troop dispersed which slashed Krishna's effort by half.
Terrified but still undaunted, Kamsa ordered his to lieutenants Chanura and Mushtika to kill Krishna right away. While Chanura confronted Shri Krishna, Balarama fought a duel with Mushtika leaving kamsa all alone. Making use of the oppertunity, Shri Krishna pulled Kamsa by the hair and knocked him down to the ground. The injury was so fatal that Kamsa died on the spot. Balarama also killed Kamsa's younger brother Surama.
After winning the battle, Krishna went to meet his real parents Vasudeva and Devaki and freed them from Kamsa's prison along with their grandfather Ugrasena who was held captive too. Finally, Ugrasena became the king of Mathura.