Hinduism revolves around Karma and its mechanism. In the teachings of Karma, all our actions entail consequences and every human being is accountable for his desire-driven actions. Hindu philosophies are sculpted upon the three things- faith, unity and selfless service. This is one of the antiquated doctrines which has its roots in the Vedas. The Upanishadic thoughts too have a great role to play in shaping up the Hindu philosophies. There is a mention of Karma in the Upanishads which applies itself to improving the society through individual growth.
Hinduism has witnessed the emergence of ascetics and Yogis who helped us emphasize on the canon of Karma for social welfare and individual redemption. Shree Swaminarayan Ji is one of those esteemed yogis, who Hindus believe to be the manifestation of God. He devoted his life to revive the Hindu practices of Dharma, Ahimsa and Brahmacharya which are still relevant. The book Shikshapatri was ascribed to Shree Swaminarayan Ji which comprised of the social principles a Hindu must comply with.
Shree Swaminarayan Ji was an ascetic of the highest order who had a trail of devotees from Islamism and Zoroastrianism also. He taught his disciples to involve intense and earnest search for reality within the self. Furthermore, he believed that one needs to transcend the greed of material prosperity to be one with God.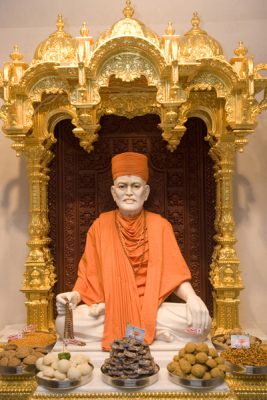 The life of Shree Swaminarayan Ji in brief:
Shree Swaminarayan ji was born as Ghanshyam Pande to his parents Hariprasad Pande and Premvati Pande. On April 3, 1781 in Chhapaiya, Uttar Pradesh. He was a high-born because he belonged from the priestly caste of Sarvariya or Brahmin which elevated his social status. Swaminarayn Ji's birth coincided with Ramnavami which is celebrated to mark the birth anniversary of Lord Rama.
After the tragic loss of his parents, Shri Swaminarayan Ji sought to become a hermit and took the name Nilkanth Varni. He then ambled across India and parts of Nepal in search of hermitage. He aspired to immerse himself in the four primary schools of Hindu philosophy, Vedanta, Samkhya, Yoga and Pancaratna. He even become a master of the Astanga Yoga principle in the due course of his journey. He visited the sacred temples across India such as Jagannath Temple in Puri along with temples in Badrinath, Rameshwaram, Nashik, Dwarka and Pandharpur.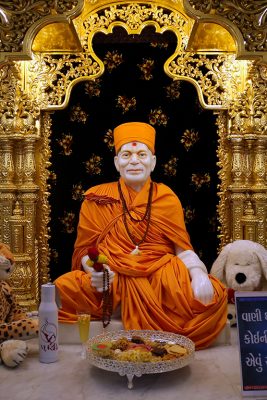 How Shree Swaminarayan Ji became a Sannyasi?
Once Shree Swaminarayan Ji completed his seven years journey as Nilkanth Varni, he met Muktanand Swami who a senior disciple of Ramanand Swami who answered the five questions Swaminarayan Ji always had in his mind. The questions were, What is Jiva? What is Ishvara? What is Maya? What is Brahman? What is Para Brahman?
His understanding knowledge about the pancha-tattvas of Hindu philosophy have been an inspiration for his contemporary Sadhus. Swaminarayan Ji even dedicatedly worked towards emancipating the women which led to a rise in literacy rate among women. He even stood against the sexual abuse of women which earned him optimal respect in the society.
Shree Swaminarayan ji experienced his self in Brahman and the bliss of his teachings still stands dominant.