Twitter is forever-frothing-in-the-mouth and this time the froth came from the beer comment from Manohar Parikkar. What happened actually was, during his address to a Youth Parliament Organized by the State Legislature Department he made a comment which was arguably insensitive. The context was to tackle the drug menace in the coastal state and Parikkar said he begun fearing now that girls too have started to drink beer.
"I have begun to fear now, because even girls have started drinking beer. The tolerance limit is being crossed," he had been quoted as saying by news agency PTI.
Of course, Twitter needs a fodder for carrying on debates and this one spread like wildfire too where girls from different walks of life posted their pictures of drinking beer whilst tagging the former Defence minister.
Apparently, this comment was deemed insensitive by some people who sparked a backlash, of course, they had their reasons. Wouldn't beer be a cause of concern if women didn't indulge in it? Well, we leave it on his judgment.
As soon as the news broke in Twitter, reactions started pouring in with the #GirlsWhoDrinkBeer hashtag. Women were called upon to share their views on the said scenario and they went all vocal about it.
Such discriminating comment was least expected from the Goa Chief Minister even if it was in the wake of government trying to trim down drug peddling and over use of alcohol in the said state.
However, this is not the first time Manohar Parikkar made such an outrageous comment, in the first edition of the state youth parliament organised by Legislature Secratariat in Porvorim, he 'enlightened' us on the 'vices' of things ranging from Ganja (Marijuana) to porn.
He further referred to some of his personal experiences from his student years at IIT Mumbai. He elucidated how consuming drugs is not a 'new' phenomenon, and as in previous times, he only knew 'a small group which was involved in Ganja'.
His comment was regressive, not to mention, so of course it didn't go down well with many people, especially girls in the social media and they immediately put their foot down.
The hashtag started trending in Twitter immediately and ruled it through Saturday. The girls who shared their pictures of drinking beer, had to prove a point and not to mention, they had well succeeded.
Here are some posts that has drawn more attention regarding the Manohar Parikkar's comment and #GirlsWhoDrinkBeer feud: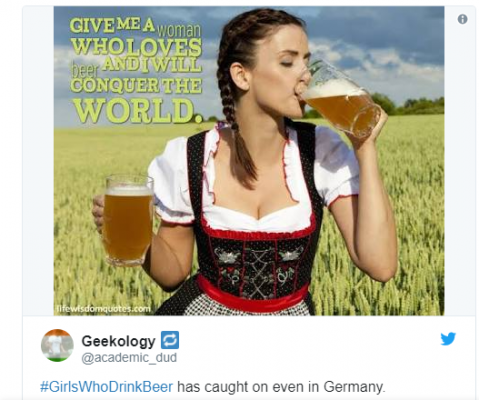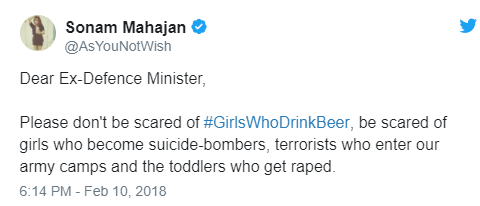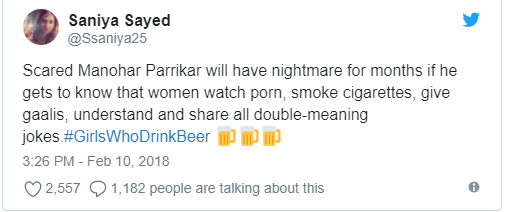 So, apparently, it's high time our public figures reined in their regressive judgments and gender discrimination. Otherwise, one day will come when Khap Panchayat replace the incumbent.