Indian government failed women – Which social media trend, social incident that hogged the most limelight in 2017 shook you more?
We will tell you, the outpour of confessions from women who has passed through sexual harassment and survived.
Their unadulterated truth about being subdued, being treated as sexual objects and being silenced obtrusively startled us. All of us, as women have suffered sexual assault and in 2017, we came to speak of it defiantly. Albeit, it is a major change that our society always vied for.  Now, what traumatizes us that all the confessions have fallen in deaf ear as Indian Government dramatically failed to secure the rights of women and have their back. Here are few instances how:
Indian government failed women –
The Lathi-charge in BHU:
In the heel of the incident when a female student was harassed by three bike-borne men on her way back to the hostel, sparked an uproar as the hostel super, instead of lodging a complaint with the police, accused her for coming late. It prompted thousands of female students to sit on Dharna protest and police executed a Lathi-charge to scatter them.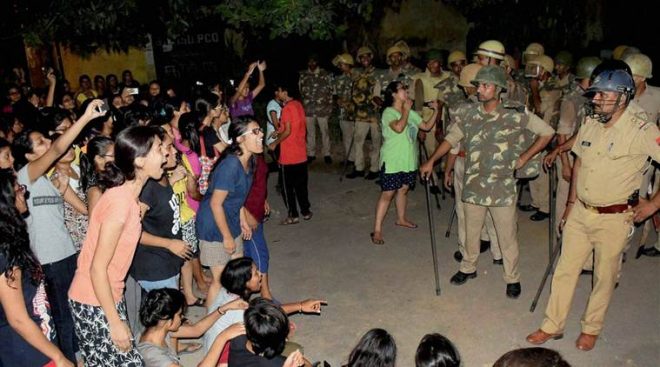 When the police, our protector turned assaulter:
Soon after RJ Malishka aired a sarcastic song on how BMC failed to maintain the Mumbai roads, the Shiv-sena ruled BMC issued a notice that she is breeding mosquitoes in her place. A youth wing of BMC even demanded to file a defamation case against RJ Malishka. Imagine how a party on power went bonkers over just a song?
Government inferred 12% GST on sanitary napkins:
As opposed to the demand of GST council advocated the implication of 12% charges on sanitary napkins, women burst in protest, especially the feminist organizations like SheSays that said the most village women use husk and ash during those days not being able to afford sanitary napkins but government turned deaf ear.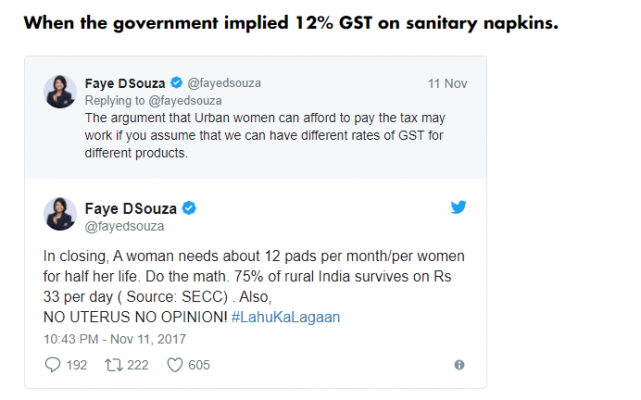 When Deepika Padukone was kept at gun-point:
Haryana BJP Chief Co-ordinator Suraj Pal Amu announced a bounty of a whopping 10 crores on Deepika Padukone and Sanjay Leela Bhansali's head followed by a furore over the movie Padmavati's release citing its portrayal of Rani Padmini's character was defamatory. After such outrageous statement, all the government did to pose as an onlooker.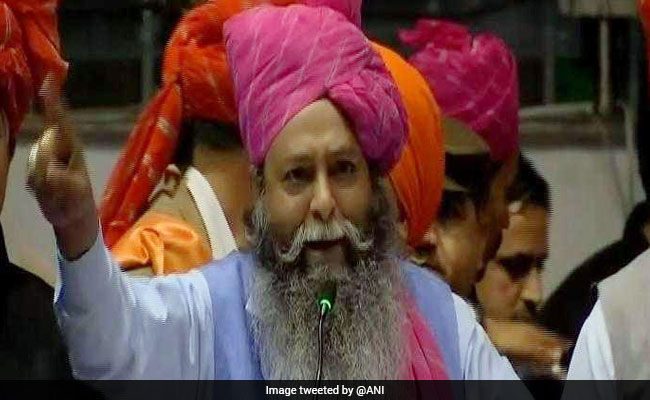 Hadiya fought for her right to marry whomever she wanted:
Hadiya, an adult woman appeared in the Kerala High Court to confess that she wilfully accepted Islam and married a Muslim man but, as hilarious as it seems annulled the marriage thinking she was INCAPABLE of taking the decision. While the husband moved Supreme Court, the apex court upheld Kerala SC's order and deployed the NIA to investigate. However, in a fresh ruling, she was GRANTED to resume college. Seriously? Granting someone to pursue her civil rights in a democratic country? Fundamental rights have gone for a toss, it seems.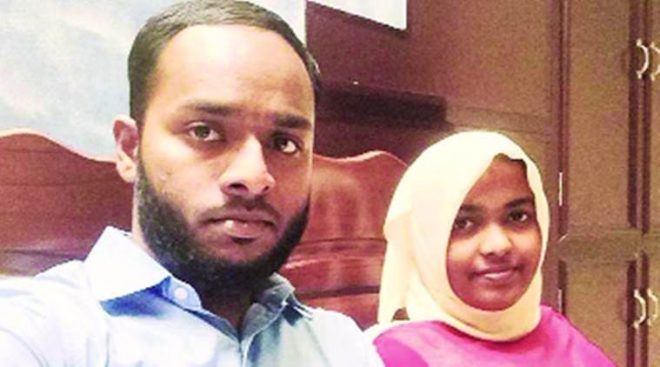 These are the times when the Indian government failed women but being seasoned with it will only fuel drudgeries. We think.