Apparently for some teenage Muslim girls, joining the ISIS is the next best thing in the world – after all, who wouldn't want to behead some 'kafirs' (unbelievers)!
So apparently, if you are a Muslim girl, this post is aimed at educating you against the evils of society. If you are a good person, stick to it… else you need help!
This is the real-life story of a Jihadi Schoolgirl who apparently disappeared from her home in East London a few months back only to resurface totally happy and indignant for having joined the ISIS – the notorious Islamic State of Iraq and Syria that is on the verge of creating a third world war for the entire world!
Who Is She?
This girl, Amira Abase, was reported to have vanished into thin air from her home along with some of her friends in February in a bid to escape from her home and travel to Syria – currently the hub of ISIS activity.
There was a lot of hue and cry when the girls went missing, but now, the situation is horrifying! She seems to have willingly joined the ISIS and has recently tweeted a picture of herself enjoying delicious takeout dinner with her fellow-ISIS members.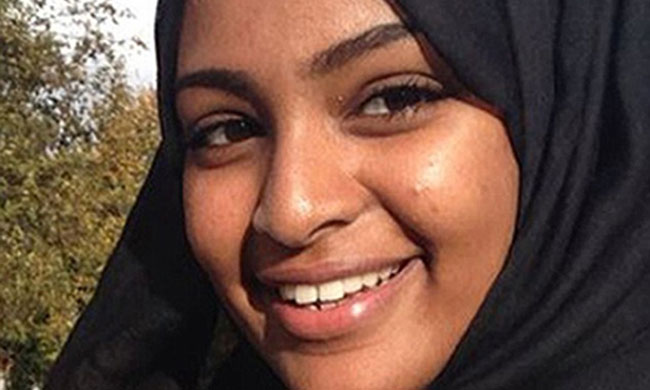 What Is So Shocking About This?
What is the shocking part then? So many women have joined the ISIS to act as sex-slaves and midwives for ISIS men. Well, this girl is barely 15! At this age, she is willing to behead the people who are apparently 'corrupting' her religion. Not only that, joining the ISIS is a big step for any person – this is the most notorious terrorist organization in the world after the Al Qaeda.
What Is Her Role In The ISIS?
Her role? Jokingly, is just to mindlessly kill people who stand in the way of ISIS; a sad case of improper upbringing.
When she fled with her friends Kadiza Sultana, 16 and Shamima Begum, 15, only ISIS was on her mind. No sightseeing no party, no fun – only revenge against non-believers and anti-radical Muslims.
For a girl to be so bold to accept the ISIS and tweet pictures of her being 'happy' with them is sad and dismal to people who strive to attain peace every day.
She is apparently said to have travelled secretly through Turkey and then reached Raqqa, a city in Syria.
She operates on twitter by the alias, Bintt Abbas and captioned the alleged pic as 'Dawla Takeaway'. Dawla is another name for ISIS.
History
Her history is all because of her father. Who is also a secret Jihadi who used to take his daughter to the flag-burning father of a runaway British jihadi schoolgirl yesterday admitted taking his daughter to an extremist rally when she was 13. However, Abase Hussen, the father blames the police for not stopping her at the airport – hilarious!
He took her to numerous hate-rallies organized by the banned terror group called Al-Muhajiroun. That is where her mind got corrupted and apparently blind-washed!
His entire family, including his wife takes part in violent rallies held by Muslim extremists where they burn flags and scream in rage against the US.
It is really shocking to see a girl who was once living the life of a young and happy teenager, living the life of an outlaw at this tender age! Not only is she now a probable wanted suspect, her life has now fallen apart after joining the ISIS – never can she be considered a 'good person' after this misdeed. That is why smartness is a factor you and everyone reading this post need to exercise regularly. After all, radicalism only leads to hate, violence, deaths and nothing in return!