What is pain?
How is it felt?
Till how long it is to be felt?
How it prolongs for life and changes it completely?
All these questions are answered in the eyes of an acid attack victim, if at all she can open her eyes from beneath the agonizingly scalded and hanging lose skin of her face, and look into your eyes, to let your read the answers!
With the pain that devastates them for life, with the burning that goes on and on, starting from the day, the acid was thrown on them, these girls are warriors who are fighting for each breath. Because they decided not to give up on life and ask for death.
Having spent few hours with them, helps me to understand what it is like to live without a face and a deep engraved pain in the heart, which probably will never leave for good. It, most definitely, makes me value life even more.
But in all practicality, I do wish to ask, are there enough measures to restore life for such victims? Is the government taking the right steps to bring relief to them? Our government surely has answers to everything, only if they wish to offer.
Recently, the wounds of 6 acid attack victims were appeased by Delhi Government when they announced permanent government jobs for them. Not only this, CM Kejriwal promised permanent jobs to 35 more victims and a reasonable sustainability of life.  Delhi Commission for Women (DCW) nowadays teems with acid attacked women carrying hope in their eyes and petitions in their hands. And in their latest relief, DCW Chief Swati Maliwal, instructed all the government and private hospitals to give free treatment to acid victims. Indeed a bravo step! I really applaud Swati Maliwal for this one, and her ongoing efforts in the direction which are becoming visible in a very short span of her taking charge of her office.
This, is definitely a new ray of hope for all the women who were forced to lead a meaningless life, lying in the corner like vegetables.
But, I simply ask one question, WHY IS ACID NOT BANNED?
In a country where the government seems to be on a banning spree, what is the grave importance of an acid bottle in people's lives that it cannot be banned from departmental and medical stores? And of course, this isn't the oh-so-important BEEF BAN or PORN BAN, for which the pseudo flag bearers would jump on the road shouting slogans on the top of their voices, right?
Neither it is a point of contention in the parliament, nor is it a subject of interest for social media gurus, sitting in their comfortable rooms, participating in useless online debates! And moreover, it hardly affects the sensible politics of the nation, neither does it play with the religious sentiments of the people who walk with their religion stuffed under their armpits!
It only ruins the lives of few unfortunate women who are just a few hundreds in the country, as of now!
How The Government Regulations Are Made To Break!
It's not that there have been no measures at all. In an answer to an appeal presented to the Supreme Court of India, by the attack victim Laxmi, who is actively working in the area, to bring relief and a positive life to her counterparts, it was announced that the acid sale in the nation would be regulated stringently. Yet, the bottles are being sold like water, without any legal implications. In Delhi NCR, acid is used as an effective toilet cleaner and hundreds of bottles are sold every day.  These retailer sellers buy the diluted version from the registered acid dealers who buy the acid from chemical factories and dilute it with water to sell locally. The records of the registered dealers are with the government departments, and if they want they can regulate the sales very easily. The local sellers are not required to submit any license proofs or identity proofs for the records to buy the diluted bottles, which means, if they want they can easily buy hard acid too, that too sitting in their shops, by shelling a few extra bucks.
As instructed by the Supreme Court of India, keeping the Poison Act 119 of in the view, even toilet cleaners come in the bracket of deadly poisonous substances and their sale must be regulated as per the law. But it's just a regulation, who says it's imperative to implement, right? We live in a free country called INDIA!
The Rising Graph
Well, let me help you take a look at the Acid Attack Graph which has risen incredibly in past few years. 57 acid attack cases were registered in the year 2010, 85 in the year 2012, which fluffed to an alarming 309 by the time we entered 2014, and now in 2015, we are still waiting for the shocking figures.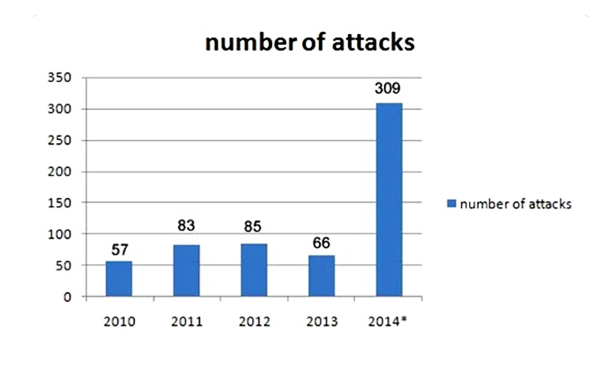 But how does it really matters, to the police, to the locales, to the politicians, and to the government?
A job, a few thousand bucks as compensation, free treatments may bring a little relief to the victims, but they will never eliminate the deadly evil from the root! Government makes rules, but who follows them? Cows are far more important to be saved, than the women of the country who are forced to live a dead-scared life, spending every moment in horror!
How many more acid attack victims and their appeals are needed to move the courts of India, so they take a concrete step and BAN THE ACID SALE COMPLETELY!