Sarah Kay is a dearly beloved, young American poet, best known for her TED talk "If I should have a daughter".
She writes heartfelt poetries and has published four collections since 2011.
Thanks to crowdsourced efforts like goodreads, you can treat yourself with some of her finest works at the click of a button. And you absolutely should, because you will uncover gems like "Because there's nothing more beautiful than the way the ocean refuses to stop kissing the shoreline, no matter how many times it's sent away".
She is indeed like the ocean, brimming with love and life, no matter the wreckage. And with everything she does, she inspires us to be like the ocean too. However, notwithstanding the comfort and the composure of the written word, there is still no replacement for her unrestrained performances that fully embrace you in the warmth of her spoken word. Here are glimpses from some of her coziest spoken word poetries.
Sarah Kay words –
1. When she stands up for peace – If you only have time for one piece, let it be Hand Me Downs, where she takes on a theme as complicated as peace, approaches it from a perspective as intricate as prejudice, and makes a strong case for 'the other side of that wall'. She does it all from within the bounds of home. Also, she is inclusive enough to let the verse speak against hand-me-down expectations too. She makes the case for being ourselves.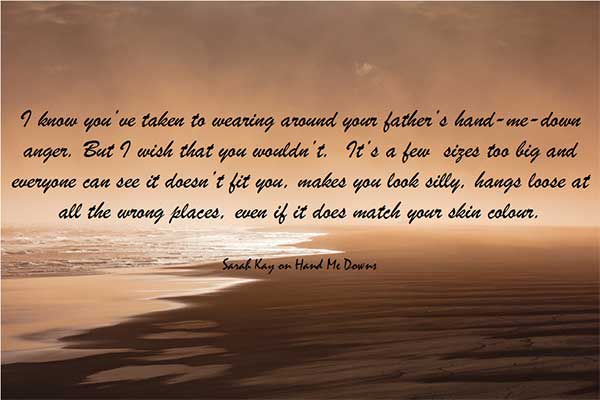 2. When she tells us the story of District Six, Capetown – In Tshotsholoza, she tells us about the forceful release of fifty caged pigeons; she tells us about their return in search of what they believed to be their home. The analogy! The message! The woman! The poetry!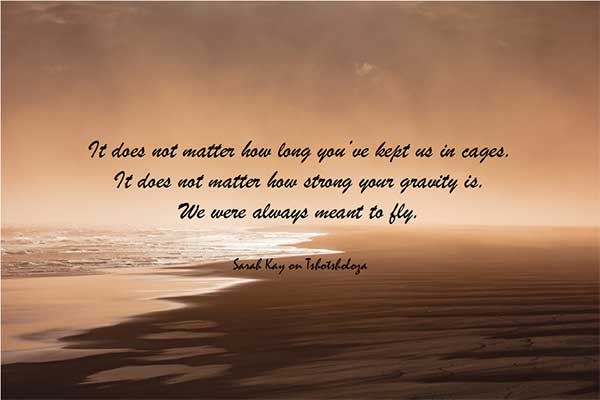 3. When she gives form to our moments of despair – As she continues her walk for world peace, she appeals to us in Jakarta, January, by narrating a public shooting's collateral damage that is about to take away the innocence of a bunch of sixth-grade children.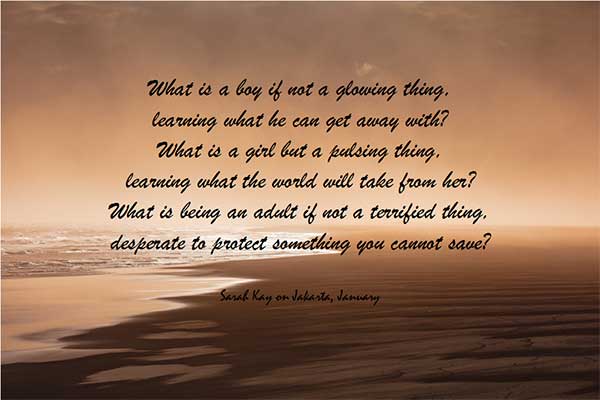 4. When she is a bundle of positivity at the face of hell – There is not much one can muster up to say about something as devastating as the atomic bombings of Hiroshima. Unless one is Sarah Kay. Then, she can always find something to take hope from.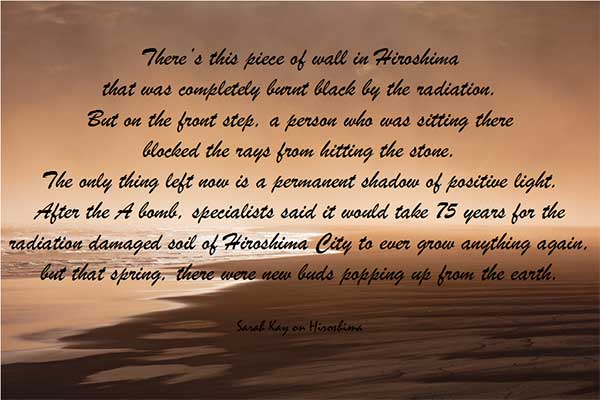 5. When she addresses the purpose of art – Proclaiming that she recognizes some parts of her only from her dad's photographs, Extended Development is her version of "Why I Write". But it is so unassuming that it manages to inspire the latent artists in us.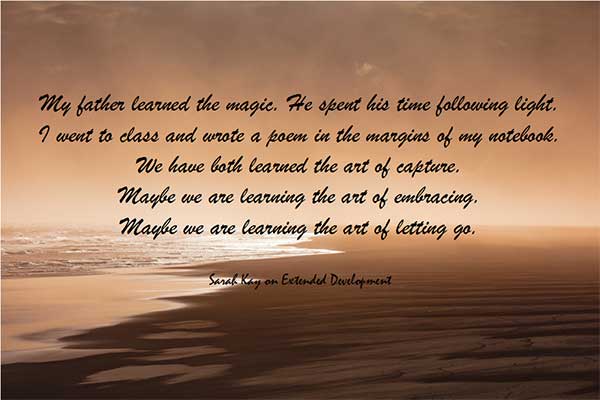 6. When she reveals her one true motivation – Our purposes can stem from our idea of a good life. But our pursuit of those purposes require motivation, and more often than not, such motivation happens only with the end in mind. Here is Sarah's, also from Hiroshima.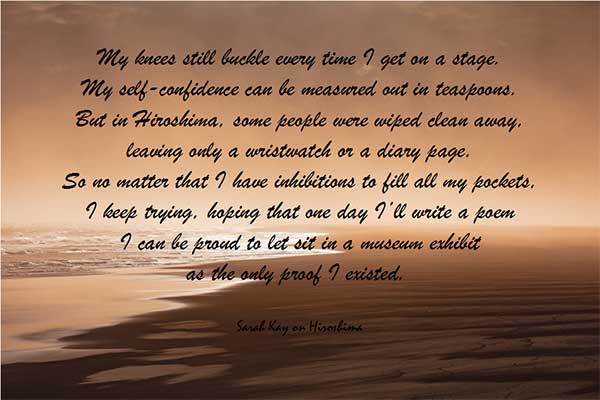 7. When she uncovers our true motivations in reading as in life – With The First Poem in the Imaginary Book, she approaches literary pursuit from the other end. She subtly celebrates the pleasure of reading, also hinting at how it maps to our ulterior motive in life: as much as we are horrified by the traces we leave, isn't that all we pray to do?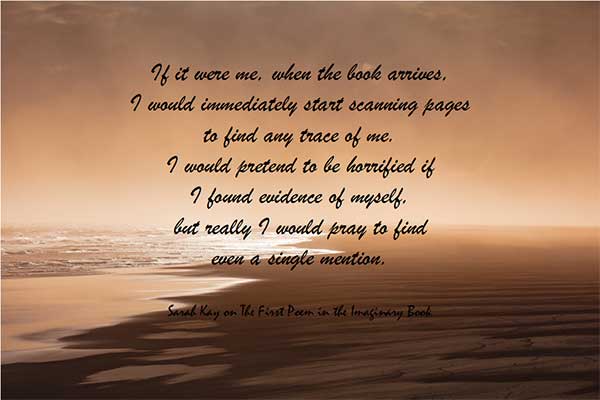 8. When she speaks the mind of every Youngisthan – In Not Just Another Math Problem, she clarifies that "we are not scared of dying for a cause, we are scared of not finding a cause worth dying for." Having said that, she raises her hand, on behalf of us.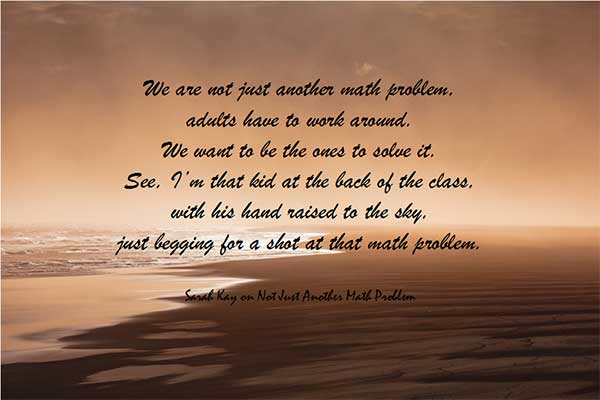 9. When she acknowledges the eternal search that has become our lives – In her shortest short, And Found, she muses "I promise to tidy up before company arrives, wouldn't want my socks and daydreams all over the carpet." But she fails not to express the existential crisis that drives us to seem like the math problems we aren't.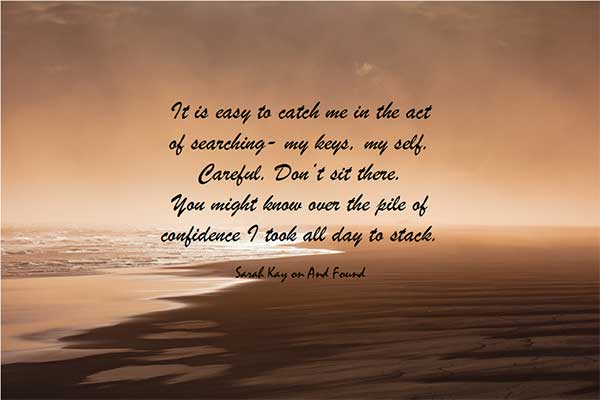 10. When her expression resonates with our deepest feelings – In Long Distance Love, she gains access to even the hidden corners of our heart, when we realize, that despite all her optimism, she doesn't discredit the emotions we succumb to. Rather she is just authentic enough to blatantly sport it all, be it matters of the world or matters of her private self.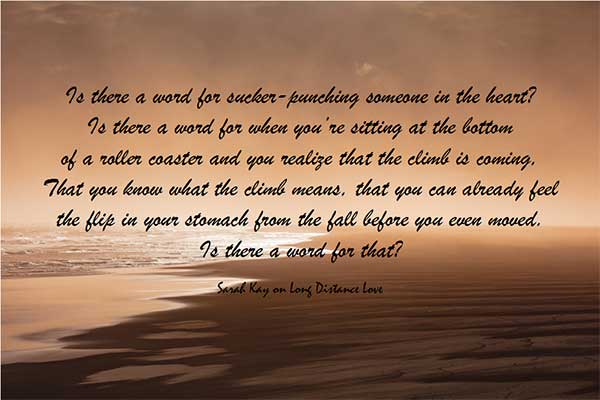 11. When she builds a rescue around dreams and reality – In Ghost Ship, which gifted us the unparalleled faith, "no matter your wreckage, there will be someone to find you beautiful", lies this unduly overlooked piece of wisdom: Maybe when dreams come true, they don't come in the form we expect. But also, maybe what we expected was not worthy.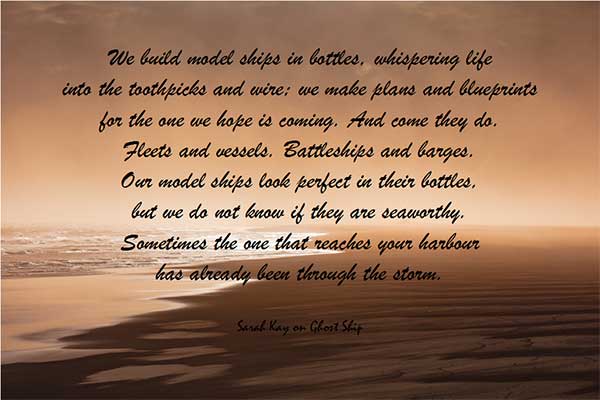 12. When she counters FOMO with gratitude – At the Scripps College 2015 Commencement, with Paradox, she admitted to her fear of missing out, stating amongst other instances, "When I read about love, I think I should be out loving. When I love, I think I need to read more." But then she wouldn't be her if she hadn't figured it out! So here goes.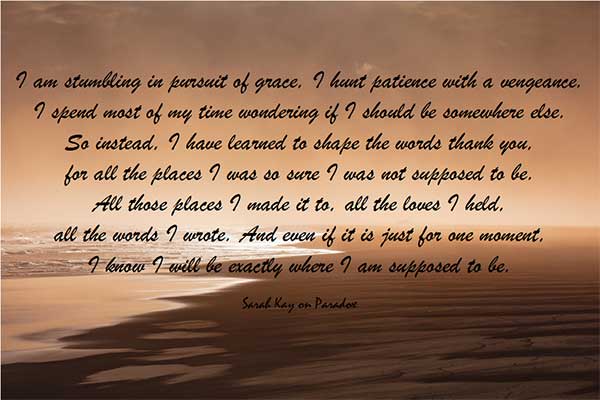 13. When she teaches us not to fight, but to master – "With the right sword and shield we think we can fend off anger, fear, and hatred; if our legs are fast enough we think we can outrun age, loss and death." But since we cannot, she shares her epiphany, so that we can instead see what she sees: such jellyfish are not our final enemies.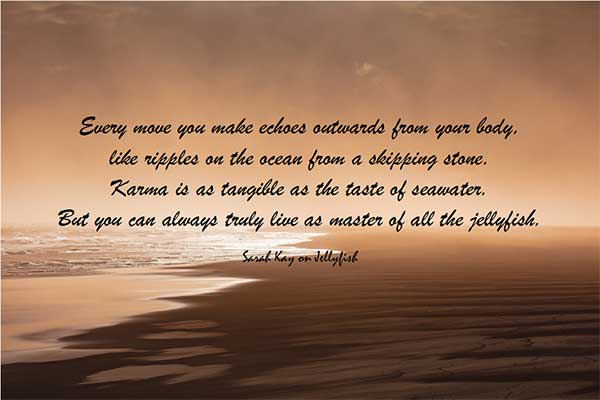 14. When she reminds us of what matters – She eulogizes her trip to India, by reminding us of everything India, from mangoes to tanning. And when she discusses Ravi's forbidden love for Neha, in an attempt to remind Neha of what matters in love, she ends up reminding us of what matters in life.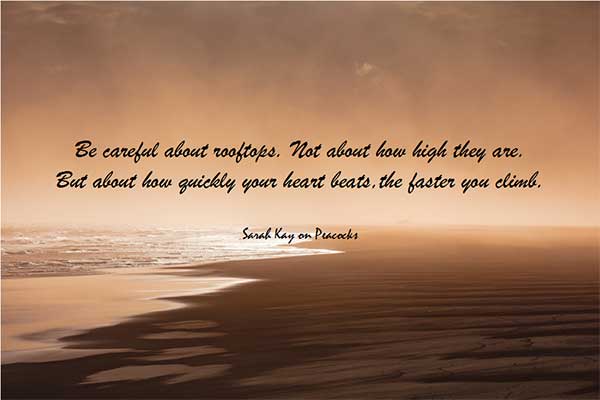 15. When she makes it easy to let go of regret – The Type is an assertion of feminism. But hidden in it is a means to cope with heartbreak. It helps us see in softer light, the stupid things we do out of love. It enables us to whole-heartedly accept love in its entirely.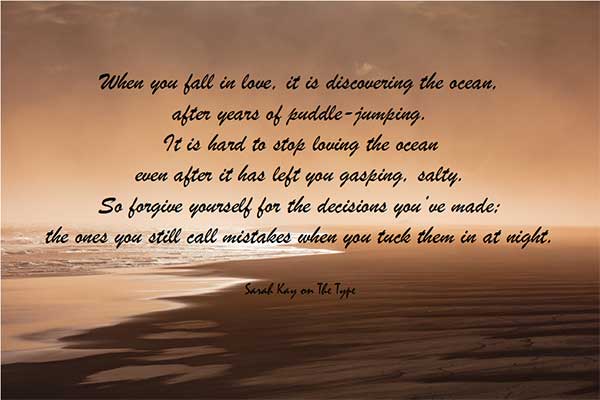 16. When she and Phil revive our faith in love as is today – To watch them echo 'you are beautiful' over and over again is an experience in itself. But since that cannot be expressed in the written word, here is to their efforts to reassure us that love need not be perfect.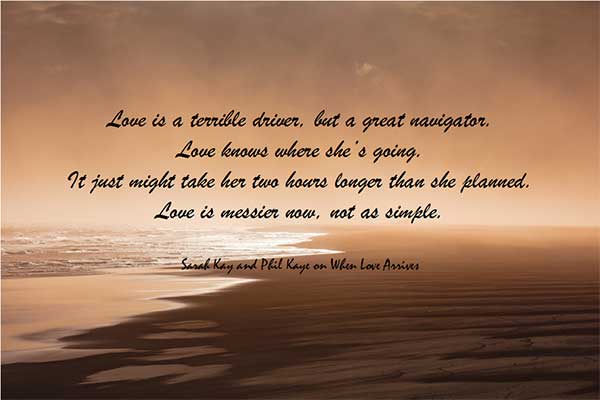 17. When she and Phil come up with the ultimate oath of friendship – In An Origin Story, as they discuss their friendship and vow to go above and beyond for each other, Sarah Kay and Phil Kaye set in stone, the benchmark for true friendship in contemporary times.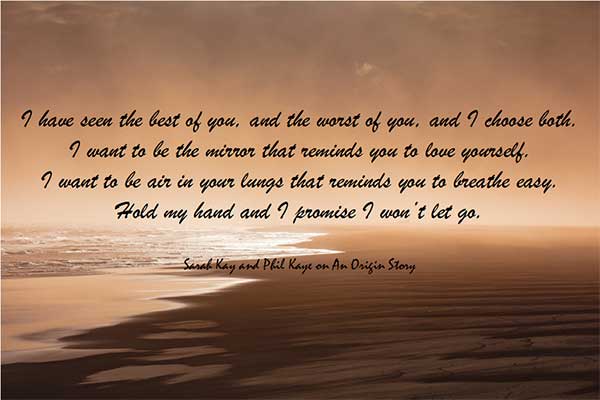 18. When she hands us the ultimate trick to all magic, that is our hands – As complicated as things have become, are there things our hands are incapable of? In a tender ode to our oft-understated Hands, we can't help but feel the touch of her hands and soul.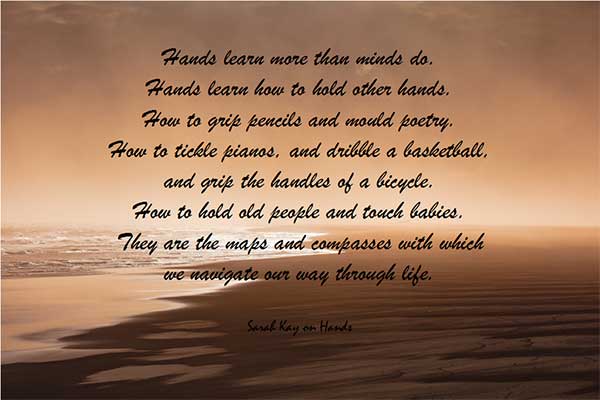 19. When she finds us a fix that surpasses chocolate – In Point B (a significant part of If I should have a daughter), she says deeply overwhelming things like "no matter how wide you stretch your fingers, your hands will always be too small to catch all the pain you want to heal." But, what ultimately steals the show and our hearts is her hands down solution for unavoidable heartbreak.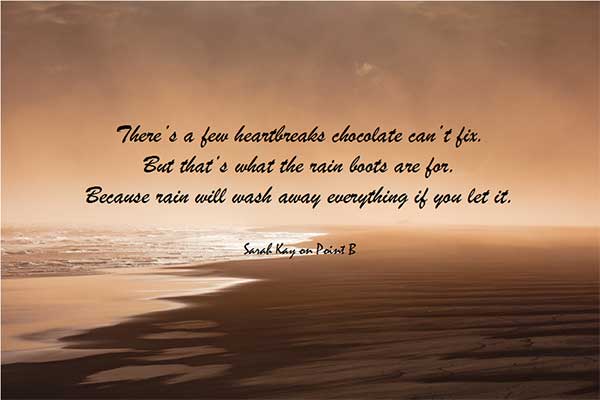 20. When she promises to never give up – Maybe she was addressing her long lost friend or maybe she was addressing us. In Postcards, she vehemently proposes, "Practice does not make perfect. Practice makes permanence. You repeat the same mistakes over and over, and you do not get any closer." And as we lose our balance, re-evaluating our own lives, she promises that she will still be around for us, probably catching us when we fall.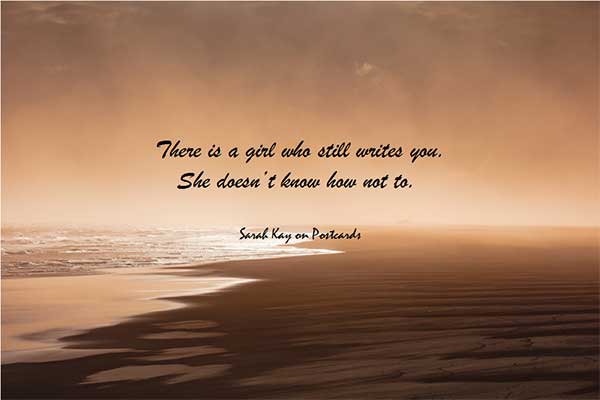 21. When she and Phil echo "I love you" over and over again – Of course, as said at #16, this is no justification to the original, but neither are most verses above. They are but windows to the beautiful garden, poets like Sarah Kay and Phil Kaye have planted for us.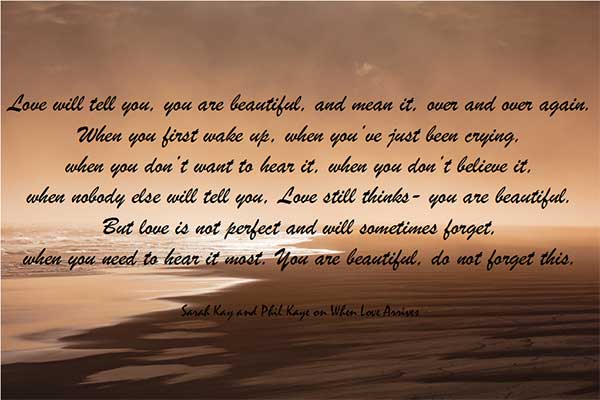 The next time you find some time in your hands, I urge you to take a walk around these beautiful gardens. Even repurpose a few lines to impress your beloved. Sarah Kay can be deep, flirty, sad, humorous, and a lot of other things, almost all at once. I am at a loss for words, really. Or as she says in Postcards, "You can only fit so many words in a postcard, only so many in a phone call, only so many into space before you forget that words are sometimes used for things other than filling emptiness. It is hard to build a body out of words. I have tried."
Sarah Kay! Oh you beauty! 🙂