Who is Lilly Singh ?
Well, Lilly Singh is YouTube star better known as Superwoman. She is an Indo-Canadian YouTube personality, a Vlogger and also a Comedian.
Wondering what's so interesting about her? It's her personality and exciting life that you need to know in detail. She began her YouTube channel in October 2010 as Superwoman. And, was ranked 8th on the Forbes list of Highest paid YouTube stars.
Isn't she famous? No doubt, she is. Punjabi culture is highly portrayed in her videos that contain daily undertakings in life. She also believes "Happiness is the only thing worth fighting for in your life".
Guys, scroll down to know more interesting facts about her and find your happiness.
9 million subscribers
This talented superwoman has total 9 million followers on YouTube. This Canadian born Punjabi has taken full advantage of her talented skills that made her a successful YouTube Star.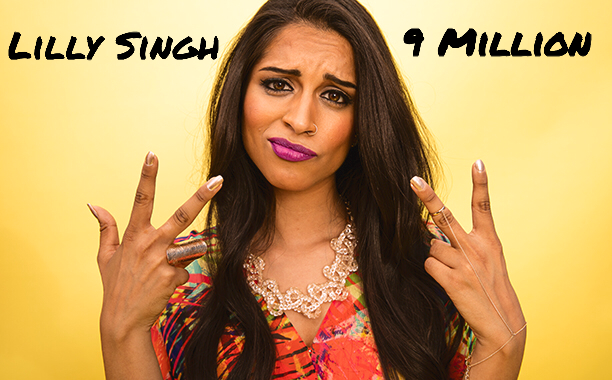 Superwoman Vlogs
Lilly Singh has her own YouTube Channel name "SuperwomanVlogs". It features various daily activities that she updates with her super entertaining and hilarious videos. She was just 20 when she started filming her YouTube videos. Isn't that great guys?  Check out this well-famous video.
Documenting Celebs
Yes, she has got her own craze and surely knows how to capture it. She never leaves a chance documenting the people she meets in her exciting life. And, yes these people include Shah Rukh Khan, Ed Sheeran, Alessia Cara, Ariana Grande and Selena Gomez among others as well.
Ohh! Wait, the one with Dwayne Johnson is my favorite.
Stand-Up-Comedy, Rapper, Motivational Speaker
Yes, she is a total package of entertainment. With all her hilarious videos, she surely shows all of us how being different is a talent as well as a quality in life. Not only this, she also slays with her rapping skills.  Check out her rapping talent in this amazing video and take it easy.
"A Trip to Unicorn Island"
She had her own world tour "A trip to Unicorn Island" in March 2015. Her tour covered India, Australia, Hong Song, UK, Dubai, Canada etc. She also documented her tour in the first feature movie "A Trip to Unicorn Island" where she talked about how YouTube fame is affecting her life.
Collaborating with other YouTube stars
No wonder, her fame is gaining maximum attention. But, here's one more amazing thing, she has also collaborated with other YouTubers as well. Her chemistry with them dazzles and is humorous as always. The other popular YouTubers include Ryan Higa, Grace Helbig, Jenna Marbles, Connor Franta and Colleen Evans.
The Tonight Show With Jimmy Fallon
On January 22, 2016 Lilly appeared on Jimmy Fallon show. She stole the show with her sense of humour. She discussed her parents, YouTube videos etc. She also played games and impressed live audiences. Other than that, she also appeared on "The Daily Show With Trevor Noah" and on "The Today Show".
Her New "BAWSE" Lipstick
Yes, In May 2016 Lilly Singh introduced her lipstick in collaboration with Smashbox cosmetics. "BAWSE" is a term used for "boss". She even helped to design the black and red packaging which is covered in words like "bold", "Smile, "Resilient" and "Genuinely".
What do you feel about this Global star? Let us know in comments below ?