Ferrari employees – Yes, we are speaking about Ferrari, the "Italian excellence that makes the world dream".
Owning a Ferrari car and serving in a Ferrari company can be a dream for every car enthusiast.  Purchasing Ferrari cars is not only an expensive dream but one need to burn a big hole in pockets to get your hands on one!
Well, one intriguing fact we have learned recently is Ferrari employees are not allowed to buy Ferrari cars.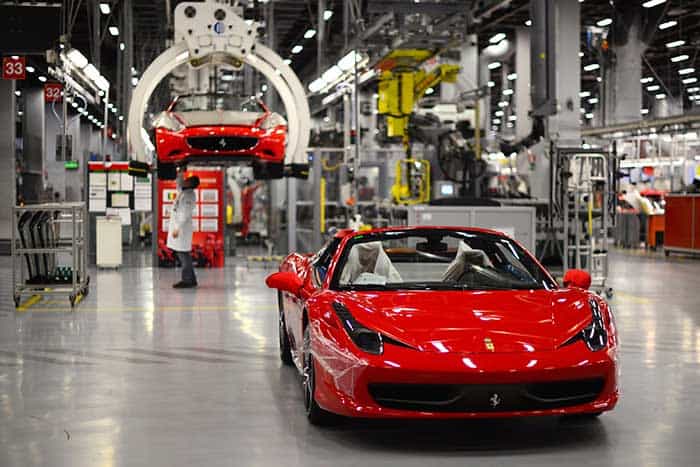 Every one of us is aware that Ferrari is a company which values excellence first but is quite pleasing to know that customers are more precious to this Italian giant.  While there is always an exceptional perk that an employee working for the company may get special attention and some discounts, Ferrari is an exception.
During an interview, Ferrari's chief marketing, and commercial officer Enrico Galliera said that they do not allow their employee to buy Ferrari cars because customers come first. The marketing head said in a statement that they produce only limited cars in a year and with so many people waiting on the list, it's not fair to produce a car for their employees. He further said, "IT IS THE CLIENTS FIRST"
Here is what he said, "The philosophy is that with such limited production and clients waiting so long to get their car, it's not nice if the car is delivered to employees. It is the clients first," he said.
The only employees who can get their hands on super expensive Ferrari cars are the company's Formula 1 drivers.  On further inquiry, it was found that Ferrari has only two company's Formula 1 drivers –   Sebastian Vettel and Kimi Raikkonen. Wondering about the discounts they are offered? Well, no they are not offered any discount on the car.
Apart from this, one more fact which managed to astonish us is only 8,000 Ferrari cars are sold in a year. It is actually not sold to anyone but they are marketed to few selected clients who are picked on an invitation.
Earlier when LaFerrari Aperta was launched, Ferrari had mailed its top 200 clients regarding their supercar and asked them to confirm for the keys of the car without even seeing it.
Although the car was sold at a whopping amount of Rs.1.2 million Euros, each one of the 200 clients said yes to the company.