Arvind Kejriwal and Narendra Modi:
Leaders of their respective parties and almost running a one-man show in their respective governments!
Both have razor sharp tongues and came to power by making promises taller than the Burj Khalifa towers in Dubai.
Of course they are competitors and competition is good in politics for betterment of the society, but as of now the two gentlemen are competing for the crown of "Who is the most incompetent of all?"!
To be honest the fight is really hard and every day brings new instances to prove that both of them are vying for this crown really desperately.
The day starts with Kejriwal's name as a chant in and around his party office with everyone either singing his praises or his detractors, the likes of Prashant Bhushan and Yogendra Yadav vying for his blood! Same goes for Mr. Modi as his ministers and party leaders don't start a sentence without mentioning their anndaata's name. Ask Mr. Ravi Shankar Prasad about net neutrality and he will say our PM Modi has said so and so..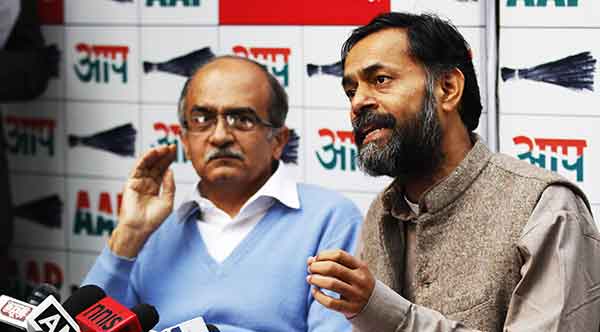 You see, it is obvious that both of them are feeding their supporters within the party something which is having a hypnotizing effect! Kejriwal and Modi are being projected as leaders who can do no wrong, see no wrong, and talk no wrong! Then what perplexes a common man is if such is the case, then why isn't anything happening on the ground as far as electoral promises is concerned?
Kejriwal came with big promises, but recently did a U-turn by saying if he can fulfill even 40% of his poll promises during his five-year stint, it would be an achievement!
On the other hand Mr. Modi promised return of black money within 100days of him coming to power and the whole nation is still waiting after a full year with bated breath about the return of at least records of who owns how much black money!
Just yesterday, Kejriwal held a rally in Delhi for the cause of farmers, even though Delhi as a state doesn't have the kind of land required for massive industrialization. On top of it, when the poor farmer committed suicide in full public view, Arvind didn't stop or cancel the rally; in fact he went on and on with his bhaashan for 20minutes! This doesn't mean Mr. Modi is a saint! He makes news for wearing exorbitantly priced suits and sending Chaadar to Ajmer Sharif, but if somebody asks his government where is the compensation for poor farmers committing suicide due to unseasoned rain in recent days and no one will have any answer! To add up to it, the government is forcing the Land Acquisition Act down the throats of poor gullible farmers in an attempt to please the corporate lobby which majorly funded the elections!
Internal Party Wars for AAP and Kejriwal, while hoards of FOREIGN TRAVEL and less focus on governance for Modi: this is not what we voted for!
It would be better if these two leaders started focusing on fulfilling their promises or else the day isn't far when the common man will exercise his vote again to kick them out of power!
What is your take on Modi and Kejriwal Gvernment?