Microsoft has launched recently Windows 10 and many might have got notifications to upgrade their operating system.
Let us tell that Windows 10 faster and is robust in terms of performance and it is loaded with some interesting features as well but there are some minus points why one should skip the advancement.
Well if you are still not convinced and confused whether to install it or not then you can read below some reasons listed by us why this is a MUST for your PC.
Start menu- Amalgamation of windows 7 and 8 is better option.
Instead of going with full screen tiled start menu, this version has brought back the windows 7 pop up menu and has also added squares as well. This blend of desktop centric windows 7 and tablet friendly 8 will be loved by all. One can customise it, resize windows; have multiple desktops and suitable task view to switch between them.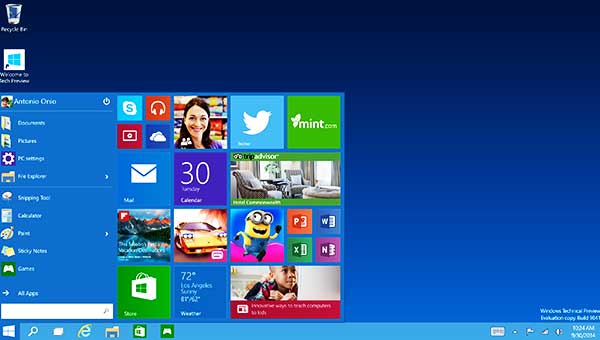 Microsoft brings Virtual Assistant to Desktop.
People love the Google Now or Apple's Siri and now Microsoft is grabbing headlines as they have brought virtual assistant Cortana to PC now. You can now control your PC by giving voice commands. How to operate? Just click on the search section of Taskbar and Cortana appears.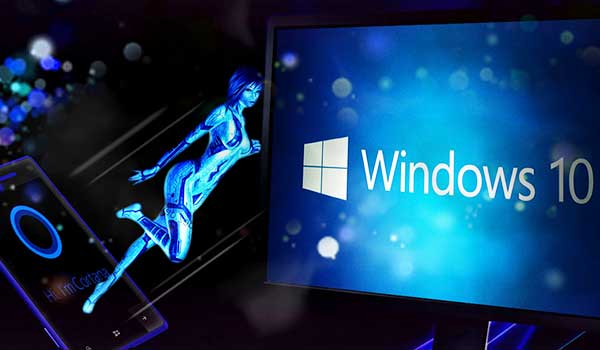 Boosted Security levels- Much needed thing, a great strike by Microsoft.
This latest OS has upgraded its security levels as well. One can use this new facial recognition feature called Microsoft Hello.  Computer's digital camera comes in to play to complete the authentication process. Device Guard is another feature provides malware protection and Microsoft Passport is secure way of sign-in to sites and app.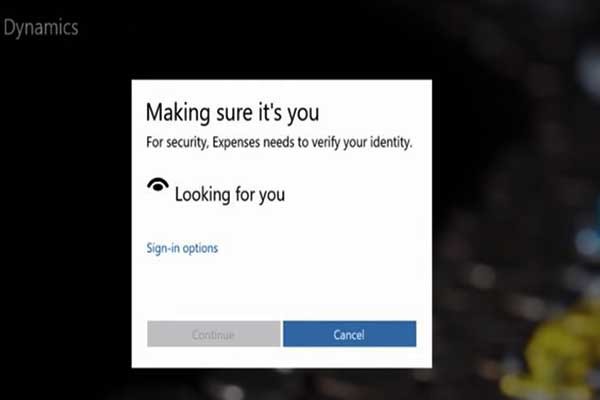 Microsoft Edge- This new browser surely has edge over the others.
This is a new built in browser of Windows 10. Edge is anytime better than Internet Explorer but still not great enough to uninstall other browsers. If you are already loyal to Chrome and Firefox and happy with it then there are no issues as W10 allows these OS to work smoothly. But the promise super power user features will make Edge even more compelling later.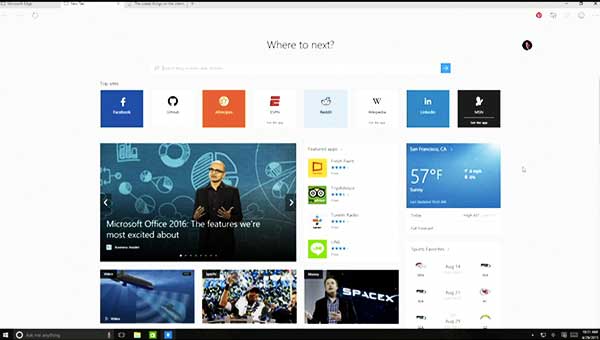 Action Centre revamped and is better
We know that how just like Mac OS has notification centre, the Microsoft guys had come up with action centre. Here one can get notices of emails, news, updates from apps, reminders etc. What's added factor is one can look back if they have missed any.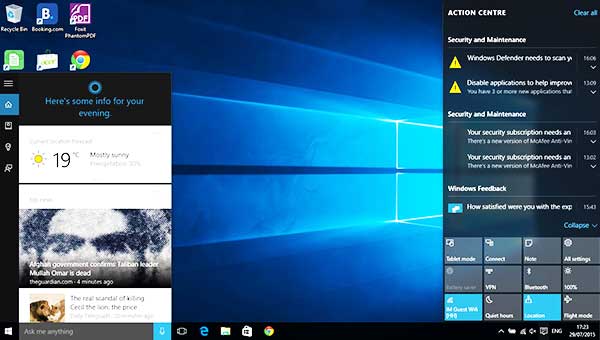 The last point is that- Its free one can download and use it right away.
Windows 7 and 8.1 users can download it seamlessly. Want To Upgrade Your PC to Windows 10 then Click Here.
 There are no major minus points but some important points one must consider
Vista and XP users are ignored.
The bad news is Windows 7 and Windows 8.1 user can only upgrade. The free offer is not available for Vista and XP. And instead of buying the OS one can go for buying a  new PC which has pre-installed Windows 10 ad there are changes that the old software may not be compatible with latest OS.
Bug problems
Of course Windows 10 makers are not silly people but still many gadget gurus said that it may contain few bugs and glitches that they need to work on. It's recommended that one can wait for few weeks for the final robust version of the same.
Not for old Software and Hardware
One has to check that whether old versions of software and hardware can work on the new OS or not.
Bottom line
Windows 10 is mostly welcomed by all as its neat user friendly with good speed and it has many great features. Also it's free of cost for current users and one can go back to previous version if they are not satisfied with this new OS making it a preferred choice for many.
Did we miss any point? If yes do mention them in the comments section below!
Plus we too would like your views on Windows 10 as well!