Samsung Galaxy Note Edge – The rounded edge forms a second screen as it works completely independent of the main screen and can even work for south paws.
Imagine getting to know the time and weather updates without even swiping your main screen on the phone.
Yes! That is what the Samsung Galaxy Note Edge brings to you.
With a curvy right edge that extends right up to the back of the phone, you can now check some apps and notifications, news tickers, current affairs, weather forecasts and time even as your phone lies on the bedside table with only the right edge of the phablet (something in between a phone and a tablet) visible?
Promised to be available this month in Charcoal Black and Frost white colour variants at select stores at approximately Rupees 64,900, Note Edge has definitely taken Samsung to a whole new level. Featuring a 5.6 inch screen size, unlike the 5.7 inches Note 4, and a super AMOLED HD display, the Note Edge certainly brings along vivid, crisp and bright detailing in the colours and resolution.
A sleek curvy model that this is, there are endless possibilities that this phone can explore and also for other smartphone models that favour such technological advancements.
However, if you are a south paw and are intrigued on how to use the right-edged curve for notifications and app controls, the phone can be flipped over in the horizontal position to make the curved side appear on your left side.
This rounded edge forms a second screen as it works completely independent of the main screen. It is much easier to use mobile functions like Twitter ticks, apps and word games, sports scores, news updates and stock counts, especially in a meeting when you want to get updated on little issues.
Though there are twelve pre-installed apps, Galaxy app store can provide you with some more apps. Getting an access to these apps is also as simple as switching left or right on the screen.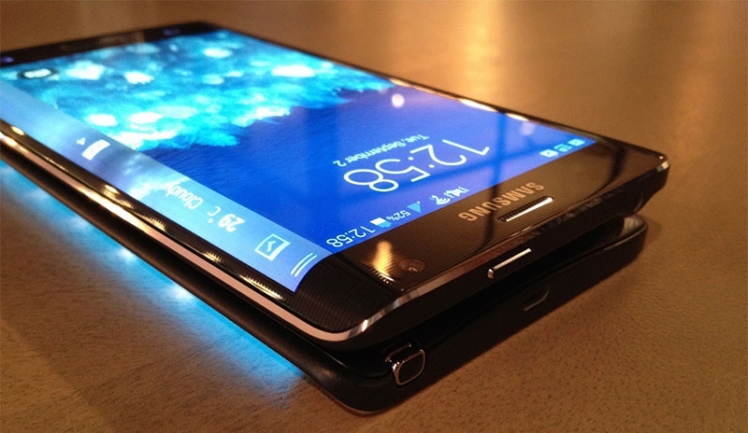 This side pane can be used to store most commonly used widgets and apps and for multi-tasking or switching from one app to the other as well as a notification bar for scheduled appointments, calendar or weather details.
What you normally see at the top of your android phone is depicted here at the sides.
The camera and settings icons are also displayed at the sides as well as the Play Store, especially if the phone is held horizontally.
Packed with a powerful 2.7GHz Snapdragon 805 processor along with Adreno 420 GPU and 3 GB RAM with a 64 GB in-built storage and a 3000mAh battery, little small in capacity as compared to Galaxy Note 4, the Note Edge is a high-end smartphone and is capable of luring the audience, if not for the heavy pricing. Especially as now watching movie would be an even more fascinating experience as all the apps, widgets and controls are pushed to one end of the screen, you have a larger screen to view the movie horizontally as it bends over to the edge. It also features a timer, ruler, stopwatch, voice recorder and torch at the curved edge.
Apart from this, the Note edge is exactly similar to Note 4 with a 16 MP rear camera and 3.2 MP front camera coupled with a f/1.9 lens. The phone has got good Wi-Fi and Bluetooth 4.0 connections along with Infrared LED, NFC, USB 2.0 and MHL 3.0 as well as GPS/Glonass Navigation systems.
The phablet is as good as using all of these devices together in a single system: accelerometer, gyroscope, geo-magnetic sensor, proximity sensor, barometer, hall sensor and not to mention the fingerprint scanner, heart rate monitor and blood oxygen sensors.
What more can anybody think of knowing through a single device? The Heart Rate monitor that was earlier a part of Samsung Galaxy S5 will now be seen doing rounds in India with as many heart patients with the new addition of Note Edge. The icon on the phablet that functions as the heart rate monitor also doubles up as a push button for clicking selfies.
The camera features extensive low-light benefits and sharp, crisp and colourful pictures. Even the Fingerprint Scanner works quite accurately, so now you can make purchases and unlock the phone much more easily and with panache!
What more? Its looks and dimensions are far more classy and elegant than Note 4, with 151.3 X 82.4 X 8.3 mm in dimensions and weighing 174 grams, although the phablet comes with Android 4.4 (KitKat) version and not the latest Android 5 (Lollipop) variety. The stylus or the 'S Pen' that comes with the phablet adds to the noting experience, per se, and can be neatly docked at the right-hand corner of the device until a note is scribbled or a drawing on a picture is made.
Well, Samsung has marked the beginning for the next generation phones that will be more evolved and may come with more than one home screens or pushing phone edges to all sides. If you thought that Samsung always encases materials made of plastic, both Note 4 and its subsequent Note Edge have metal frames too and Samsung is evolving as far as the ergonomic designs are concerned. Samsung's Galaxy Gear, Gear Fit and the Gear S Smartwatch as well as the Gear Circle wireless headphones resembling the exact shape of necklaces are all a class apart in technology.
However, Samsung has to pace up with Xiaomi, Micromax and Huawei selling smartphones with high-end features at lower prices and Apple iPhone 5S, iPhone 6 and iPad Mini still doing good business.
But Samsung believes in facilitating its products for the long run. As Asim Warsi, VP, Mobile & IT, Samsung India stated at the launch of Note Edge, "Samsung continues with its legacy of pioneering extraordinary innovations and setting new benchmarks in the mobile industry. The Galaxy Note Edge's curved design will make the screen more meaningful to users in their everyday lives."
So, if you are a Samsung fan and are ready to splurge on a good-featured, fast processing, powerful, big screen size, high megapixel camera phone, Samsung Galaxy Note Edge is sure to do the deal for you!