Some laptops look good while others perform spectacularly. Nevertheless, there are a handful of them which awe us by the sparkling stones and diamonds splashed all over.
For the common man, investing in a high-end laptop would ideally mean shelling out an amount of INR 50,000 to 60,000!
However, for billionaires, it's a lot more than specifications and performance. They focus their energies towards buying some intelligent gadgetry which is stylish and a class-apart.
From diamond-encrusted buttons, platinum-plated skin, to a golden mouse, these gleaming laptops make that first-impression and turn heads in every circle.
Listed below are some jewelled laptops which are certainly a sight to behold:
Tulip E-Go Diamond
Adorned with 470 brilliant-cut diamonds, this hand-bag shaped notebook boasts of solid white gold plates. With logos carved out of rubies, this ridiculously expensive laptop flaunts a 12.1-inch WXGA display, 160 GB Hard Drive, 2 GB of RAM, CD/DVD Player, and more. For the cost, hold your breath, as it comes at a hefty price of INR 1.60 Crores!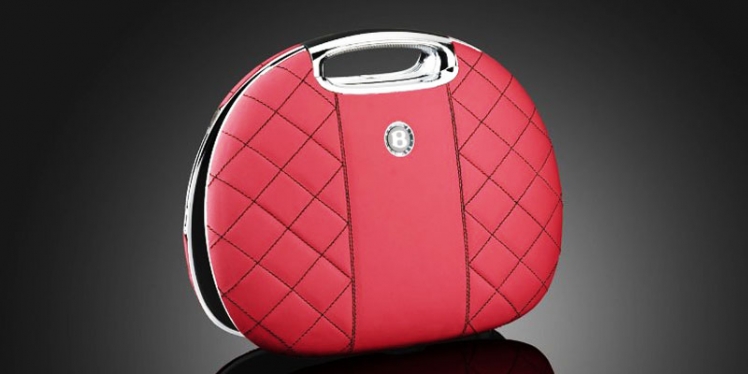 Luvagilo
Revered as the million dollar laptop, Luvagilo is a made-to-order device which caters only to a distinguished few. This hand-crafted and jewel-laden laptop exudes oodles of style and is the world's first self-cleaning notebook. Outfitted with a diamond-encrusted power button & other keyboard letters, this state-of-the-art gadget combines luxury and functionality.
Stuart Hughes MacBook Air Supreme Ice Edition
Chiselled of 2.5 kilograms of pure platinum, the Stuart Hughes supreme edition brags of an Apple logo built from 53 flawless diamonds weighing 25.5 carats each. This phenomenal laptop is by far the most expensive MacBook in the world.
MJ Laptop Brilliant Limited Edition
The two most exquisite offerings in this edition are the MJ Laptop with White & Black Diamonds and MJ Laptop with Solid Gold Inlaid Diamonds. While the first one comes with a lifetime warranty for its jewellery, the Solid Gold gadget brings a host of accessories, out of which the Solid Gold gilded mouse is worth mentioning.
Bling My Thing MacBook Air
Brazed with the Swarovski treatment, the Bling My Thing MacBook Air carries a sparkling 24k gold plate laptop case. Embellished with a staggering 12,000 Swarovski diamonds glued by hand, this laptop is extraordinarily thin.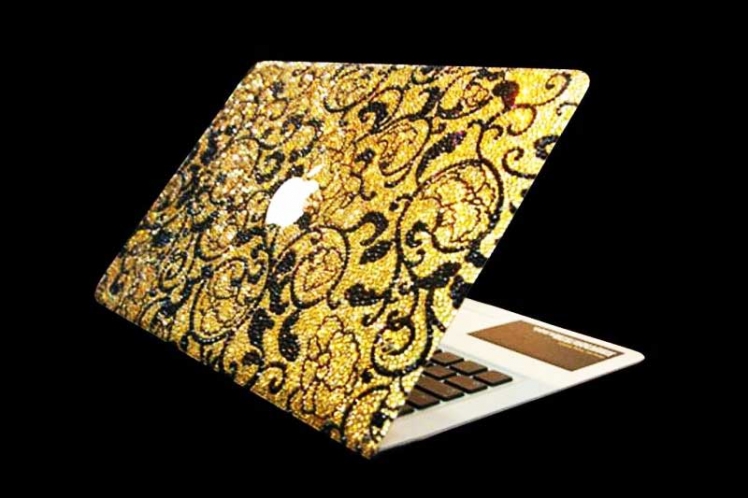 PowerMax Macbook pro
Available in 15.4 and 17 inch models, this 24k gold-plated Macbook flaunts a diamond-studded Apple logo which comes at a paltry price of mere 3.7 lacs!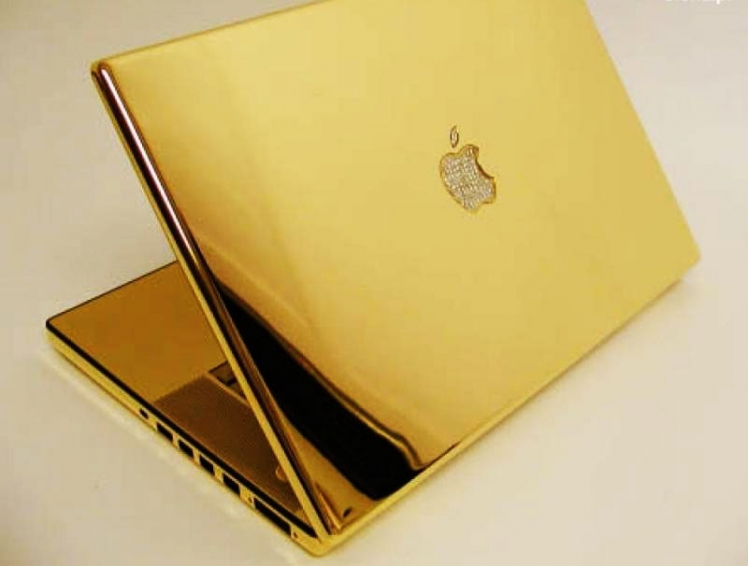 Festooned with rubies and other snazzy jewels, these dream machines never fail to impress.
We would like to ask our readers that if they ever have the magical 10-figure money, would they wish to invest in these precious laptops. Moreover, after throwing such a hefty amount on a gadget, would they also take the risk of carrying it along or would they tuck it away in a safe place for the fear of dropping it!