Here's all you need to know about Apple's latest baby, the cool new iOS7. Read on!
If you have been reading about the launch of Apple's latest OS iOS7 and wondering what the hell is up, we are here to guide you. The technology giant's revamped operating software that you can upgrade to, launches today and there are many variants involved in it. We give you a lowdown on all you need to know about it. Read on.
The feel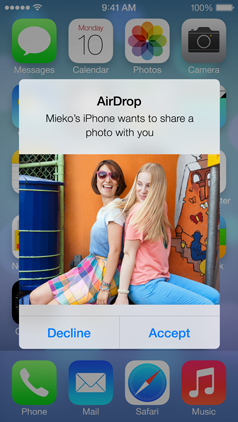 The new software is a lot faster and smoother than its earlier versions. The design is also pretty advanced with a new feature 'Share Street' , along with Control Centre, AirDrop for a smoother multitasking. In fact, the enhanced multi-tasking bar looks a lot like Android! In order to make your experience faster and better, unnecessary bars and buttons have been done away with. In its latest and most advanced version, the Control Centre lets you access all the things you urgently require with just a swipe.
Who can use it?
Anybody who has the following devices can upgrade to this version: iPhone , iPhone 4S, iPhone 5, iPod touch 16GB, iPod touch 32GB/64GB, iPad 2, iPad with Retina display and iPad mini. Now that you one or more of these devices, you wish to initiate the upgrade, right? After you have backed up your device, check which version you're currently using (iPhone 5, it is iOS 6.1.4; for older iOS devices, it's 6.1.3) and start downloading (it's completely free). But it would be better if you kept your curiosity under control and started with the upgrade a day later (September 19) as there's bound to be massive pressure on Apple's server today.
Exploiting the 64-bit processor
If you have either of these, you're in for some major fun as the latest version is made to exploit the 64-bit processor for faster app launches and games. This technology is touted to be the next big thing that can revolutionize the way we work and use our phones. Securing the device If your iPhone ever gets stolen, you could activate the My iPhone feature. But in order to do so, you would require your Apple id and password. Hence, if anybody gets hold of your device, they wouldn't be able to use it without feeding in the right data.
Effects and camera
Let your pictures do all the talking, with real time editing and many cool effects to choose from, iOS7 looks like a beginner's paradise. Go all out and play around with these options- Mono, Tonal, Noir, Fade, Chrome, Process, Transfer and Instant. You can also systematically arrange and store yojur pictures via 'Collections, Moments and Years' features.
Radio on the go
You have the iTunes Radio with over 200 stations that will keep you hooked onto your phone for a long time! Whether Apple delivers the good or not will be known only after the verdict on the OS is out.
We do hope the final product is as promising as the features are made out to be. Apple has always come up with technologically advanced products. Will this time be any different? Do let us know what you feel about the iOS 7 after you have had a feel of it. Shout out to us in the comments section below!