Winter fashion – Come winter, fashionistas start feeling butterflies in the stomach as it is widely deemed to be the fashion season.
We have no qualms in exhausting our money on those pricey boots, jackets, beanies and scarves. Reason why we popped the topic of Paris here because every other girl will hook your attention in their awesome sense for street style in Paris and the fashion game is always on point during the winters there. Magazines like Vogue drop significant sweat to bring the best fashion looks from the streets and fashion weeks held in Paris and here are the ways you can dress like a Parisian this winter:
Winter fashion –
1 – Ready up your long coats:
Winter fashion – Long coats are perfect for giving you an androgynous silhouette at the same time hiding your flaws. They are best for the winters because you can layer your outfit masterly with them. The long coats are super chic and comfy in the first place to go with any look, be it with a pair of well fitted denims or wide-legged pants. They will be all the rage this fashion season too so gear up.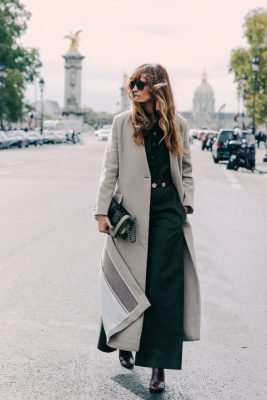 This picture was taken from Vogue's online page which drops hint at how fine taste they have for the street style winter fashion. The long coat worn in this picture exudes sophistication from every which angle. The wide-legged black jumpsuit is effortless and comfy too. The little bling that the belt has seals the look with panache.
2 – Blazers are your bae in winter fashion :
When you throw in a simple blazer on your basic denim look, you can be spotted distinctly. We have cracked the blazer code vouched by the Parisians here. We would strongly recommend you to add a couple of blazers, one of them black, in your wardrobe this winter season to oomph up your basic lazy looks.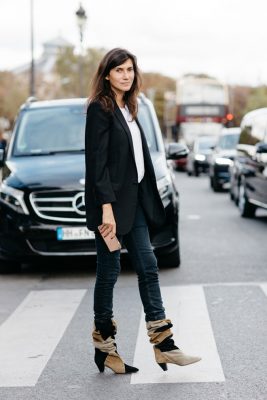 We are pretty much besotted to the handpicked looks from Vogue and this is another installment of the same. In this picture, the girl is seen wearing a crisp white shirt accompanied by a pair of sassy denims with which she chose to wear a cool pair of crumbled boots with kitten heels which makes the complete look appear edgy and killer!
3 – Don't give heeled boots amiss in winter fashion:
When you talk about Parisian style, you can't go without mentioning their love for leather jackets and boots. The ankle flared denims too are timelessly classy in that bargain. The chunky heeled boots can add the required dose of sass in any outfit we believe.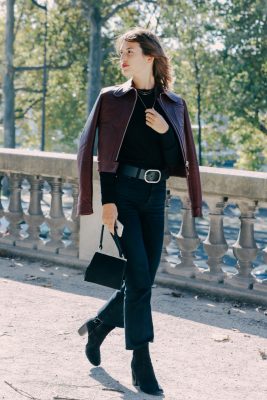 We have picked this look from Vogue again for your reference and this, according to is the perfect look for winters.
4 – Winter fashion – the oversized sweater, because why not?
We are going bananas over the over-sized sweaters this season because apart from keeping you warm, the pop colors are perfect to beat the winter gloom.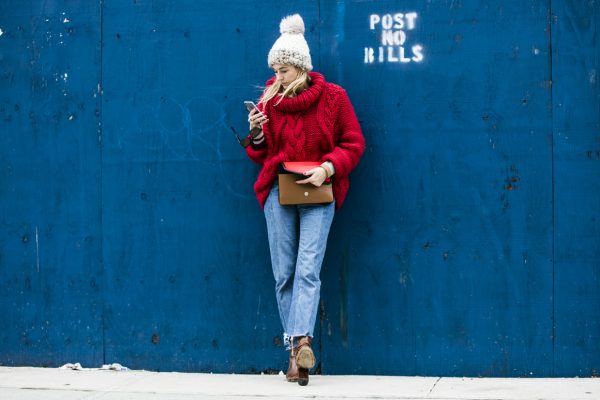 Winter fashion – We are in love with this look, madly and deeply! well, this one too is from Vogue.
We think we have minimized your efforts by half bringing to you these best winter looks from Parisian street style.