Oats bar recipe – Losing weight is not easy, it requires cultivation of mind and a towering will power.
There are external motivations too that lead to the success. You have to decide one day that you will change your life because a better version of yourself is just a decision away. To begin with, you will need to tweak your diet when you are on your fitness journey and any kind of cheating will be cheating yourself and rest depends on you.
You will read in many fitness magazines, even hear from the dietitians that consuming Oats or replacing the daily carbohydrates intakes by Oats that contain big amount of fibre makes you lose weight faster and the fiber in Oats helps improve the bowel movement also.
People who consume oats in a routine order are looked at quizzically by those Paratha lovers but they don't know how are the insuring their health against ailments by being faithful to oats. Oats are best had with skimmed milk because it has a lot of soluble fiber that helps lowering cholesterol levels too. that aside, Oats is your quick-fix answer to the hunger pangs as it keeps you feeling full for a large amount of time. It gives you energy too to get going about your daily chores.
So, you can safely call it a superfood which is protein packed, high in fiber and low in fat. To tell you, Oats contain a lot of Vitamin E too which is beneficial for your skin and hair health. You can bank upon oats to cure many cardiovascular diseases, hypertension, lowering the risk of Cancer, boosting your immunity system, aiding your weight loss, protecting your skin from aging and many more. We will give you here a quick chocolate Oatmeal bar recipe that you can consume as a snack. This is a replacement for the protein bars available in the market where they sneakily add sugar.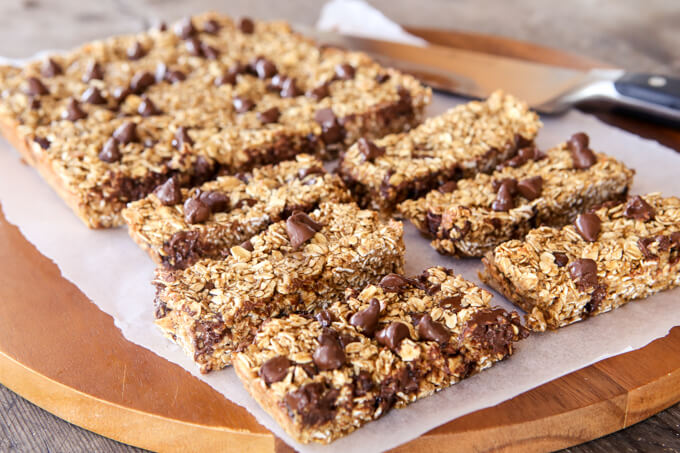 Oats bar recipe :
Combine 1 cup of all purpose flour,1⅓ cups oatmeal, 1⅓ cups light brown sugar and baking powder in a medium sized bowl where you will need to add 10½ tablespoons melted butter and stir well until thick. Now preheat the oven 325 degree and line an 8×8-inch baking and grease with some oil. Put half of the mixture in the pan and bake for 8 minutes. For the filling, melt the butter and chocolate chips and stir until perfectly smooth. Now whisk flour and sugar together in a bowl and whisk eggs in the cool chocolate mixture the blend in the flour mixture. Evenly pour chocolate filling in the cooled crust now bake for 30-40 minutes, cool and serve.
This Oats bar recipe is a hit among the weight watchers because it keeps you full for long and you are good to go.