To all those lucky chaps, who still get to relish the good times of hostel life, let's rewind the time for those like me, who are living in nostalgia, few years post graduating.
Maggi is not only the ultimate-resort- food, but also something that all the hostelers could unite for.
Most of you would agree with me on this. You have tried experimenting your culinary skills in making maggi with a twist. Have you not? When bored or completing assignment during odd hours, you'd just step into kitchen and think of all the weird things you could add upto maggi to make it all the more, killer (wink). Not sure if your so called dish turned out to be great, but meri timepass wali Maggi turned out to be good. To make your Maggi more interesting try these…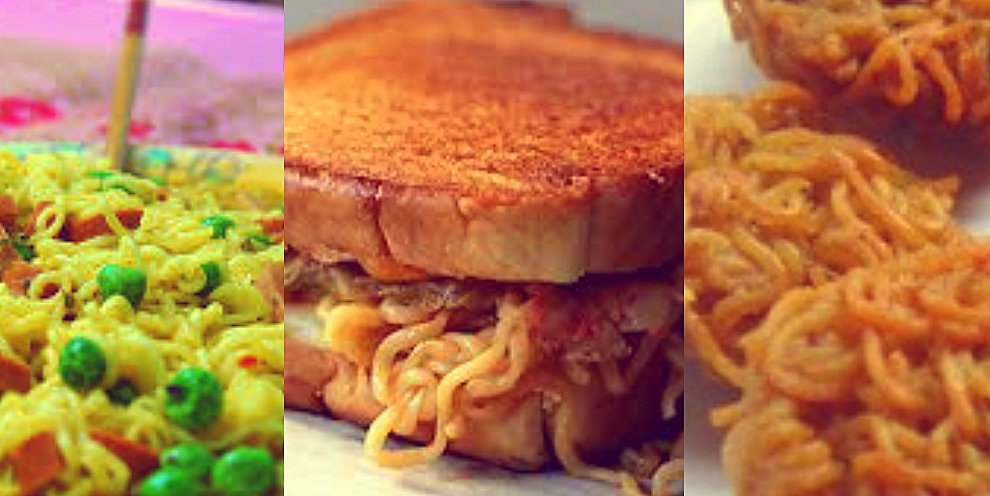 Maggi Cutlet:
Take two slices of bread. Dip in water for 3-4 minutes. While the slices get soaked in water, prepare maggi in a saucepan, like you'd do normally. Next, take the water soaked slices, an apt amount of maggi to stuff and bind it tightly within. Make sure not to put too much of stress on the slices. Deep fry in a vessel or if you're health conscious, bake in an oven. Serve with ketchup.
Maggi Subway:
Cook maggi and keep aside. Take a subway bread. You could also use normal bread slices, incase you don't have subway. Slice veggies of your choice. I like to add cucumber, tomato, onion and jalapenos to mine. Slice the sub lengthwise, stuff the veggies,and maggi,and add choices and toppings of your choice. Serve.
Poha Maggi:
Crush 2 packs of Maggi Atta noodles before opening the pack. Cook till all the water is absorbed. Heat oil in a pan. Add mustard seeds(optional), peanuts(optional), tomatoes, onions. Cook till golden brown. Add chopped boiled potatoes, green chillies and peas. Add the noodles. Simmer for five minutes. Serve hot with chutney.
Go ahead and try out your combinations with Maggi. Add in any leftover from your fidge, Do let us know about your favourite Maggi recipe. Enjoy!
These are the things without which hostel life is incomplete.