Everything has been about Virat Kohli and there is nothing new to add to it. There's only one thing that we can learn from this guy that is unflinching dedication. He has an athlete's build and an insanely shapely appearance. Virat has only one goal, to rise as the World's best cricketer and break all the previous records. He pumps up more effort with every passing day. Probably when you are chilling with a cup of hot chocolate, the guy is sweating it out in the gym.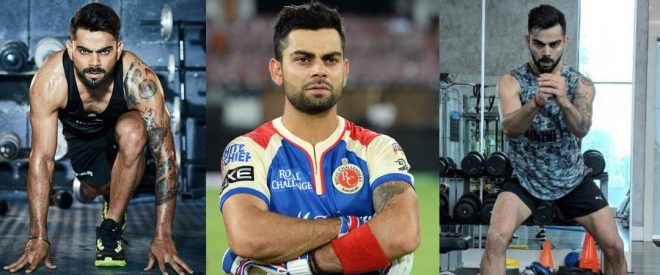 His aim:
Virat hits the gym five days a week. His agenda is to build a lean body, not bulking up. A lean body will allow him to stay active in the field for longer periods of time. He mixes up cardio and weights to strengthen his core muscles which amps up his endurance and stamina. He pushed his envelop to lose the extra flab he has once had.
Diet:
It becomes really difficult for a Punjabi guy to keep away from the Ghee smeared home made delicacies. But when forgoing all these brought Virat the desired results, there was no looking back for him. Now, this is what his diet looks like:
Breakfast: Grilled Meat, Spinach and Cheese eggs, Green tea and dried fruits.
Lunch: Any  red meat, grilled chicken, mashed potatoes and spinach on the side.
Dinner: Sea food (boiled or grilled)
He keeps the processed and canned foods at bay. He likes to eat his favorite Butter Chicken on his cheat days.
He has made a journey from fat-to-fit which is revered by the fitness community. He now maintains a great body which is a result of his perseverance. Here, see in the Instagram post  to know how motivated he is. Virat does his cardio with undivided determination. Here is the proof.
In the morning cardio session, he spends 15 minutes on the bike at level 3 maintaining an rpm of 120. He then heads on to the treadmill straight for 10 strides of 20 seconds each and step on the sides of 10 seconds rest inbetween. He does 10 of these back to back at a speed of 19km/hr and level 1 on incline. Well, you can notice an altitude training mask which makes it twice as hard. Of course, if you incorporate some fitness accessories to raise the resistance, you are likely to reap benefits faster.
Here is another video of Virat Kohli in between his cardio session so you get a clear idea about his fitness routine.
Virat is not only a genius but a really hardworking person!