Kerala, God's Own Country is one of the favourite and much talked about locations in India.
It is one of those romantic destinations that every couple would like to visit. The serene backwaters and beautiful house boat ride is something amazing to experience.
However, Kerala has a lot to offer beyond the backwaters and houseboats.
So, we take you to some more of the additions to witness in Kerala add to some more of your travel experience to this lovely land.
Onam – The boat race
When you go to Kerala, make sure you once visit during the Onam festival which is one of the important events and is a 10 day long festival followed with the exciting boat race in which many number of people take part. So, it is highly recommended to be a part of this extravagant festival!
Authentic food of Kerala
We can never miss the food part wherever we travel to and so, same goes with the authentic food of Kerela served nicely on a proper banana leaf which really gives you a feel of old days and being in Kerela state. Right from the rice, appams and the fish curry you need to gorge on all of them.
Dance the Kathakali style
It is always interesting to explore some special cultures of the place you visit. Kerela is a place which is known for its dance form, Kathakali. This dance form has some very well dressed and talented people who do an amazing story-telling with the help of Kathakali.
Kallaripayattu – The Indian Martial Art form
Kalaripayattu is one of the oldest and Indian Martial Art form still practiced in Kerela. It has a typical ancient touch to it and when you visit the God's Own Country you should watch this martial art which is famous there.
Land of spices
Kerala is known for its plush green forests, tea gardens and spices. It is considered as a land of several spices which are grown here. It is an amazing experience to roam around in these spice gardens and tea plantations to fall in love with the nature all over again!
Kayaking in the peaceful backwaters
Kayaking can be one of the favourite water sports for tourists to try their hands on it. This is the right place for kayaking enthusiasts and also for those who wish to try their hands on kayaking. Kayaking in the peaceful backwaters with the coconut trees and dense forests gives you the actual feel of being in Kerela.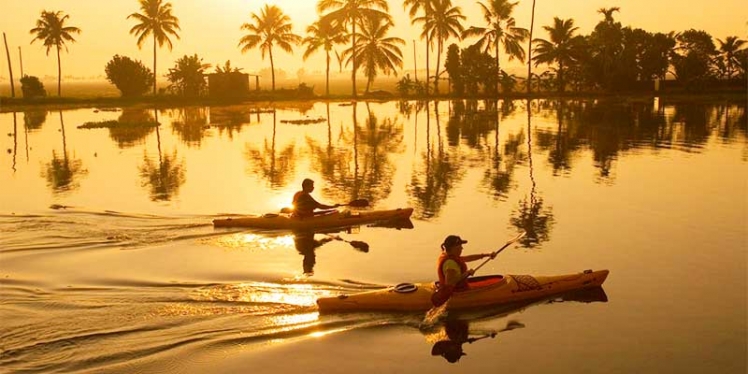 Travel to Kerala this time and try your hands out at these different things to add some colors to your lovely travel diaries. Have a wonderful sojourn to this beautiful land! Yes! Truly, God's own country.