Durga puja festival – Durga Puja is one of the auspicious ceremonies for Bengalis, we wait every year immediately after the end of one, you can make it out when you hear the slogan on the day of Dashami "Asche Bochar aabar Hobe".
With the hope of enjoying the four days in new attire and food:
Attire in Durga puja festival.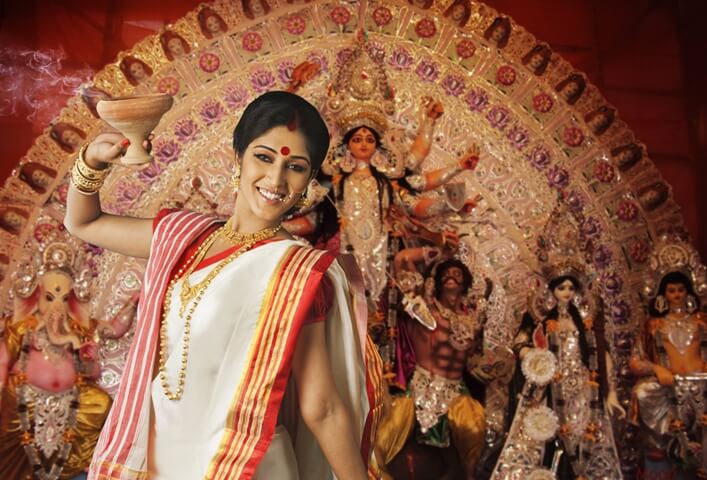 Almost one or months before purchasing new attires for the occasion of Durga Puja are planned. What to wear? When to wear? Though traditional or ethnic attires are a must want and bought but new arrivals are also into a collection and selection.
No matter if it's a labor or a director of a company buying attires according to their possibilities for their families in order to see a smile on their face. On these three to four days each person is happy in their new attire sitting in their pandals and pandal hoppings at night.
Puja is incomplete without the red border cream or white colored saree for the Bengalis! No red bordered saree doesn't costs much but this unique combination looks fabulous to anyone, once again no matter if you are poor or rich.
Dashami or Dussehra is cherished with this wonderful and distinctive saree attire worn red artistic bordered saree.
Modern attires worn by pretty lovely ladies or maybe the occasion is so special that every single lady looks stunning that your eyes get stuck to them.
Man and boys doesn't precede back as they look stunning in a pair of jeans with a Punjabi! Few in T-shirts with jeans, finally you will surely fall for a Bengali boy whose is entirely dressed up in a stunning Dhoti and Punjabi.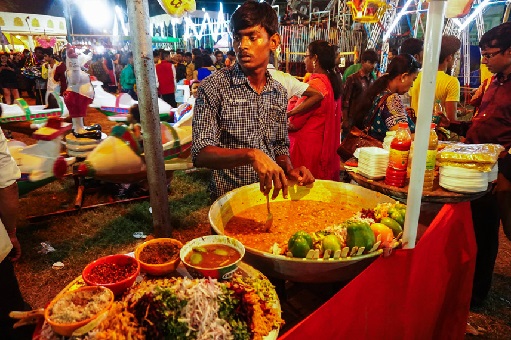 Street food during Durga puja festival Pandal Hopping:
Now during the pandal hopping after fabulous dress up adorning everyone for their exceptional appearances you may be tired. Planned for a whole night "Devi Darshan"? No doubt pandal hopping will make you hungry, so the stalls are outside where you will find crowds busy gossiping and eating these are the foods you will find: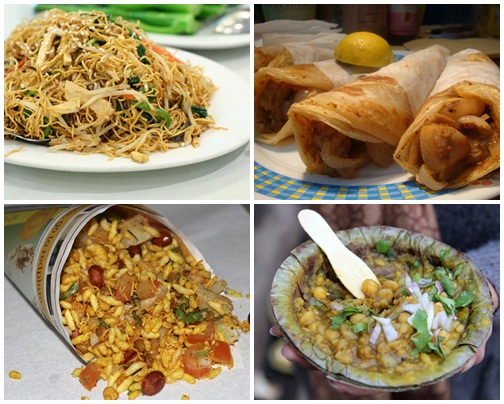 Bhelpuri: Umm! Tangy, sweet and crispy together a small treat for your hungry belly.
Phuchka: Who doesn't like it? Easy to find at every point of the roads of Kolkata, enjoy the crispiness with tanginess, potatoes fills the stomach.
Chow min: If you are too much hungry, let me tell you restaurants should be pre-reserved so one more option is the Chow min but made with a desi tarka.
Egg Rolls: Street sides egg rolls are famous and delicious, a small clinch break from hunger.
Chicken Rolls: Chicken rolls with the chicken made in different flavors from salty to spicy in different places and streets, you will find in Kolkata.
Ghoogni: If you can see the man with a heap of cooked ghooghni in a big container under slow flame? It will be an appetite for you.
Paapri Chaat: Crispy and tangy combination on the roadside street which crispy and a favourite appetite for a lot of us.
Apart from it, a refresher is always compulsory for the Bengalis is a cup of tea ending up to many cups of tea in the street side tea stalls. Durga puja comes once in a year and every Bengali wants it to enjoy to the fullest.