At this moment the feud between India and Pakistan is almost the talk of the town.
In the past years, India has been quite successful to send the entire terrorist in the place they deserved to be & no doubt this has saddened the whole Pakistan. Well, and this sadness seems certainly obvious because the terrorist are miserably failing to answer their superior person at the end.
Apart of that, all are aware about the feud that's roaring nowadays regarding India and Pakistan. And due to all of this; on one hand the political corridors are totally heated up whereas on the other side India's planetary model is on the row too.
"Based on the astrological figures it is been said that India will definitely show its power and in the coming time it will also nail Pakistan into the dust".
Well all this has been revealed by the astrological guru Vyapak Lodha– Based on Narendra Modi's and India's astrological prediction about India and Pakistan. It is stated that India is going to have a horrific fight with Pakistan soon.
Check out the Image below: –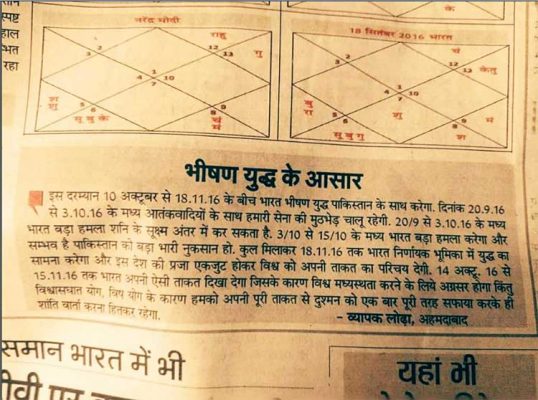 Surprisingly, the time has been revealed as well:
According to Vyapak Lodha- The fight can take place in-between 10 October- 19 November. Well, even Pakistan is going to give their piece of shot in the fight. But what's interesting is this fight will be the major one for both the countries.
Astrology also reveals that India will be attacked till the 3rd October. And if you notice the astrological figures as well; you wouldn't believe but it also states that conspiracy against India took place in-between this dates only.
Now this is quite interesting because if this prediction comes true then on that basis the war will be on in between 14 October- 15 November. And, it will be India who will take over the entire world with its power & then other countries will come and calm India.
India's power will be so strong that even Islamabad will hoist India's National Flag.
But wait, because the astrology also reveals that at this time around Pakistan can betray India as well. And that's why India must now not take the terrorist lightly whereas they must try so hard that Pakistan remains terrorist free.
So, this is the future prediction based on the feud- Vyapak Lodha's astrology made it all clear about how India is on the row to make a mark on the world.
Any thoughts? Leave a comment below.